This is an update of my preceding article on Transocean Partners (NYSE:RIGP) and preceding article on Transocean Ltd. (NYSE:RIG)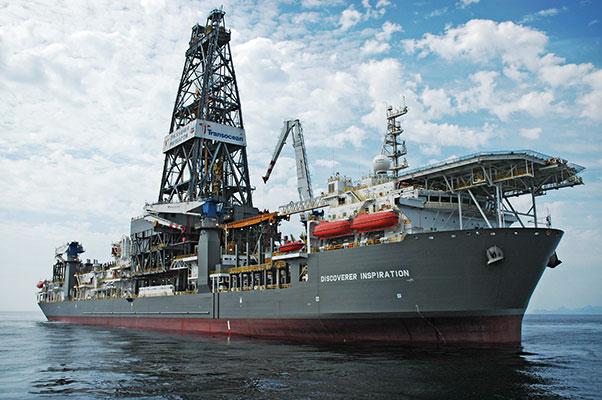 Drillship Discoverer Inspiration, courtesy of Offshorenergytoday.com.
Transocean Partners' assets consist of 51% interests in rig-owning and rig-operating companies that own and operate three ultra-deepwater drilling rigs. RIGP was formed on Feb. 6, 2014. As per the 10-Q:
On July 29, 2014, we entered into a contribution agreement (the "Contribution Agreement") with Transocean that gave effect to certain formation transactions, including Transocean's transfer of a 51 percent ownership interest in each of the entities that own and operate the drilling units in our fleet (each individually, a "RigCo" and collectively, the "RigCos"). Transocean holds the remaining 49 percent ownership interest in the RigCos. We completed the formation transactions on Aug. 5, 2014.
Today, Transocean announced the following:
Announced that Transocean has agreed to acquire all of the outstanding common units of Transocean Partners not already owned by Transocean in a share-for-unit merger transaction. In the merger, Transocean Partners common unitholders will receive 1.1427 Transocean shares for each Transocean Partners common unit. The Transocean Partners unit price implied by the exchange ratio represents a 15% premium to Transocean Partners' closing price on July 29, 2016. Transocean expects to issue approximately 22.7 million shares in the merger. Completion of the transaction is conditioned upon approval by Transocean Partners' common unitholders and is anticipated to close in the fourth quarter of 2016.

Following completion of the transaction, Transocean Partners will be 100% owned by Transocean and therefore Transocean will have indirectly acquired the 51% ownership interests in the Discoverer Inspiration, the Discoverer Clear Leader and the Development Driller III that are currently owned by Transocean Partners. Additionally, Transocean Partners' common units will cease to be publicly traded on the NYSE.
Transocean Partners common shareholders to receive 1.1427 shares of Transocean per Transocean Partners unit in an all equity transaction.
Based on the closing price on Friday the offer values RIGP at $12.56 a share. In short, Transocean is buying approximately 19.7 million shares of RIGP and will issue 22.5 million of RIG shares. The transaction is expected to close in 4Q'16. The last quarterly distribution of $0.3625 will be paid in 4Q'16.
Commentary: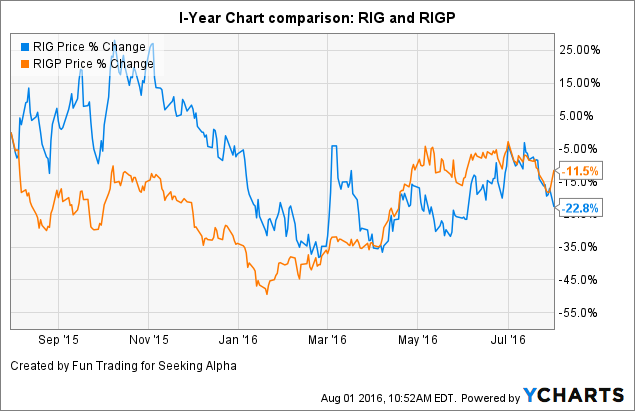 RIGP traded as high as $29.43 a few days following the spin off and reached a low at $5.89 in January 2016. The creation of an MLP (not really) or rather an LLC, was quite popular at the time, and I am wondering if M. Carl Icahn was behind this move?
It is a complicated exercise to give an accurate opinion about the merger, right now. I am both shareholder of Transocean and Transocean Partners, LLC. Which makes me quite neutral.
Transocean will fully own again the UDW Deepwater Inspiration, the Discoverer Clear Leader and the Deepwater Driller III.
RIGP Complete Fleet Status as of July 21, 2016.
To view the most recent fleet status, click here. (Transocean)
High-Specification Floaters: Ultra-Deepwater
High-specification Floaters

Ultra-deepwater Rigs

7,500'/12,000'-30,000'/40,000'

Year built
Ship or Semi

Contract

End

Current

Day Rate

K $

Operator

Location

Day-off

1
Discoverer Clear Leader
2009

Ship

10/18

581

[Chevron] US GOM

2
Discoverer Inspiration
2010

Ship

3/20

585

[Chevron] US GOM

3
Development Driller III
2009
Semi
11/16
422

[BP]

US GOM
A few positives to consider (synergy):
1 - As we can see the Discoverer Clear Leader and Discoverer Inspiration are bringing excellent contract at nearly $600k/d which will help cash flow.
Assuming that the transaction will be effective October 2016, I calculated (back of an envelope type), a total backlog for the three rings of about $1.2 billion, in which approximately $600-$620 million in contract backlog will be added to Transocean backlog.
2 - The cash distribution paid to RIGP shareholders of about $28.57 million annually will cease to exist.
3 - This merger will save the new Transocean about $10 million in administrative costs related to RIGP.
A few negatives to ponder:
1 - By merging RIGP back into RIG, Transocean is paying a high-price for the three rigs under contract, that could be estimated at well over $520 million "on paper", whereas, the street value or fair value may well be a little under $280 million, in my opinion.
Of course, the valuation of Discoverer Inspiration contracted until 2020, and the Development Driller III rolling off contract in November 2016 should be different.
2 - Transocean is adding approximately (19.7 million shares x 1.14) or 22.46 million shares to the actual share outstanding of the company. This is a dilution of 6.15% based on an actual outstanding of 365.2 million shares.
Conclusion:
This merger is basically neutral for Transocean shareholders even if the street is punishing a little RIG today, it is not clear if the drop is related to the merger or the renewed oil price weakness.
However, I have sold out my entire RIGP position this morning, at well over $12, that I owned at an average a little below $8.75.
This merger is an excellent deal for RIGP recent shareholders, such as myself. However, It made no sense to add new shares to my Transocean long position, assuming another two or three difficult quarters which may affect RIG in the near future. I will be willing to add to my RIG position below $9.
Important note: Do not forget to become one of my followers with RIG and the entire offshore drilling sector. Thank you
Disclosure: I am/we are long RIG.
I wrote this article myself, and it expresses my own opinions. I am not receiving compensation for it (other than from Seeking Alpha). I have no business relationship with any company whose stock is mentioned in this article.