Feeling that much has been written but little researched, last week, I tried to put Italian financial institutions' problems in perspective with my article Italian Banks, The Phantom Menace. The fact is, when the media circus is on, it becomes increasingly difficult to distinguish signal from noise. Readers may easily lose track of what really matters at the end of the day. For investors what matters is most certainly profit, and profits can be made both long and short. However, for the Italian financial system to survive and continue to thrive, what matter are its institutions' financials and the industry regulations, not much else.
As everybody else, I might have a personal stance on the handling of the recent banking issues at the political level. Nevertheless, my only concern is to inform fellow investors, and in general, the SA community of what matters business-wise. What I stated in my previous article is that once financials and regulations are considered, the situation, while unquestionably serious, has been largely overstated by the market. When financials are bad, the BRRD regulation still effectively shields tougher consequences at the system level. When financials are good, we have babies thrown with the bathwater. The market is most certainly transposing real issues concerning few players into the whole sector, (which is?) an all-too-common financial markets' misconception that has been already well theorized by great investors such as Benjamin Graham.
Now that the latest EBA stress tests results have been released, it is time to dismiss groundless articles lately appeared on SA and other sites, rely on facts and move on. Below, I provide an analysis update reviewing the Italian situation in light of the stress test results, at the same time broadening the issue to other major European lenders. While the need for further reforms is fully acknowledged, confusing news have been leading the markets, creating asymmetric risks/rewards opportunities for clever investors.
Stress tests' main findings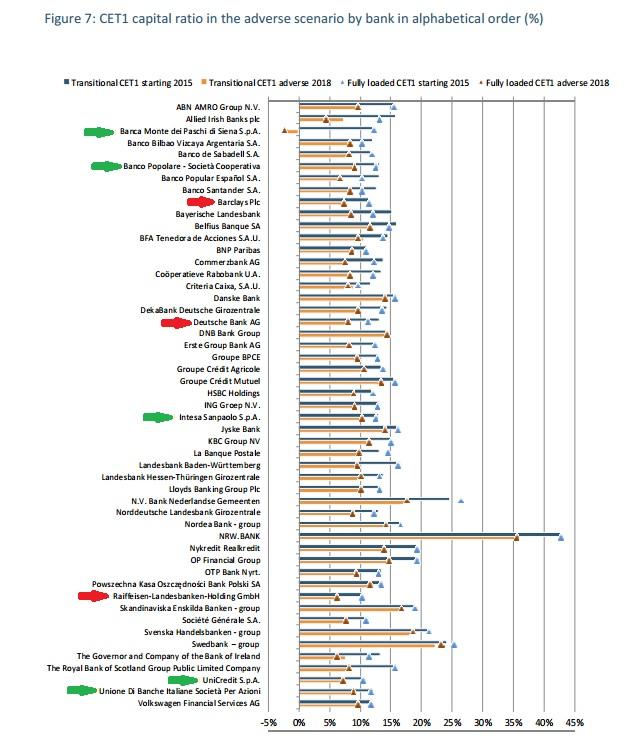 (Source: EBA stress tests report)
First thing to clarify: the authority considers a minimum Common Equity Tier 1 (CET1) ratio of 5.5% to be the core condition for stability of a bank in any given economic situation. EBA performs a scenario analysis in which it considers the CET1 outcome in two situations, a "baseline" scenario and an "adverse" scenario. While the baseline scenario is the future economic situation as predicted now, the adverse scenario factors in additional negative issues without any positive being introduced as a counterbalance. All the 51 analyzed institutions passed the test in the baseline scenario, but one, Monte dei Paschi di Siena (OTCPK:BMDPY) failed to meet the criteria in the adverse one. There were five Italian banks analyzed in the report (highlighted with green arrows in the findings table), which are the most important household names of the country. Yet, out of the five, facts show that only Monte Paschi immediately needs relief actions.

Click to enlarge
(Source: EBA stress tests summary charts tool, Common CET1 ratio)
It would be fool not to agree with naysayers that Monte Paschi is on the verge of default. It needs to be urgently bailed to avoid bankruptcy, and then future decisions must be taken from there. However, as bad news as it is, it is nothing new or unexpected. Monte Paschi had already become the subject of speculators' game until CONSOB (the Italian SEC) ultimately decided to suspend for three months the short activity on the stock earlier in July. The Italian government has timely announced a rescue plan and imminent bailout for the troubled institution just before the release of the EBA's report. As a result, the stock shoots up rather than plummet in the last trading day. Time will tell if this is a new beginning for the oldest bank of Europe or just its final shot before the bail-in designed by the BRRD step-in.
Setting aside Monte Paschi's known distress, the EBA revealed a situation somehow fragile for the whole European Union, yet much more multifaceted within the countries than what the financial market sentiment in the late months would suggest. Italian institutions Banco Popolare (OTC:BPSAD) and UBI (OTC:BPPUF) lost 80%+ of their market capitalization through last year, yet fared much better in the EBA tests than Austrian Raiffeisen (OTCPK:RAIFY). Raiffeisen arguably sported the second worst results after Monte Paschi, with a CET1 of 6.1% in the assumed adverse scenario (if the fully-loaded CET1 is considered, Allied Irish Banks (OTCPK:AIBSF) fared worse). This ratio barely meets the minimum requirements set by the EBA, yet the Austrian biggest bank's market performance has been considerably better than any of its Italian peers.

Click to enlarge
(Source: Google Finance; author's edit)
This is not a single institution problem: Austria fared the worst in the tests as a country (together with Ireland), not Italy. The author will patiently wait for EU officials to come out with some statements criticizing Austria for its weak financial institutions posing a contagion threat to the EU system, as they bashed Italy in the recent past.
Intesa Sanpaolo (OTCPK:IITSF) has a CET1 ratio, which is definitely within Europe's average, yet it has been severely punished by the market, with the stock losing half of its value just during 2016. Intesa is a company traditionally shareholder friendly and pays an annual dividend with a high payout ratio. At the current stock price, the last distribution would yield 7%. The company appears to be competently managed, and in my opinion, has further room to improve its performance in the upcoming years. Intesa makes up a compelling long idea both for dividend investors and for those seeking possible capital gains that should materialize as soon as the situation normalizes. Unlike other Italian institutions, there is definitely a lot of potential here for a comeback of the stock to pre-crisis levels in the short to medium term. I personally believe this is highly likely, but timing is definitely an issue here, and of course, this might end up playing a key role in determining the overall returns for involved investors.

Click to enlarge
(Source: EBA stress tests summary charts tool, Common CET1 ratio)
Last among the five Italian institution analyzed by the EBA, UniCredit (OTC:UNCFF) might not be in great shape because of its NPLs problems, but CET1 ratio in the adverse scenario is very similar with its German counterpart Deutsche Bank (NYSE:DB). The problems of DB with derivatives are well known to investors and the company has just posted record low earnings for the quarter. Despite The Economist's continuous struggles to dump the problems on the PIIGS (latest article here), Britons might be interested in taking note that they have their own headaches with Barclays (NYSE:BCS). Royal Bank of Scotland (NYSE:RBS) fared only slightly better (still below average), but attentive readers will recall that it is the same bank that has been already bailed out by UK taxpayers' money in 2008.

Click to enlarge

Click to enlarge

Click to enlarge
(Source: EBA stress tests summary charts tool, Common CET1 ratio)
Conclusion
In Italy, there's a saying for such situations: it can roughly be translated as "everybody's bad is half good", meaning everybody can be better off if they try to cooperate on common problems and stop pointing fingers at each other. For all the involved parties to work together on critical financial reforms without preconceptions a certain degree of common understanding is required. However, when comparing the stress tests historically, the latest EBA results show that the European financial system is already in a slightly better shape than it was two years ago. Even though a fair amount of problems remain to be addressed among members, the high level of scrutiny from investors and international institutions will ultimately play a positive role on the EU in driving the needed changes. Despite the naysayers, situation is likely to normalize in the medium term, Italy included.
Disclosure: I/we have no positions in any stocks mentioned, but may initiate a long position in IITSF over the next 72 hours.
I wrote this article myself, and it expresses my own opinions. I am not receiving compensation for it (other than from Seeking Alpha). I have no business relationship with any company whose stock is mentioned in this article.
Editor's Note: This article discusses one or more securities that do not trade on a major U.S. exchange. Please be aware of the risks associated with these stocks.