The second quarter earnings season has seen a lot of oil companies miss estimates, and on Friday morning Exxon Mobil (NYSE:XOM) became one of those companies as well, with huge misses on the top as well as the bottom line. Exxon Mobil is holding up better than most, but is visibly hurt by a combination of headwinds including low oil and gas prices as well as low crack spreads.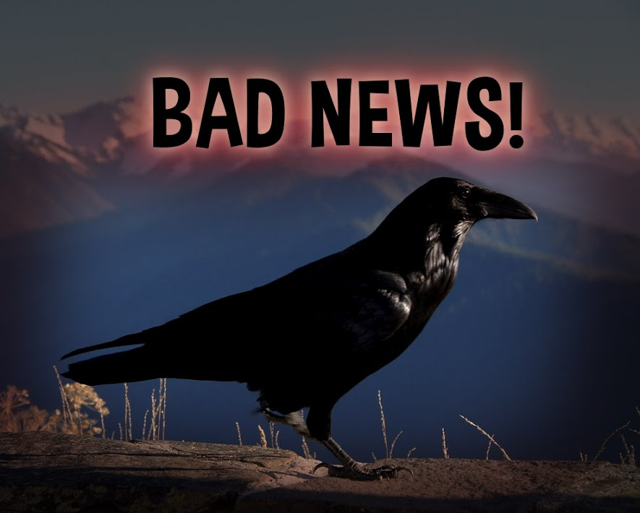 Click to enlarge
Exxon Mobil reported revenues of $57.7 billion, down from $74.1 billion in the prior year's quarter -- analysts had expected revenues of slightly more than $60.0 billion. This significant miss was based on a huge decline in average realized prices, whereas production only declined marginally (which is better than Chevron's three percent production decline).
Exxon Mobil increased liquids production by 1.7%, whereas natural gas production dropped by a little over three percent. Since the combined oil equivalent production was almost flat, I believe this is rather positive: Oil prices are low, but natural gas prices are even lower (measured relative to the peak prices), thus shifting production towards oil and other liquids should be helpful for Exxon Mobil's margins.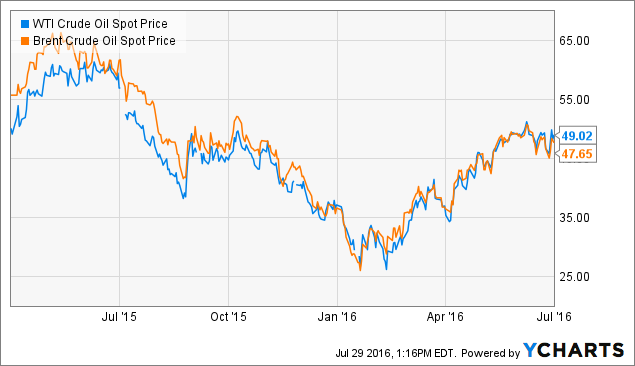 With oil prices sinking from an average of more than $50 in last year's Q2 to about $40 in this year's Q2, Exxon Mobil's upstream operations were poised to report weaker results, and they did: Exxon Mobil's upstream segment was still profitable ($300 million in earnings in the most recent quarter), but well below the level of the prior year's quarter (with upstream earnings of $2.0 billion). This nevertheless shows that Exxon Mobil's superior, high-grade assets and operational excellence are still able to generate profits from its upstream operations, unlike those of peers such as Chevron (NYSE:CVX) and ConocoPhillips (NYSE:COP), which had to report huge upstream losses.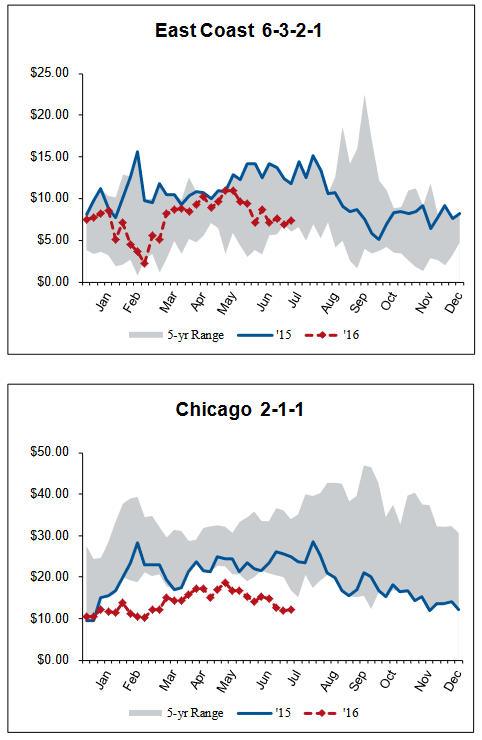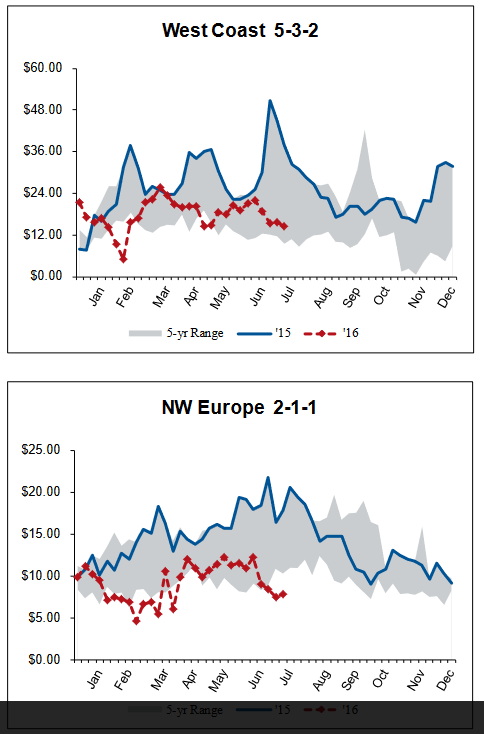 As we can see from the above charts, crack spreads in key markets have dropped significantly over the prior year, and that is not only true for the second quarter, but also for the beginning of the third quarter. Investors thus have to account for lower downstream earnings in the current quarter, such that Q3 earnings could be significantly lower than in 2015 as well.
Cash flow-wise Exxon Mobil had to report a negative free cash flow, something Exxon Mobil (as one of very few oil companies) did not have to do in past quarters. Operating cash flows totaled $4.5 billion in Q3, about $700 million below the capital and exploration expenditures number of $5.2 billion. Exxon Mobil states that operating cash flows including asset sales was $5.5 billion, thus higher than capex, but I don't think asset sale proceeds should be added to the operating cash flow number, as Exxon Mobil cannot sell the assets it has already sold a second time; thus those proceeds totaling $1.0 billion are a one time item for Exxon Mobil. These asset sales also lowered production by 39,000 barrels a day in comparison to the prior year quarter: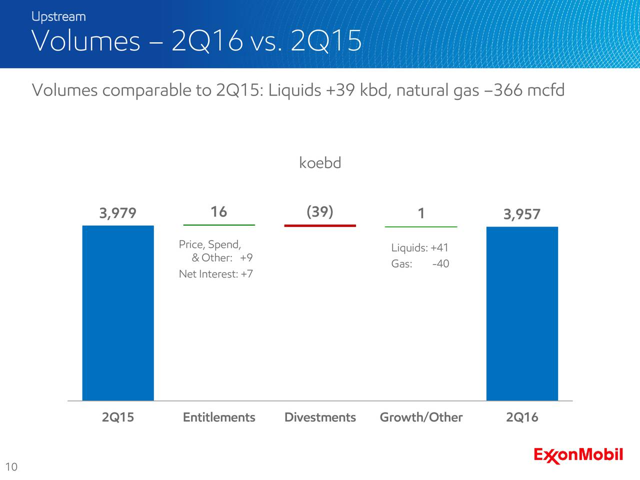 Click to enlarge
We see that the most relevant factor for Exxon Mobil's (rather small) production decline was the divestment of producing assets, or the asset sales (whose proceeds Exxon Mobil adds to operating cash flows). When we add in shareholder distributions (i.e. dividends) totaling $3.1 billion in the second quarter, the company's combined cash burn (negative free cash flows plus the amount paid out in dividends) in the most recent quarter was $3.8 billion, or $15 billion annualized. This is a lower cash burn rate than that of peers such as Chevron, and Exxon Mobil has a fortress balance sheet that can easily stomach a couple of quarters of negative cash flows, but it is not a good situation to be in anyways, and investors should keep an eye on the development of Exxon Mobil's free cash flows and cash uses.
Looking at Exxon Mobil's balance sheet, we see that the company's shareholder equity has dropped $2.1 billion over the last six months, which is not good; but in comparison to Exxon Mobil's shareholder equity of more than $170 billion, this is not a huge hit on a relative basis, either. As long as earnings stay positive but the company's shareholder proceeds are higher than its earnings, investors have to account for further shareholder equity declines over the next quarters.
Takeaway
Exxon Mobil's production dropped slightly in comparison to the prior year's quarter, mainly due to asset sales. Exxon Mobil's operational excellence allows the company to remain profitable in the current environment, but earnings took a big hit YOY as well as sequentially.
Exxon Mobil is now also free cash flow negative, but the company should be able to sustain the current cash burn rate for a while, thanks to its very strong balance sheet.
Among majors Exxon Mobil is still best in breed, but its valuation is not low, and could go lower over the next months (as it did last summer).
Author's note: If you enjoyed this article and would like to read more from me, you can hit the follow button at the top of the page, right next to my name and icon, to get informed about new articles.
Disclosure: I/we have no positions in any stocks mentioned, and no plans to initiate any positions within the next 72 hours.
I wrote this article myself, and it expresses my own opinions. I am not receiving compensation for it (other than from Seeking Alpha). I have no business relationship with any company whose stock is mentioned in this article.