WisdomTree Investments (NASDAQ:WETF) is the largest public pure play exchange traded fund, or ETF, sponsor. Although ETFs are a hot market, WisdomTree's model has a major flaw. That flaw is on display today. But the big question is what comes next?
My problem with WisdomTree
I've never been particularly fond of WisdomTree Investments or many of the ETFs it has created. There are two basic reasons. First, as an ETF sponsor, the company, like so many others, has been slicing and dicing the stock market in an effort to bring out more products. It's sort of like tossing pasta on the wall and seeing what sticks. This isn't a knock against WisdomTree as much as it is against an over-saturated ETF market.
The second reason I'm not a fan of WisdomTree is that the pasta that's stuck makes up way too much of the sponsor's asset base. What stuck is foreign hedged equity funds. And the company doubled down on that recently by creating more hedged equity funds. But only two funds, WisdomTree Europe Hedged Equity ETF (NYSEARCA:HEDJ) and WisdomTree Japan Hedged Equity ETF (NYSEARCA:DXJ) make up most of its assets under management.
How much? Roughly 45%. That's a massive reliance on just two products, each of which use a very similar approach. And that approach hasn't been working as well as it has, HEDJ is down around 20% from its mid-2015 highs and DXJ is down by nearly a third. And exposure to these two funds is too big. Putting dollars to the asset issue, together they accounted for roughly $18 billion of WisdomTree's around $40 billion in assets under management at the end of July. That's down from roughly 60% of assets under management at the start of the year, by the way.
The assets in HEDJ have fallen around 25% so far this year. DXJ's asset base has declined about 40%. That's a tough decline for your two biggest products. It's no wonder that WisdomTree's earnings dropped more than 80% year over year - which of course helps explain the stock's roughly 60% decline over the past year.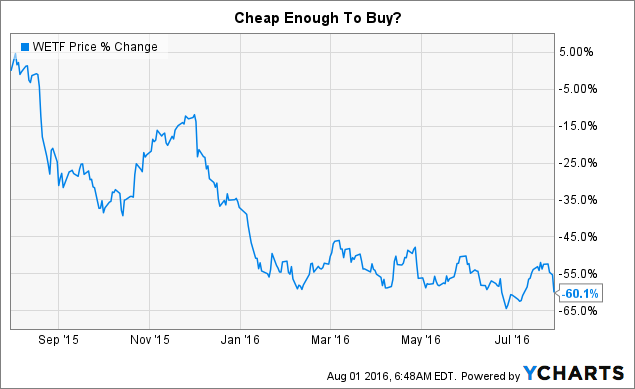 Things to like?
For most investors, WisdomTree just isn't worth owning. And I'd warn all but the most aggressive away because the business model isn't built for the long term, at least not yet. Maybe the company gets there, but it sure isn't there now.
But what if you are aggressive? The stock drop in a pure play on one of the hottest asset management trends in the last two decades could spell opportunity! And that, I have to admit, is true. But be careful if you step in here. For starters, a low price doesn't change the challenged business model. If WisdomTree doesn't successfully broaden its business, results will remain highly volatile - reliant on often fickle markets and investors.
Second, the end of the WisdomTree story could easily be it getting bought out by a larger rival looking to quickly boost its assets. That makes a lot of sense in many ways, since adding a highly focused product portfolio to a more diversified menu at another firm would likely make the combined entity more compelling in many ways. But it's pretty hard to call the timing of an acquisition and you might have to sit through even tougher times before WisdomTree looks cheap enough to an acquirer.
In fact, if you use the $0.03 the company earned in the second quarter as a run rate, the price to earnings ratio is around 80. That's a fairly conservative approach, but even using trailing earnings, the P/E is around 23. BlackRock's (NYSE:BLK) trailing P/E is around 19 and it's considered one of the premier asset managers.
Note, too, that over the past year, WisdomTree's earnings have headed lower each quarter, going from $0.17 a share to $0.03 a share. The trend is going the wrong way. And when you measure earnings in pennies, you might find your negotiating power materially reduced. Or, put another way, WisdomTree today wouldn't be negotiating from a position of strength. In the end, I'd caution even aggressive investors expecting a buyout offer to be extremely cautious. This one-trick pony is hurting and the pain could linger before there's any change.
Disclosure: I/we have no positions in any stocks mentioned, and no plans to initiate any positions within the next 72 hours.
I wrote this article myself, and it expresses my own opinions. I am not receiving compensation for it (other than from Seeking Alpha). I have no business relationship with any company whose stock is mentioned in this article.