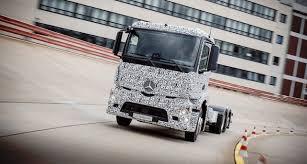 I've been wondering how long Tesla (NASDAQ:TSLA) would be allowed to take the limelight in the EV space before other thought-leading companies would push back. Last week Daimler (Mercedes-Benz) (OTCPK:DDAIY) announced a new Urban eTruck.
This is no long-distance heavy vehicle, but with a weight capacity of 29 US tons, it is a heavy vehicle. The positioning is as an intra-city distribution after long-distance haulage, which might include picking up rail transported goods.
The Mercedes eTruck
The range is 200 kilometers (124 miles), which is sufficient for single-day deliveries. It is based on an existing three-axle Mercedes-Benz truck that handles short-range deliveries. The electric drive-train is based on the system used in the Mercedes-Benz Citaro hybrid bus. There are three lithium ion battery modules located underneath the cargo bay.
It is clear that Mercedes-Benz is pulling together different elements of existing products, but it acknowledges that this vehicle won't be ready for mass adoption until 2020. So a significant part of last week's announcement was about owning an innovative space.
It addresses head-on the reservations by EV skeptics that the internal combustion engine will never be challenged in heavy vehicles. This is clearly not true for buses, and now we see the first foray into electric-powered heavy trucks.
Tesla eTruck?
By announcing the eTruck, Mercedes has got ahead of Tesla. Elon Musk foreshadowed expansion of electrification of transport in his updated Master Plan. There are to be announcements about trucks and buses next year. In typical Musk fashion, the developments get announced before the plan is fully crystallized. Currently, the focus seems more on revolutionizing the pickup truck market, with innovations such as a charger for power tools to make the pickup a more useful workhorse.
Buses: Other heavy vehicles making the transition to electrification
Given pollution problems in major cities due to internal combustion engine vehicles, it is no surprise that there are many developments in producing low emission public transport, and eBuses are emerging as significant players.
Of course, one looks to China to see the future where BYD (OTCPK:BYDDY), the world's largest electric bus manufacturer, makes the running. It produced its first electric bus in 2010 and has produced more than 10,000 electric buses. It has four manufacturing plants and an annual capacity of 7,000 electric buses.
BYD announced last week a $227 million preliminary bid to supply hundreds of electric buses to Shenzen's state public transport operator. This deal happened hot on the heels of Samsung Electronic's (OTC:SSNLF) investment in BYD to take a 2% stake. It follows a setback from cancellation of a 2,228 electric bus contract with Shenzen Western Bus Company.
BYD also is moving ahead with building a Hungarian bus assembly plant, with production commencing as early as October, although this will initially be a small-scale plant producing just 100 electric buses in its first year. This follows some controversy and cancellations of bus contracts in Hungary.
And to take it one step further Mercedes-Benz is exploring "smart" autonomous electric buses in The Netherlands.
This isn't just about the electric vehicles themselves. There is a lot of innovation in Europe for rapid charging. For example ABB (NYSE:ABB) has announced a 15-second flash charging system to be implemented at 13 points and four depot chargers in Switzerland to support a fleet of 12 electric buses servicing airport to city transport in Geneva. The 15-second charge at bus stops delivers a 600kW booster charge. Complete recharge happens at the end of the line with a 200kW 4-5 minute charge.
Implications for the oil industry
I've been reviewing recent presentations by oil industry majors and it is striking that while all of them are paying close attention to cutting costs, minimizing exploration expenditure and generally battening down the hatches, there is a resistance to acknowledging that the current headwinds are anything other than business-as-usual short-term cyclic phenomena. Among the big companies (Exxon Mobil (NYSE:XOM), Chevron (NYSE:CVX), BP (NYSE:BP), Royal Dutch Shell (NYSE:RDS.A) (NYSE:RDS.B) and Total (NYSE:TOT)), only TOT has a clear plan to decarbonize and even its commitment is conditional.
On the other hand, some European oil and gas producers are making big changes, notably Dong Energy, which is committed to exit from fossil fuels to focus on offshore wind.
Make no mistake, rapid electrification of transport is a major threat to the oil industry.
Implications for automotive industry
While it is still early days, there are signs of who will adapt and who will struggle. Clearly, BYD and Tesla are leading the pack. Of the major established car companies, Volkswagen (OTCPK:VLKPY) has a strong commitment to electrification while Nissan (OTCPK:NSANY) and GM (NYSE:GM) are making significant progress. Mercedes-Benz, after a period of tokenism in its EV program, seems to be aggressively developing the space, not only with cars (in catch-up mode), but also buses and now trucks. Mercedes also is, like Tesla, pushing into the home batteries storage market.
Conclusion
The announcement by Mercedes-Benz of an electric-powered heavy vehicle, even if just for short distance deliveries, reinforces the dramatic changes that are coming for how transport (not just personal transport) will be powered in coming years.
With competition between innovative companies like Tesla and the established players now becoming clear, this will only accelerate the change. And this is not just about personal transport, even though skeptics have a world view that seeks to marginalize the EV revolution.
I've been saying for some time that there are two significant industries impacted by the electrification of transport : i) the automotive industry and ii) the oil industry (and also electrification of power generation). Have a close look at the companies in these industries and think about which ones are going to make the transition.
This is not a time to "set and forget" your portfolio in the traditional safe, dividend bearing automotive and energy stocks.
Disclosure: I/we have no positions in any stocks mentioned, and no plans to initiate any positions within the next 72 hours.
I wrote this article myself, and it expresses my own opinions. I am not receiving compensation for it (other than from Seeking Alpha). I have no business relationship with any company whose stock is mentioned in this article.
Editor's Note: This article discusses one or more securities that do not trade on a major U.S. exchange. Please be aware of the risks associated with these stocks.