High Income, Sustainable Capital Portfolio Soars. 12.8% Gains After Taking 8% As Income
At the end of 2015's third quarter, I took note of how panic selling had been driving sharp declines in closed-end funds and considered that an opportunity was at hand. I proposed a portfolio of closed-end funds (A CEF Portfolio For High Current Income With Capital Preservation) targeted to generate high current income with capital sustainability: The High-Income, Sustainable-Capital (H-I S-C) Portfolio.
The impetus for building the model was my recurring interest in building a sustainable, current-income portfolio suitable for retirement income. I think this is going to be a topic of great interest in the coming years as many new retirees will be facing the challenge of retirement with income needs that exceed conventional recommendations for 4% annual withdrawals. Furthermore, those recommendations are based on actuarial assumptions and market predictions that assume a slow but steady drawing down of principal. My thinking was, "Why only 4%? Surely we can do better." and "Can we beat or, at worst, drastically slow the decay of principal?" I felt that it could be done with timely choices from CEFs, and at the end of September 2015, I felt just such a timely opportunity had presented itself.
Portfolio Objectives
I designed the model portfolio with three objectives:
First is high yield for current income. Let me clarify what I mean by current income. I'm using it to describe distribution income that is withdrawn from the portfolio: A portfolio appropriate to a retiree drawing from investments for current income. Most of the discussions on income investing tend to be directed toward building principal in anticipation of retirement, neglecting the very different objectives inherent in drawing income when retired. To that end, I've targeted 8% for taxable funds and 5% for tax-free municipal bond funds as the level of total annual income to be withdrawn from the portfolio. Any excess will be reinvested. I tried to set things up so there would be a modest excess to contribute to achieving the second objective. For convenience I'll refer to it as 8% income ignoring the drop from the tax-free muni bonds.
The second objective is sustainable principal value. Capital growth is not an explicit objective, but it should be obvious that maintaining a sustainable principal while withdrawing income at this high level will require periods of capital growth to offset inevitable periods of capital erosion. Thus, some of the selections were chosen with the expectation of growth, even if their income production falls short of the target for the entire portfolio.
Third is tax efficiency consistent with reasonable diversification. To achieve this, I emphasized the more tax-efficient equity funds, and balanced part of the allocation to tax-inefficient, fixed-income with tax-free municipal bonds. One could readily create a more tax-efficient list, but I wanted the taxable fixed-income cohort for two reasons. First, I felt it essential to have the diversification that comes with holding fixed-income classes. And second, some of these funds (especially NCV and RCS) were priced at extraordinary discounts at the time and were in my view begging to be bought. Others (PDI and DMO) have been such solid performers that I felt they could not be passed up, especially at their excellent valuations at the time. I continue to believe that both should be core holdings in any CEF income-investing scheme.
The portfolio comprises 15 equal-weighted funds and is based on an initial $100,000 investment. The strategy was to rebalance quarterly by investing any excess income in those CEFs that had the least capital growth, and to reduce or even replace holdings that exceed 10% of the equal-weighted target. At the end of each quarter I also planned to re-evaluate each holding. Because a key feature of CEFs is their discount-premium status. I would be particularly looking for funds that had grown to distorted valuations, particularly big run-ups in a premium. If such a fund could be replaced with a solid equivalent at a more attractive valuation, I'd be inclined to make that swap despite the fact that doing so violates the third objective of tax efficiency.
I had planned to update the portfolio here on a quarterly basis, and last did so at the end of June 2016. But I've received several inquiries from interested readers on the current status, so I thought I catch up with the results for July.
Before I do so, let's update the holdings. I noted at the end of June that I would swap the healthcare biotechnology fund, Tekla Healthcare Investors (NYSE: HQH), for its deeply discounted sibling Tekla Healthcare Opportunities Fund (THQ). In addition, the period ended with an excess $825 to reinvest. That was, as I described at the time, split equally between the two worst performers for the period: THQ (as a stand-in for HQH in this case) and Western Asset Mortgage Defined Opportunity Fund (NYSE: DMO). No other changes were made.
The current portfolio consists of:
Equity-Common
Equity-Preferreds
Fixed Income - Taxable
Fixed Income - Tax-Free Municipal Bond
Real Estate
This chart shows the current allocations to the five asset classes.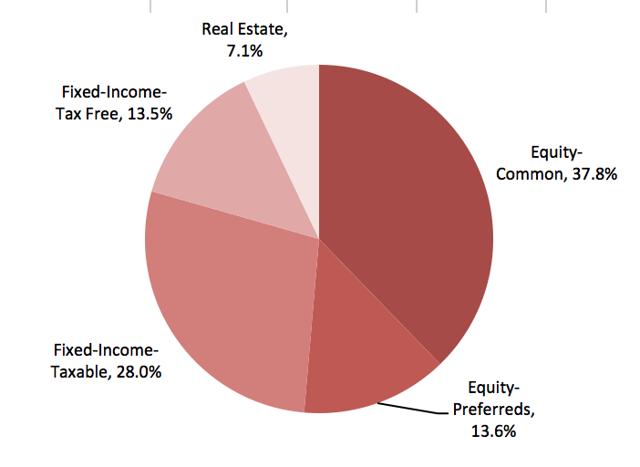 Click to enlarge
And, this table shows the current status of each of the 15 holdings.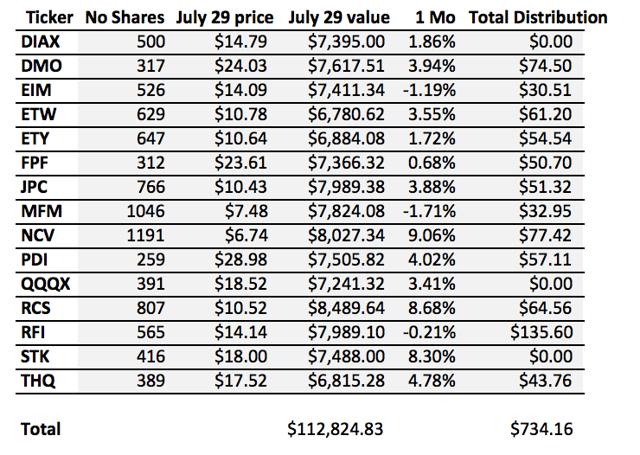 Click to enlarge
Portfolio Performance
It was an excellent month. Three of the funds gained more than 8%. Of course it was a month characterized by a strong rally in domestic equity so it is perhaps surprising that only one of those three funds (NYSE:STK) is invested in domestic equity. STK is a technology fund and technology led the rally, at least at the month's close.
The other two are taxable, fixed-income funds: NCV and RCS. Both of these were added to the portfolio because at the time they represented (to my eye, at least) extraordinary values. NCV was paying over 12% yield and had just fallen from its long-term premium valuations to a double-digit discount in response to a severe distribution cut. But the fact was even with that distribution cut, the -35 point swing from premium to discount resulted in a fund that was paying a higher yield than it did when it held the massive premium. Yet no one was interested.
RCS also dropped from a double-digit premium into discount territory as fixed-income CEF investors panicked in the aftermath of that mere quarter-point increase by Fed. Look at this chart: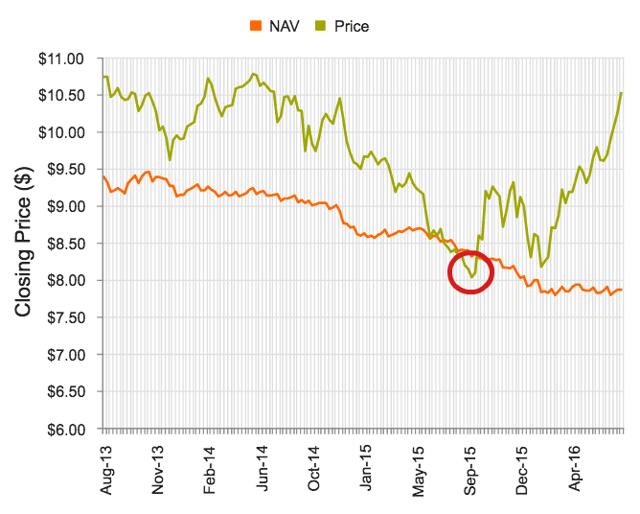 Click to enlarge
NAV was declining, but this was a difficult period for high-yield. More relevant was that the price of the fund was declining well out of proportion to the decline in NAV. RCS has a long history of being a solid fund, sufficiently so to have driven that heady premium. It was to my mind ripe fruit last September. Of course, it looks like an exceptionally overripe fruit today. With the gain RCS is now 12.9% over its equal-weighted target allocation. I'd think about trading out of it, or at least bringing it into balance, but I'd prefer to not take the short-term capital gain. In another two months, I may well do just that. I should note that I hold RCS in my own portfolio. I bought it about the same time as I started this exercise. I hold in an IRA (where I have all my fixed-income CEFs) and I am strongly considering taking those profits before they disappear.
I elaborated on these two funds to drive home a point. Investing in CEFs brings unique considerations into play, most especially an appreciation of investor psychology and the impacts that it has on premiums and discounts. As for all investments, buying at well-valued points is the path to success. For CEFs the characteristics of those well-valued points can be more complex than for other investment categories due to the added factor of discounts and premiums.
July Returns
To get back on track, here is a chart showing this month's price returns for the portfolio's assets.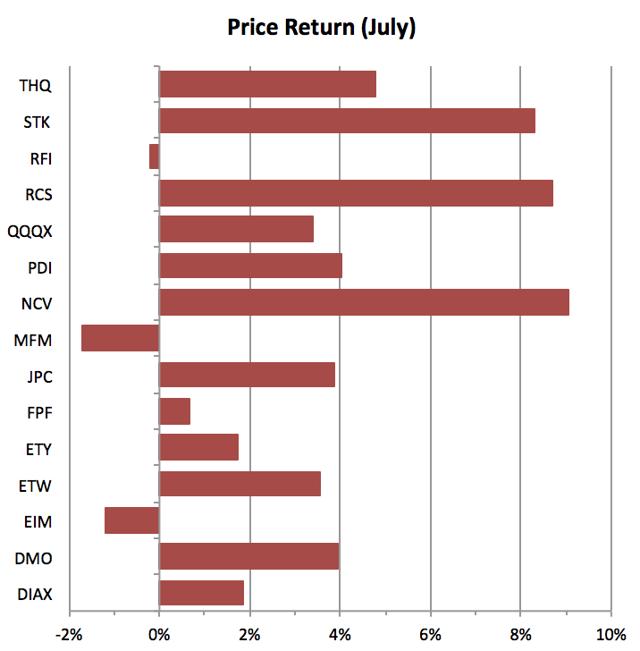 Click to enlarge
Following the three star performers is our newest addition THQ, which focuses on biotechnology. Its performance is attributable to the generalized uptick for the depressed biotech sector. There was essentially no difference in the discount over the course of the month.
There were two losers for the month. Both tax-free municipal bond funds had a drop of more than a percentage point. Muni bonds funds had a great run through 2015 and the early part of 2016. In the face of the recent equity rally they have unsurprisingly begun to come back down to earth a bit.
Portfolio Income
Income was predictable, as most of the funds here have steady distribution payouts. Twelve funds pay monthly; three (DIAX, QQQX and STK) pay quarterly and had no distributions in July. Total income was $734.16, which amounts to 0.68% for the month (based on value at the beginning of the month) without including the contributions of the quarterly payers. Clearly the portfolio continues on track to meet the 8% goal with a meaningful excess available for reinvestment in October. The table below summarizes results since the project was begun ten months ago with $100,000.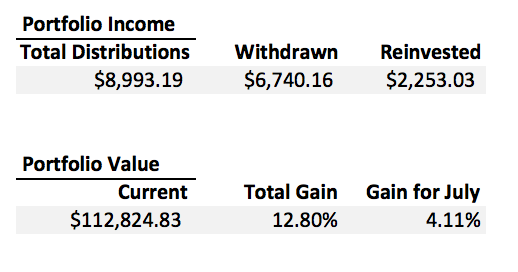 Note, too, the gain in portfolio value. The CEF portfolio has added 12.8% to its principal, even while generating approximately 6.7% withdrawn income. This is an annualized 15.4% gain in principal after sustaining a withdrawal rate near 8%.
Summary
At end of last quarter I felt that a lull in the portfolio's rate of increase of value seemed likely. That has not happened. Instead, with a 4.1% gain the rate has picked up considerably.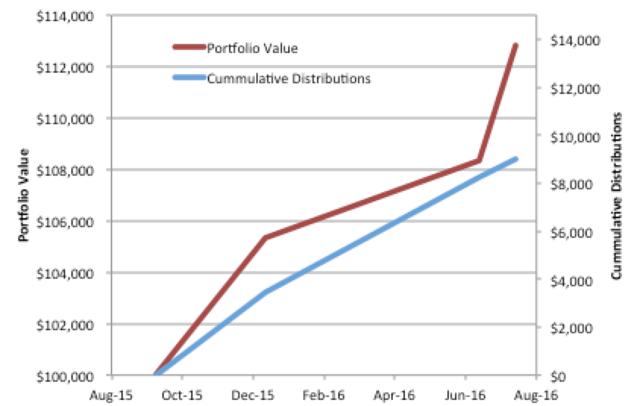 Click to enlarge
Although I do expect a generally bullish third quarter, I certainly do not expect this rate of increase to continue. Several of these funds have moved into heady territory and may well see a return to the more normal discount/premium status I had anticipated at the beginning of July. I do not, however, expect any slackening of income flow. None of the funds looks to have its distribution flow at risk of being reduced.
My plan is to update this report at the end of September for a one-year review. If August proves as interesting as July, I'll probably bring it up to date then as well, but I do not intend to make changes until the end of the quarter.
I want to remind readers of a point I've been making throughout this exercise. It is meant to demonstrate how CEFs, purchased at timely valuations, can provide excellent income with capital sustainability. It is not a portfolio to go out and buy today. Indeed, there are several of the funds one would be wise to consider selling.
In the 10 months since I began the model, CEFs have been bid up sharply. Few bargains are available in the current market, although I believe there are funds that may offer opportunities. I'll try to keep readers posted as I identify these potential buys.
Disclosure: I am/we are long DIAX, DMO, ETY, FPF NCV, PDI, QQQX, RCS, STK, THQ.
I wrote this article myself, and it expresses my own opinions. I am not receiving compensation for it (other than from Seeking Alpha). I have no business relationship with any company whose stock is mentioned in this article.
Additional disclosure: am not an investment professional and this article does not constitute investment advice. I am passing along the results of my research on the subject. Any investor who finds these results intriguing will certainly want to do all due diligence to determine if any security mentioned here is suitable for his or her portfolio.