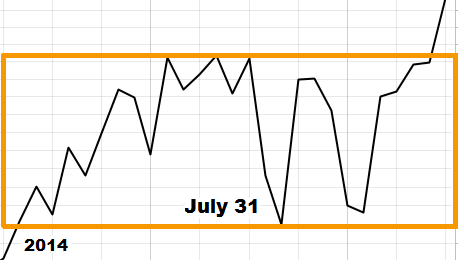 Investors Are Lost
Given valuations are high, earnings growth has been weak, and the U.K. recently voted to leave the European Union, it is easy to understand why investors are in the land of confusion regarding recent gains in the stock market (NYSEARCA:VTI). From Yahoo Finance:
"We have never had so many client meetings starting with statements such as 'we are totally lost'," Credit Suisse equity strategist Andrew Garthwaite said on Thursday.
A Consensus That the Market Is Not Confirming
In the original Market Wizards book, Bruce Kovner, a highly successful trader in interbank currency and futures markets, tells Jack D. Schwager:
What I am really looking for is a consensus that the market is not confirming. I like to know there are a lot of people that are going to be wrong.
If the recent breakouts in risk assets hold, it will be fair to say the market is not confirming the pessimistic consensus view on a wide variety of asset classes (NYSEARCA:DBC). Notice the previous sentence starts with "if", meaning we will learn something either way (breakouts hold or breakouts fail).
Monthly Breakouts Are In The Books
The bearish case regarding a wide variety of investments is easy to understand. However, the consensus view is always easy to understand. It is more difficult to understand what the drivers are behind the Dow's recent break from a consolidation range that dates back to 2013 (see below). The top chart shows the Dow (NYSEARCA:DIA) as of the end of June; the bottom chart shows the last day of trading in July.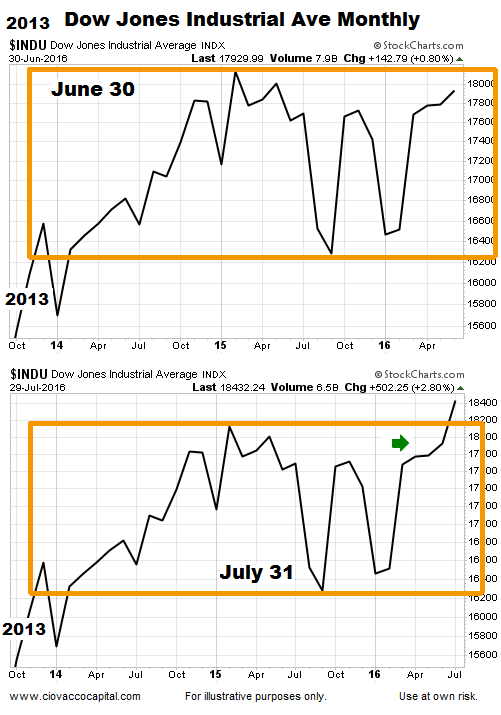 Facts Say Gold Can Add Value To Stock/Bond Portfolio
High valuations are one reason investors are "totally lost" regarding the binary flip back to risk-on in July. While stocks and bonds are both stretched, physical gold (NYSEARCA:GLD) is now rallying after a multiple-year decline.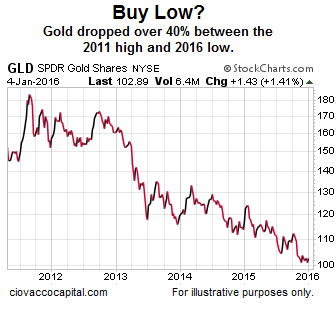 This week's video makes the historical case for considering gold as a possible compliment to a portfolio of stocks and bonds. If you are skeptical about gold, the facts may surprise you.
After you click play, use the button in the lower-right corner of the video player to view in full-screen mode. Hit Esc to exit full-screen mode.


Debt And Central Banks
Only the market knows why the S&P 500 (NYSEARCA:SPY) was able to break out to a new monthly high after going nowhere since 2014. However, one logical explanation is the excessive amount of global debt which is driving global central banks, as outlined on July 19.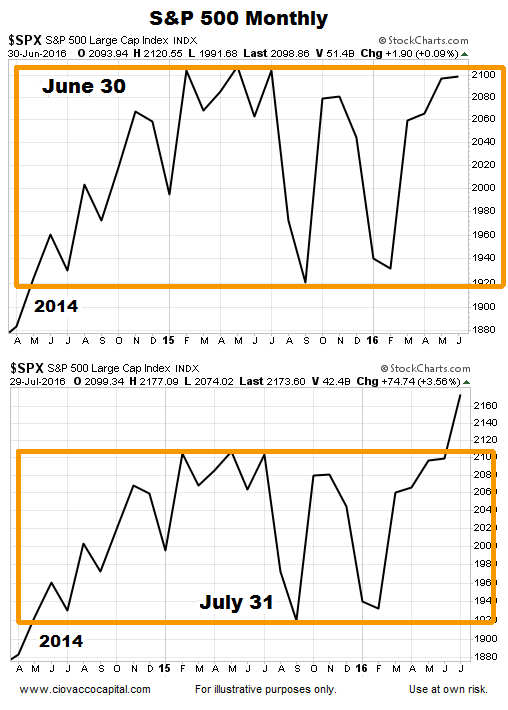 The NASDAQ (NASDAQ:QQQ) completed the trio of monthly breakouts by closing above the monthly highs set in 2015. Notice on June 30 (top chart below), the NASDAQ had made a series of lower monthly highs (see red A, B, C); it had also printed two lower monthly lows (orange A and B). The second chart has a much improved look after price was able to close above the monthly highs set in the spring of 2016 and second half of 2015 (see green points C and D).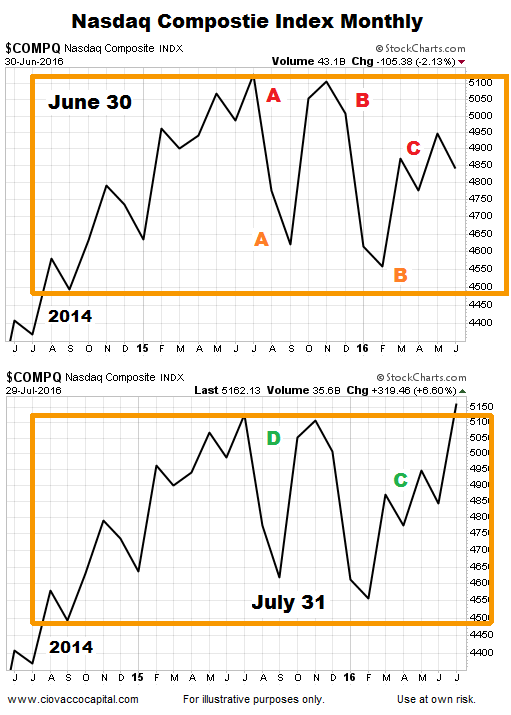 How Can These Charts Help Us?
If the breakouts above hold over the next four weeks, it will be much easier to give the bullish case the benefit of the doubt. However, if the breakouts fail, we will be giving our positions shorter risk management ropes. Price and marginal shifts of the key fundamental bullet points described on July 22 will guide us
Disclosure: I am/we are long SPY, GLD.
I wrote this article myself, and it expresses my own opinions. I am not receiving compensation for it. I have no business relationship with any company whose stock is mentioned in this article.