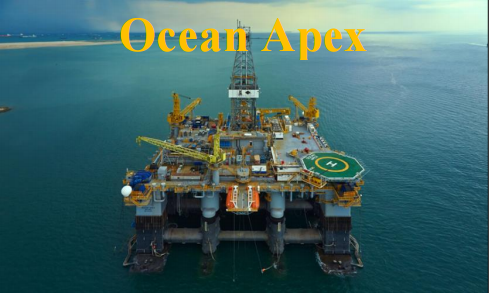 Ocean Apex. Source: company's website.
Diamond Offshore Drilling (NYSE: DO) has just published its second-quarter results and fleet status update.
Previous reports by Noble Corp. (NYSE: NE), Ensco (NYSE: ESV) and a fleet status update by Atwood Oceanics (NYSE: ATW) painted a rather bleak picture for the offshore drilling industry.
In my view, Diamond Offshore's report continued this trend, although it did not contain bad news for the company. Here's a list of changes in the fleet status report:
1. Ocean BlackRhino will start working for Hess in January 2017 compared to the previous date of December 2016. It looks like a pure timing issue, as the length of the contract is unchanged.
2. Ocean Valeant continues to work in August compared to the previous expectations of work until mid-June. The backlog addition is approximately $8.4 million.
3. Ocean Apex received a 3-month extension for the contract with Woodside Energy, and this extension will be the most discussed change in Diamond Offshore's report. The company agreed to a day rate of $205,000 to extend the work from November 2017 to February 2018. The previous day rate was $285,000.
4. Ocean Monarch's timing of receiving reduced day rate was changed.
5. Ocean Scepter and Ocean Endeavour were cold stacked.
6. Ocean Star and Ocean Quest were retired.
Diamond Offshore's fleet status report did not bring major changes, but the contract extension for Ocean Apex is certainly worth discussing. The day rate saw a 27% cut for a three-month extension.
This is consistent with my outlook for the contracting environment in 2018, which implies low day rates due to huge rig backlog and tepid contracting environment.
This is the third peek at the contracting situation in 2018. The previous ones included the abovementioned Atwood Oceanics' contract, where the day rate dropped by 60% compared to the previous one, and Seadrill's (NYSE: SDRL) contract extension for its jack-ups, which saw continuous slide of the day rate as well.
Diamond Offshore continues to pro-actively respond to market conditions, and the stacking of Ocean Scepter and Ocean Endeavour is another example of the company's approach.
The company currently has 15 cold stacked rigs and 13 working rigs. Importantly, there are no warm stacked rigs, so the company is not relying on false hopes and saves money as cold stacking is significantly cheaper than warm stacking.
I remain skeptical that most company's stacked rigs will appear in the market. I expect that retirements will continue, and think that Diamond Offshore will ultimately retire at least 7-9 more rigs.
Diamond Offshore's stock has been a solid performer this year, especially if we consider the performance of its peers. However, the latest move in oil prices put some pressure on the company's shares.
In my view, Diamond Offshore shares were benefiting from the "best of the breed" status, as great management team and a relatively solid balance sheet made it the stock of choice for those willing to bet on the offshore drilling recovery.
However, the problems for the industry are mounting, and the stock may fall under pressure if there's no pick up in the contracting activity.
I'd like to highlight one more thing. While the adjusted earnings came in at $0.16 per share, GAAP earnings were -$4.46 per share due to impairments.
The recent Noble Corp. report hopefully closed the chapter of discussing P/E ratios for offshore drillers, and I hope that Diamond Offshore's report will close the discussion of P/B ratios, which are clearly meaningful in the current contracting environment.
All in all, Diamond Offshore Drilling remains my favorite company in the offshore drilling space, but the current levels of its stock cannot be called a bargain.
Disclosure: I am/we are short SDRL.
I wrote this article myself, and it expresses my own opinions. I am not receiving compensation for it (other than from Seeking Alpha). I have no business relationship with any company whose stock is mentioned in this article.