Bankrupt Breitburn Energy Partners LP (OTCPK:BBEPQ) released its monthly operating report on Friday July 29. The results, however, are misleading and require some adjustments. Holders of BBEPQ need to be worried about a large CODI tax liability and other tax issues that could result when the reorganization plan becomes effective. It is unclear if the bankruptcy judge will instruct the U.S. Trustee to appoint an official equity committee. A management incentive plan was filed for approval last week.
Monthly Operating Report
The monthly operating report (docket 320) filed with the bankruptcy court on July 29 is a basic indication of current operating results, but it does not follow GAAP. A major difference from May was a large decrease in losses from commodity derivatives. In May, there was a $21.4 million loss, and in June, a $0.5 million loss. The other major difference is the large reorganization charge reported in June for $52.6 million. There was no note describing this reorganization charge in the report. Adjusted (does not include derivative or any reorganization items) EBITDA for June was $12.7 million, up from $11.5 million in May.
June Monthly Operating Report-Income Statement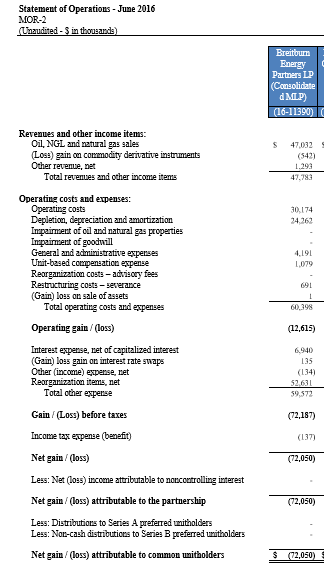 May Monthly Operating Report-Income Statement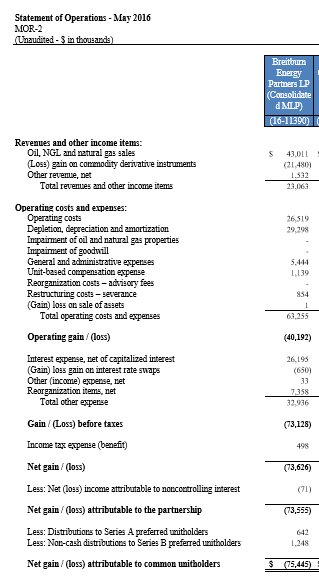 June Monthly Operating Report-Balance Sheet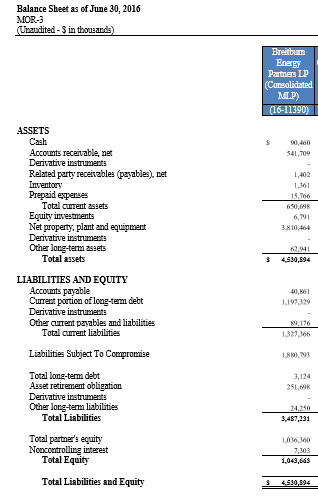 May Monthly Operating Report-Balance Sheet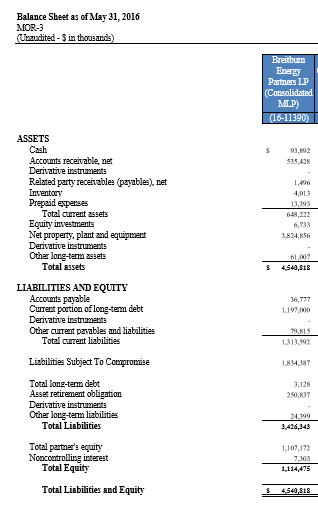 Brief Look At Oil and Natural Gas
With an unusually hot early June, natural gas prices had a nice pop, but have since traded in a narrow band. Oil prices have trended lower from their early June highs. Both, however, are much higher than lows of a few months ago.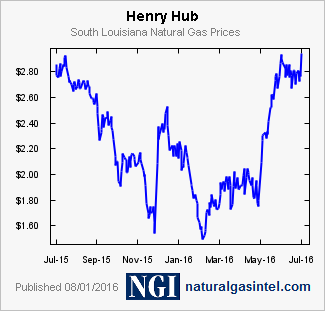 WTI Crude Spot Price

Click to enlarge
Tax Issues
There are very important tax issues that many holders of BBEPQ may not be aware of or thinking that it does not really impact them because their holdings are in an IRA account. Wrong! Just ask holders of Linn Energy (NASDAQ:LINEQ).
The cancellation of debt income-CODI tax liability is a very real potential large tax liability that holders of BBEPQ could face when the reorganization plan becomes effective. Briefly, CODI results when debt is cancelled for less than par value. It is the difference between the cancellation amount (fair value of the amount if not cash) and par, which is allocated as income to the common unit holders (NOT the preferred holders). This CODI is a tax liability that the unit holders are required to include as ordinary income on their income tax as returns because Breitburn elected to be treated as a partnership and not as a corporation for tax purposes. The unit holders do not actually get cash income, just a tax liability (Note: Do not be confused with statements about bankruptcy and not being liable for CODI. If the holder of BBEPQ is bankrupt, then the holder is not liable. Breitburn being bankrupt does not eliminate CODI).
There is the very real possibility that BBEPQ holders on the reorganization plan's effective date, get no recovery, but are liable for a large tax. These BBEPQ units could be a liability and not an asset.
Besides CODI, there are other important tax issues that impact BBEPQ holders. Any gain/losses on hedges will be allocated to BBEPQ holders on the effective date. Any operating losses and any prior losses carried-foreword will also be allocated to the common unit holders on that date. These could be used to offset CODI. In addition, capital losses that result from the reorganization plan would be allocated to common unit holders, but the holders must report these as a capital loss on their return and not as reduction in ordinary income (Note: the holder's purchase price of BBEPQ could impact some of these other adjustments, other than CODI, but that is beyond the scope of this article).
For an interesting discussion of these tax issues, read the disclosure statement filed with the bankruptcy court by Atlas Resource Partners LP (NYSE:ARP), which now trades using ARPJQ, starting on page 113 of the actual document (docket 17). Of course, the plan filed by Atlas could be very different than Breitburn's plan, but it gives a general idea of the extreme tax complexity involved in their plan.
Those holding BBEPQ in their IRA accounts and thinking that these tax issues do not impact them are wrong. Actually their tax issues are even more complex. The holders of BBEPQ are still liable for CODI tax, which is considered to be unrelated business income tax - UBIT. The trustee of the IRA files a special tax form for their clients with UBIT over $1,000, but the taxpayer pays the tax and any filing fees.
Appointment of Official Equity Committee
Some holders of BBEPQ are fighting for an appointment of an official equity committee. Even if they get a committee and they actually do get some modest recovery, the unit holders on the effective date may have a tax liability greater than the amount this committee is able to negotiate for the equity holders.
Under Section 1102(a)(1) "United States trustee...may appoint additional committees of creditors or of equity security holders as the United States trustee deems appropriate." However, the law also allows for the judge to order an appointment:
On request of a party in interest, the court may order the appointment of additional committees of creditors or of equity security holders if necessary to assure adequate representation of creditors or of equity security holders. The United States trustee shall appoint any such committee....equity security holders appointed under subsection (A)(2) of this section shall ordinarily consist of the persons, willing to serve, that hold the seven largest amounts of equity securities of the debtor of the kinds represented on such committee."
The U.S. Trustee has denied requests by BBEPQ holders for an appointment of an official equity committee. Many holders have contacted the bankruptcy court and the judge "ordered, that interested parties shall appear at a hearing and show cause as to why an official committee of equity security holders should not be appointed." A hearing is set for August 18.
Official equity committees are rarely appointed in Ch. 11 cases. Ad hoc unofficial equity committees are frequently formed. The bankruptcy laws do not specify the standards that have to be met for an appointment of an official committee, but case law has established a standard that many judges tend to follow.
These standards Breitburn meets:
The case must be large and complex
It must be timely
There is an active trading for their securities and widely held
These standards will be contested:
The company is not "hopelessly insolvent"
There is reasonable chance for meaningful distribution to equity
Equity needs outweigh expected costs
Equity holders cannot be adequately represented without an official committee
Most of the holders requesting an official committee mentioned the latest balance sheet shareholder equity amount for asserting that Breitburn is not hopelessly insolvent. The bankruptcy courts over the years have placed very little emphasis on this bookkeeping number. To many judges, this number does not really mean much. They look more at market value of the assets and valuation of the income stream. Using the June numbers, the next 12 months' EBITDA could be in the $150-200 million range and using multiples of 5x and 7x, the valuation for Breitburn is $0.750-1.400 billion. This compares to over $3.5 billion in priority claims (including preferreds) ahead of common equity. Trying to convince the judge that there could be meaningful distribution to common equity is going to be difficult.
I expect objections to the equity committee will be filed by creditors. They most likely will assert that equity holders will most likely receive no recovery under a reorganization plan because those with a higher priority class will not receive full recovery and that under "cramdown" equity is not entitled to any recovery. The creditors will further assert any possible recovery by equity holders will be by "gifted" from a higher class to equity and that the creditors should not bare the various costs associated with an official equity committee, such as lawyers, in negotiating any "gifting". In addition, the creditors will assert that equity is already adequately represented.
Collectively the various letters/emails sent to the judge do not make a very strong case for an appointment of an official committee. They fail, especially on the standard that is "necessary to assure adequate representation," in my opinion.
The expectations of positive results from appointed official equity committees do not often occur. For example, shareholders of Energy XXI (Bermuda) LTD. (OTCPK:EXXIQ) on June 15 had a judge order (docket 510) the U.S. Trustee to appoint an official equity committee. After an initial small pop in the stock price, the stock has drifted lower and the committee is poorly organized. They cannot even get a local law firm in Bermuda to represent them (They are trying to assert some legal issues regarding Bermuda law in the bankruptcy filing).
Incentive Plan Filed
It is ironic that also on August 18 there will be a hearing to approve the incentive plan (docket 309) for key employees that was filed on July 27.
Performance Metrics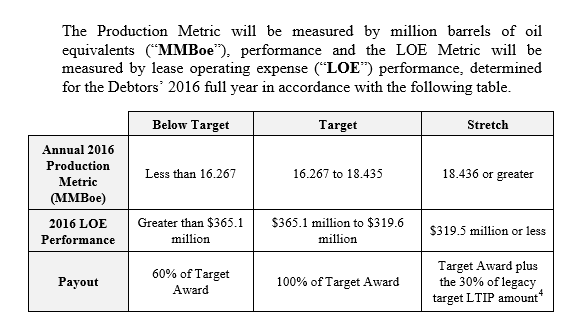 Potential Award Amounts

According to the filing, management only expects a one in four chance of reaching the stretch target. Keeping the lease operating expenses below the 2016 target budget amount may be a major challenge since those figures were based upon the assumption of $35 oil and $2.30 natural gas. Effectively under this incentive plan, to get a larger award, management needs high production at lower than current price levels. It will be interesting to see if the U.S. Trustee files an objection to this incentive plan.
Conclusion
Breitburn Energy Partners is moving along at a normal Ch. 11 rate. The major item really for BBEPQ's holders is the potential for a large tax liability on the plan's effective date. I am not sure about the appointment of an official equity committee, I need to read the expected objection by the creditors when it is filed to give a fair opinion.
I bought some Breitburn Energy bonds along with some other energy bonds earlier this year, but I have sold them. I have direct investment in wells and my portfolio had too much weight towards energy. In the case of Breitburn, I did not sell them because of any particular bankruptcy issue.
I would sell BBEPQ common units. There is a potential for a very large tax liability that could be greater than any recovery that is gifted to equity from a higher priority class.
Disclosure: I/we have no positions in any stocks mentioned, and no plans to initiate any positions within the next 72 hours.
I wrote this article myself, and it expresses my own opinions. I am not receiving compensation for it (other than from Seeking Alpha). I have no business relationship with any company whose stock is mentioned in this article.
Editor's Note: This article covers one or more stocks trading at less than $1 per share and/or with less than a $100 million market cap. Please be aware of the risks associated with these stocks.