Click to enlarge
Introduction
YuMe (NYSE:YUME) is a video adtech company whose underperformance has burned investors in the past. The firm's management and Board have spectacularly failed their job of running a public company for the benefit of shareholders. Judging by their 13-D filings, investors AVI Partners and Edenbrook believed that "friendly" activism would be sufficient to get the management and Board to do the right things: review capital investment decisions with an eye towards return on investment, cut bloated costs, provide greater financial transparency, and pursue a large, accretive common stock buyback.
Unfortunately, CEO Jayant Kadambi and Lead Independent Director, Daniel Springer, chose to make modest optical improvements while presiding over a massive decline in the share price. Since then, however, VIEX waged a proxy contest which won positive recommendations from all three proxy advisory services. VIEX won a resounding 80% of the vote at the May Annual Meeting giving VIEX founder Eric Singer and Sigma Designs CFO Elias Nader board seats.
With Activist board representation, and a fundamentally decent business, YUME is a compelling investment for the following reasons:
The current valuation implies the core business is trading at ~3.9x EV/EBITDA. The business had some execution issues in 2015 but is expected to resume 10% growth.

About half of the market cap sits in cash. The business does not burn cash. The activist board members will endeavor to block value destructive M&A. There is currently a modest buyback program ($10MM) in place. Edenbrook and VIEX have both publicly called for a much larger return of capital (in the range of $30-35 million) preferably in the form of a tender or special dividend.

The end of a significant investment cycle (in programmatic) will bring profitability back to normal levels. EBITDA is expected to improve to $8MM in 2016 and $11MM in 2017 - a significant uptick from the current $9.5MM loss.

YFA and YFP (the programmatic offering) have been formally released earlier this year. We expect modest revenues (~$10MM) from programmatic this year.

Critically, we finally have adults in the room. VIEX handily won the proxy contest and has two Board seats. VIEX has a strong track record of pushing for cost cuts and capital deployment discipline.

We believe industry fundamentals are at a turning point. The sector was overfunded by venture capitalists. It became crowded and very fragmented. Since the implosion of the group in the public market, the IPO window for adtech is pretty much shut. Venture funding has also dried up.

Poor valuations and difficulty raising capital implies a sector that is ripe for consolidation. Verizon's (NYSE:VZ) acquisitions of Yahoo (NASDAQ:YHOO) and AOL are yet another example of telcos exploring adtech to address the challenges of monetizing a mature subscriber base. We also believe financial sponsors are surveying the sector for rollup plays. Adtech companies typically spend in excess of 50%+ of revenues on sales and marketing, primarily due to the fact that many businesses are subscale. YUME is a perfect candidate for a financial or strategic acquisition.

A takeout at the paltry valuation of 0.6x revenues would lead to a $5 share price, almost 40% upside from here.
Background
YuMe is a video ad tech company that went public in 2013. The company helps smaller online publishers monetize their content. A descriptive example might help - More.com has ~448K monthly visits to its site. The website hopes to monetize its content through advertising. Traditionally, they place banner ads on their web pages, hoping visitors click on the banners so that they can collect some payments from advertisers.
The problem with banner ads is that they are intrusive to user experience, and you need large traffic to compensate for the low CPC (Cost per Click, which is the unit price the website charges to advertisers). Now the industry is shifting to user-friendly forms of advertising such as social, native and video. Video ads are much higher quality and command a much higher unit price than banner ads.
Going back to More.com - they target a female audience with editorial content on make-up and lifestyle. They have modest traffic, consisting primarily of young to middle-aged women. Although More.com would like to run nationwide brand campaigns for advertisers such as L'Oréal, it is too small and lacks the operations team to handle negotiations with large advertisers.
That's where YuMe steps in. They pool together thousands of small to medium-sized websites that have high quality editorial content, and then use algorithms and proprietary data (generated through SDKs, software development kits) that determine the best ways to run ads. Advertisers pay YuMe to run a campaign and YuMe remits about 50% of the cost to the publishers. Adtech companies, like YUME, make a market available that would be otherwise non-existent.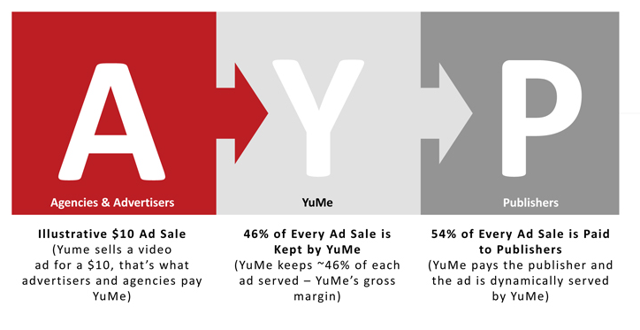 Click to enlarge
Unlike other adtech firms, YUME targets the traditional TV budget, which is currently about $70 billion per year in the U.S., instead of the smaller digital budget. YuMe also creates value by encouraging TV advertisers to put their incremental dollars online where they get considerably higher return on investment.

Click to enlarge
YuMe's end markets are secularly growing; however, investors have become worried about the growth of programmatic advertising. Think of an analogy in the stock market - programmatic is like the low-cost electronic trading run by Interactive Brokers and non-programmatic is the high-touch high-cost financial advisor of Edward Jones. At the time of its IPO, YuMe did not have programmatic capability.
Investors worry that the company missed a technology transition and would become permanently challenged. This is an overblown worry now because 1) YuMe has a programmatic product available starting this year, 2) the end market is in very early innings and growing much faster than the market share gains of programmatic, 3) the legacy YuMe business is likely to have a longer runway than what the market assumes. In the stock market analogy, Interactive Brokers exists, but so does Edward Jones. The "white glove" approach does not go away.
The stock was battered for the following main reasons:
1) Management made unforgivable mistakes in 2015. The mistakes impacted both revenues and costs. Sales force churn is a norm in the industry - but as account managers left, the company did not set up rigorous procedures to make sure that accounts were carefully transitioned. Brand ad campaigns are often ad hoc and deal-centric. The internal operational failure, coupled with external agency rotations in 2015, made several critical deals slip away. The CEO, Jayant Kadambi, publicly admitted it was his fault.
Operational changes have been made to prevent recurrence of such mistakes. On the cost side, due to certain customers' demand for third party verification - one capability that the company's software development kit (SDK) did not have at that time - the company sourced inventory outside its network. Because no value was added through its algorithm, the inventory cost was much higher than those within YuMe's own network. Here again, Jayant took the blame. The company promptly fired some people and made software upgrades that added third party verification capability. Gross margin quickly went back to the target range of 46% to 48%.
2) Because of repeated over-promises and under-delivery by the company's management - and an apparent lack of interest from the Board - the stock suffers from a management and governance discount. However, as activist shareholders such as VIEX gain Board representation, we believe that this discount will abate.
3) Programmatic, programmatic, programmatic. Technology enthusiasts such as Tim Armstrong say the world will be 100% programmatic. Our conversations with customers and competitors, however, suggest that Tim is simply wrong. Even the best programmatic infrastructure today cannot handle the number of attributes required in targeted ad campaigns within the required latency requirements. Moreover, even if we are wrong, YuMe already has its own programmatic product that rolled out this year. We view programmatic as something good to have, but that there will still be room for YuMe's more hands-on offerings.
4) Sell-side analysts have savaged YUME, primarily for the above three reasons.
YUME Today
Other Seeking Alpha pieces have done a good job of summarizing the early and middle innings of the activist battle at YUME.
Fast-forwarding to 2016:
Three large shareholders, AVI Partners, VIEX Capital, and Edenbrook Capital all filed 13-Ds and demanded changes at the board level.

Following intransigence from the Board, VIEX nominated two candidates for the Board and proposed destaggering the Board.

Despite the support of all three proxy advisory services and public support from another >10% shareholder, AVI Partners, YUME wasted over $1 million by refusing to settle the proxy contest.

Activists led by VIEX won 80% of the shareholder vote at the May Annual Meeting, giving VIEX two board seats and a mandate for change.

Since then, the incumbent Board has engaged in unconscionable foot dragging, requiring VIEX to file a lawsuit to compel a response to a standard books and records request.

For his part in wasting shareholder money in the proxy contest and for his lack of interest in the will of shareholders, Lead Independent Director, Daniel Springer, has been asked to resign by 10.4% shareholder AVI Partners, which is surprising given his pedigree as an Operating Partner at Advent.

Adriel Lares, Chairman of YUME's Nominating and Governance Committee, has apparently blocked Eric Singer's efforts to join YUME's Nominating and Governance Committee. Again strange, given that he is CFO of Fastly, a private-company funded by reputable VC firms like Battery Ventures and IDG Ventures. Presumably, these venture firms have to be supportive of good corporate governance in order to get their private companies through the IPO window.

Due to all the above, 5.1% shareholder Edenbrook Capital has demanded that YUME establish a committee to immediately review strategic alternatives.

With adequate pressure from outside shareholders, we believe that VIEX will eventually force the Board to see reason - either soon or, worst case, following the 2017 Annual Meeting.

That said, VIEX has a strong track record of pushing for cost cuts and capital deployment discipline with several prior investments ending in transactions (PLXT, STEC, ENTR, MEMS, to name only four).
Conclusion
Although investors claim to hunt for "diamonds in the rough," I would argue that most investors tend to look for stocks that are "right down the fairway." YUME, frankly, has a lot of hair on it: it's a sub-scale business in a difficult industry, it's behind in a technology transition, and worst, the management and incumbent Board seem focused on doing what's best for themselves rather than what's best for all shareholders.
Any one of those reasons would cause most investors to pass on YUME. Therein lies the opportunity. Trading at a valuation of only 0.3x revenues, with $65.8MM in cash on the balance sheet, we believe that basic blocking and tackling by management and new Board can get the stock to $5.00 through the kind of strategic review publicly proposed by Edenbrook.
Disclosure: I/we have no positions in any stocks mentioned, and no plans to initiate any positions within the next 72 hours.
I wrote this article myself, and it expresses my own opinions. I am not receiving compensation for it (other than from Seeking Alpha). I have no business relationship with any company whose stock is mentioned in this article.