Due to a aggressive dividend cut, my investment thesis on ConocoPhillips (NYSE:COP) turned more neutral earlier this year. My pre-earnings article though focused on how the thesis was only neutral at best in agreement with the JPMorgan analyst.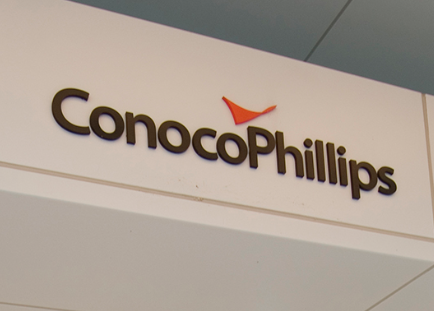 The stock hasn't seen the rally like the oil majors making ConocoPhillips a more interesting story. Though some issues remain turning bullish on the stock that were further highlighted with the Q2 numbers.
Still Upside Down
Despite the dividend cut that helped relieve some of the pressure on cash flows, ConocoPhillips remains very upside down with ongoing earnings losses. In essence, the oil producer is fighting a losing battle as long as oil prices appear capped below where the company needs prices in order to generate profits and free cash flows.
For Q2, ConocoPhillips lost $985 million or $0.79 per share. The amount was an improvement from the Q1 levels, but still a rather large loss considering oil prices reached up to $50/bbl in the quarter. Now the problem is that future quarters are backing up towards again sizable quarterly losses.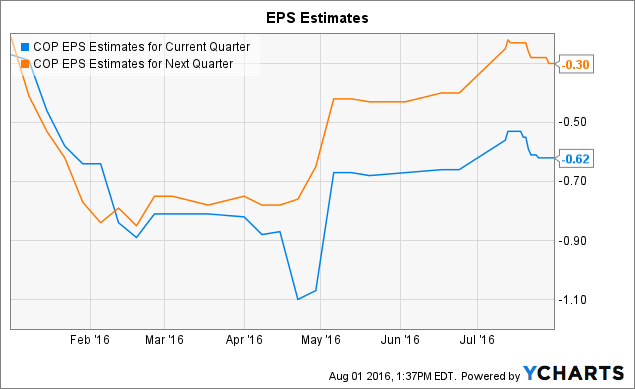 COP EPS Estimates for Current Quarter data by YCharts
All the while, ConocoPhillips is hurting its profit picture by increasing production in the quarter. The company increased liquids production by 31 Mboe/d over last year along with growth in LNG due to big projects coming online.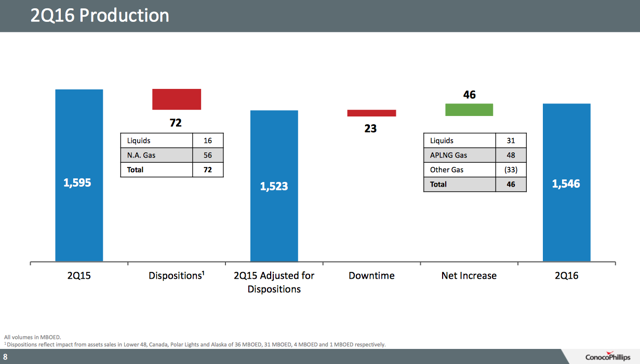 Click to enlarge
Source: ConocoPhillips Q216 presentation
Cash Flow Story
The cash flow story is a prime example of the capped performance. The Q2 results were improved, but one needs to review the 1H16 performance as an example of the current commodity environment with oil prices sitting around $40/bbl.
For Q2, ConocoPhillips generated about $1.2 billion in operating cash flows while spending only $1.1 billion in capex. The company still pays $300 million in quarterly dividends leaving a deficit for the quarter.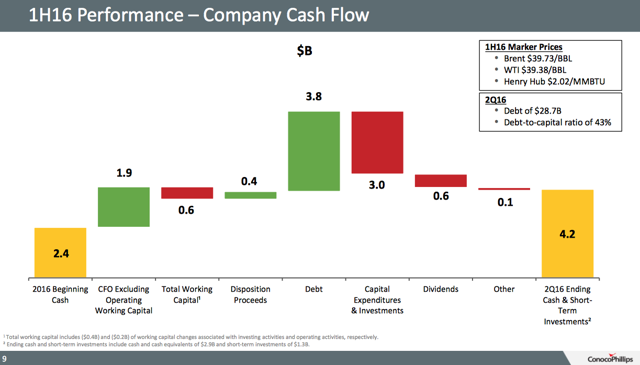 Click to enlarge
Source: ConocoPhillips Q216 presentation
The bright spot is that the company covered capex in the quarter when oil prices averaged nearly $45/bbl. The negative spot is that the price of oil is back to $40/bbl and capex is actually forecast to average $1.25 billion per quarter in the 2H16.
Takeaway
The key investor takeaway is that ConocoPhillips was still bleeding cash and profits when oil peaked during Q2. At the same time, dividend investors won't like that the company is only paying a 2.5% dividend with expectations to utilize stock buybacks next cycle to increase the payout to shareholders. The big takeaway being that ConocoPhillips could actually repurchase shares at the peak of the cycle versus paying dividends at the trough.
While ConocoPhillips has made numerous moves to improve finances, the independent oil exploration and production company remains far removed from the upside down position. The stock remains difficult to even maintain a neutral thesis.
Disclosure: I/we have no positions in any stocks mentioned, and no plans to initiate any positions within the next 72 hours.
I wrote this article myself, and it expresses my own opinions. I am not receiving compensation for it (other than from Seeking Alpha). I have no business relationship with any company whose stock is mentioned in this article.
Additional disclosure: The information contained herein is for informational purposes only. Nothing in this article should be taken as a solicitation to purchase or sell securities. Before buying or selling any stock you should do your own research and reach your own conclusion or consult a financial advisor. Investing includes risks, including loss of principal.