Wix (NASDAQ:WIX), the Israel-based cloud SaaS firm, has been able to get increased market share in the recent quarters. The number of subscriptions has jumped to a record level. The stock had a great performance year to date. Many analysts questioned how far Wix can rise without posting actual profits. However, now the SaaS company has reported bigger-than-expected revenues, which show that the investments in technology and its product are starting to pay off (Earnings Call, 27 July, 2016).
Competitive Advantage
A few years ago, Wix launched the App Market. This was another milestone and an astonishing product feature. You will not find anything similar at its competitors, especially nothing that works so smoothly. The editor lets you plug in a number of "apps" such as a booking or payment gateway. Now, service personnel can take orders even easier. You can create your own booking form on your website. And it all looks extremely professional and is very easy to edit. Those plugins have not been seen before in such a simple way.
The integration is smooth and works with just one click. Apart from this, the site works in more than 15 different languages. The App Market is a one-stop shop that offers all enhancements that you need. Furthermore, social media links and plugins seem like a high priority for Wix and its clients and are included everywhere. You can even add a live chat feature on your website. All the e-commerce features are on such a high level that most competitors cannot even come close to what Wix is offering. From my point of view, the App Market is Wix's unique selling proposition and gives the firm a clear advantage over its competitors. Not only that Wix is offering many more templates for your website, but it also wins more customers with the App Market.
That App Market is also extremely profitable as there is a fremium pricing model in place. Users that want to use special tools from the market can add them and pay an additional $5-15 per month to use them. You can also start accepting payments much easier than before. You have a wide variety of options ranging from PayPal to several credit cards. Its App Market can be credited with the applauses, because now Wix users can do things they'd never thought possible. There are so many terrific apps on the App Market.
Wix has a global reach and has been rapidly expanding in the German-speaking area. It appeared on TV, with the advertisement now showing an increase in the German-speaking market (Wix App Market, 1 June, 2016).
Weebly or Jimdo are its most known competitors in Europe. Squarespace is a US-based competitor. Jimdo is Germany based and offers much less templates, has no App Market and does not work as smoothly as Wix. It offers its users a much less sophisticated product. Wix offers a wide range and wins by being easy to use (Comparison of website editors, 20 May, 2016).
Financial Overview
The founder and CEO of Wix, Avishai Abrahami, has announced on the 26th of July 2016 that the firm now has $10 million of free cash flow. Usually, the first quarter is stronger than the second one. But this year, the second quarter was a record.
Wix added a record 183,000 new subscriptions. After the announcement, the stock price jumped approximately 15%. Second-quarter revenue jumped to $68 million for this year in comparison to $48 million in 2015. That is a growth rate of 41%. Operating losses were only slightly improved.
Adjusted EBITDA was $10.7 million compared to $3.5 million for the second quarter of 2015. There is an incredible momentum in the business. Higher conversion rates have helped Wix to gain more premium subscribers. Please have a look at the table below for details (Wix's record results, 27th July, 2016):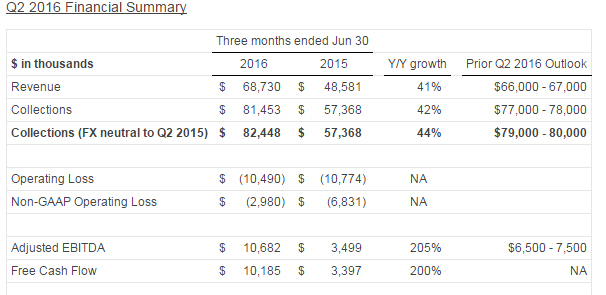 New Product - The Wix ADI
Wix ADI stands for Wix Artificial Design Intelligence. This is a ground-breaking product that follows the App Market, and I am sure it will be the next milestone at Wix. Wix unveiled the first ever artificial intelligence solution for design and creation for desktop and mobile websites. It was designed to eliminate the most significant challenges of building websites - time, content creation and design. Wix ADI instantly produces tailored websites by learning about the user through a few simple questions and curates content to create a unique design and website. There are billions of high-quality combinations, the service selects the perfect combination for each user's need (Wix ADI, 6th July, 2016).
Technical Analysis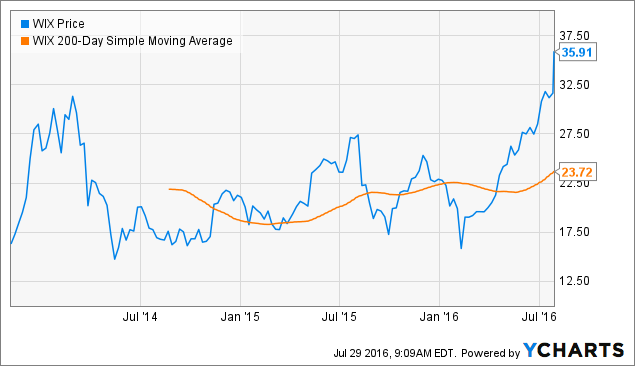 There is no sign of a weakening upside trend. In April 2016, Wix broke through the 200-day average. It has also ignored its $31 resistance and previous high. That is why Wix will reach $40 very soon.
Conclusion
Wix continues to be as creative as four years ago, and therefore, I think it is a clear buy. I am a Wix bull and simply understand that its product is so much better than its competitors. Financials are improving, and very soon Wix will be profitable. Although the stock has climbed significantly in the past months, I still think that there is more room to move higher. My target is at $45 in the coming 12 months.
Disclosure: I/we have no positions in any stocks mentioned, and no plans to initiate any positions within the next 72 hours.
I wrote this article myself, and it expresses my own opinions. I am not receiving compensation for it (other than from Seeking Alpha). I have no business relationship with any company whose stock is mentioned in this article.