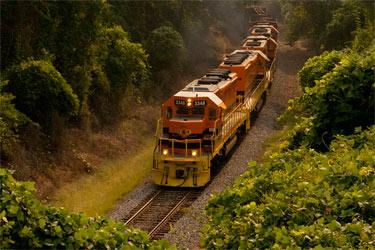 Genesee & Wyoming (NYSE:GWR) reported Q2 revenue of $501.4 million and EPS of $0.93. The company beat analysts estimates on both metrics. However, I believe investors should avoid the stock for the following reasons:
Declining Same Store Carloads
Q2 was the first quarter the company reported revenue and rail traffic on an apples-to-apples basis. Results for this quarter and the year-earlier period included the impact of the company's acquisition of Freightliner. Revenue fell just as I had suspected. Revenue was down 8% Y/Y in comparison to the $542 million reported in Q2 2015. With declining top line growth I find it difficult to get excited about GWR.
It might not get better anytime soon. For the first 29 weeks of 2016 U.S. carloads fell 12%. Meanwhile, Genesee's carloads were off 11% Y/Y. Total rail traffic (including Intermodal) was down 5%: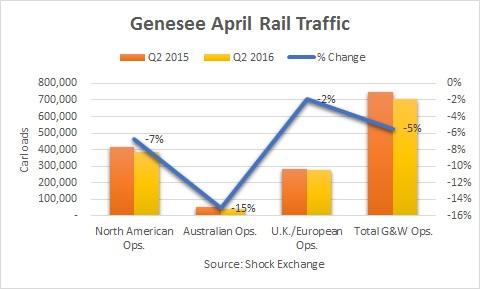 Rail traffic for North America, Australia and UK/Europe was down 7%, 15% and 2%, respectively. This is important as revenue per carload was much greater for North America ($588) and Australia ($596) than that of U.K./Europe ($316). The more heavily weighted rail traffic is towards Europe, the less revenue per carload Genesee earns.
Secondly, while U.K./Europe's rail traffic fell less than that of other regions, its traffic was of lesser quality. Its largest products in Q1 2015 in terms of carloads were Minerals & Stone (15%), Coke & Coal (12%) and Agricultural (9%). Rail traffic for all three declined Y/Y. Intermodal (31% of Q1 rail traffic) actually grew 6% Y/Y and was 35% of total rail traffic in Q2 2016. The rub is that Intermodal earns revenue per carload of $352, versus $432, $333, and $531 for Minerals & Stone, Coke & Coal and Agricultural, respectively. Intermodal's increasing share of U.K./European rail traffic likely hastened the decline in its total revenue per carload from $501 in Q1 2015 to $482 this quarter.
Paltry EBITDA Margins
To grow earnings the company must spur the top line or cut costs. Declining carloads and revenue appear to be a foregone conclusion. Management's next task is to improve margins; EBITDA margin was 27% this quarter, flat versus the year-earlier period. The company wants to improve margins to the mid-30% range this year; however, it could prove difficult to cut expenses in lockstep with revenue declines.
Given the company's declining carloads, declining pricing power and shift toward lower-priced Intermodal traffic, I believe Genesee's revenue could fall by double-digits going forward. It will be hard-pressed to rightsize the business as revenue shrinks. GWR trades at over 11x run-rate EBITDA, outside my 8x valuation range for railroads. I suggest investors avoid GWR.
Disclosure: I am/we are short GWR.
I wrote this article myself, and it expresses my own opinions. I am not receiving compensation for it (other than from Seeking Alpha). I have no business relationship with any company whose stock is mentioned in this article.