DSR Quick Stats
Sector: Consumer Defensive
5 Year Revenue Growth: 5.18%
5 Year EPS Growth: 2.02%
5 Year Dividend Growth: 9.00%
Current Dividend Yield: 1.60%
What Makes McCormick (NYSE:MKC) a Good Business?
McCormick & Co Inc manufactures, markets and distributes spices, seasoning mixes, condiments and other flavored products to the entire food industry including retail outlets, food manufacturers and food service businesses.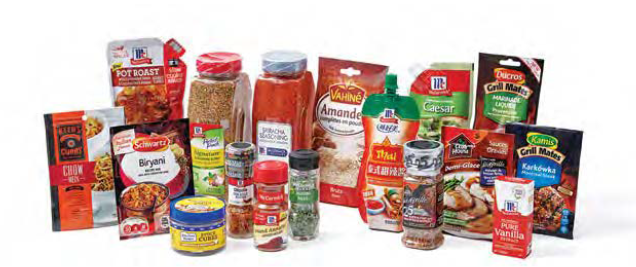 Source: MKC 2015 annual statement.
MKC is divided into 2 segments: the consumer segment with 4 times the market share of the next largest competitor. The global spices market is evaluated at $10 billion. The industrial segment While the company is already known for being a leader in the spices and seasoning mixes, MKC continues to launch new products to support its growth. Around the world, 8% of 2015 sales came from new products launched in the past three years (source: MKC 2015 annual statement). Finally, MKC operates 50 locations in 26 countries.
Ratios
Price to Earnings: 31.33 Price to Free Cash Flow: 28.17 Price to Book: 7.64 Return on Equity: 25.17%
Revenue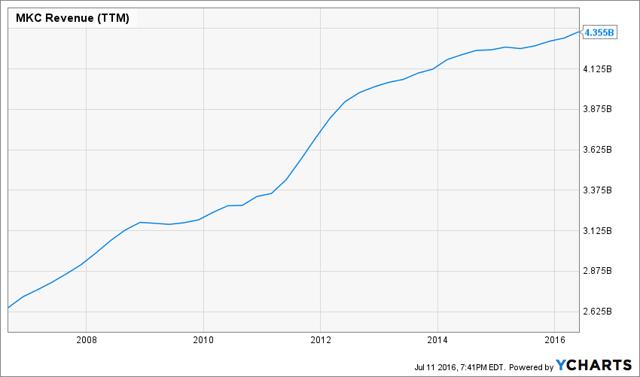 Click to enlarge
Revenue Graph from Ycharts
While many companies used the excuse of currency headwinds to explain declining revenues, MKC managed to publish ever better sales. This is probably attributable to the fact that MKC spends a lot more money than its competitors in the market and continuously introduces new products. There is also a general up trend for tastier and healthier foods. McCormick offers several alternatives to salt with many herb and spice products.
How MKC fares vs My 7 Principles of Investing
We all have our methods for analyzing a company. Over the years of trading, I've been through several stock research methodologies from various sources. This is how I came up with my 7 investing principles of dividend investing. Let's take a closer look at them.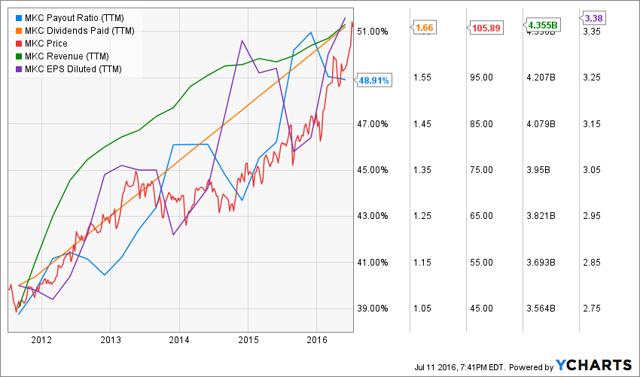 Click to enlarge
Source: Ycharts
Principle #1: High Dividend Yield Doesn't Equal High Returns
My first investment principle goes against many income seeking investors' rule: I try to avoid most companies with a dividend yield over 5%. Very few investments like this will be made in my case (you can read my case against high dividend yield here). The reason is simple; when a company pays a high dividend, it's because the market thinks it's a risky investment… or that the company has nothing else but a constant cash flow to offer its investors. However, high yield hardly come with dividend growth and this is what I am seeking most.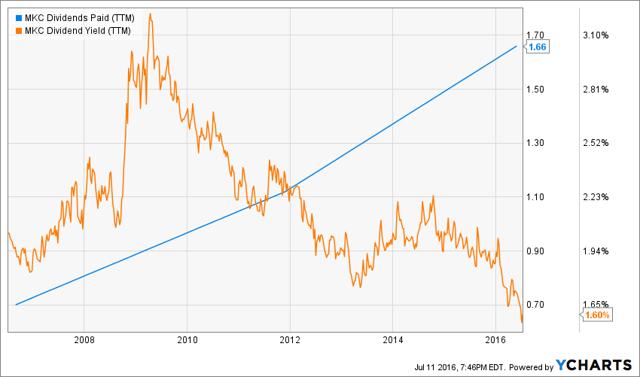 Click to enlarge
Source: data from Ycharts.
I won't lie to you, at first glance, the company's current dividend yield is not appealing. I would have preferred to see a 2% dividend yield but this mainly due to MKC stock price growing by 50% over the last 24 months. While the company grew its dividend payment each year, the stock price went up faster than its payments. Nonetheless, MKC is far from being a high dividend yield company and therefore meets my 1st investing principle.
Principle#2: Focus on Dividend Growth
My second investing principle relates to dividend growth as being the most important metric of all. It proves management's trust in the company's future and is also a good sign of a sound business model. Over time, a dividend payment cannot be increased if the company is unable to increase its earnings. Steady earnings can't be derived from anything else but increasing revenue. Who doesn't want to own a company that shows rising revenues and earnings?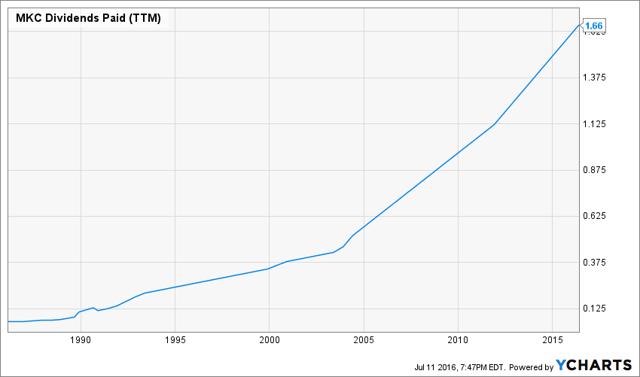 Click to enlarge
Source: Ycharts
The company has successfully increased its dividend payment for 29 consecutive years making MKC part of the elitist list of dividend aristocrats. Since 2005, the company has shown an even steeper dividend growth rate. MKC has recently posted a 9% CAGR dividend growth rate over the past 5 years. MKC meets my 2nd investing principle.
Principle #3: Find Sustainable Dividend Growth Stocks
Past dividend growth history is always interesting and tells you a lot about what happened with a company. As investors, we are more concerned about the future than the past. this is why it is important to find companies that will be able to sustain their dividend growth.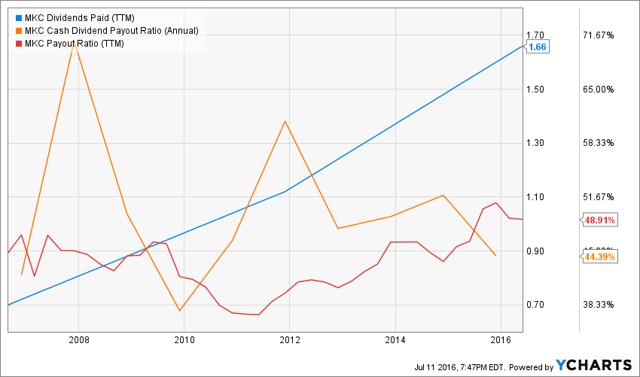 Click to enlarge
Source: data from Ycharts.
It is quite a challenge to continue increasing their dividend by 9% annually over the past 5 years, it's an even bigger success when the company is able to achieve this goal by maintaining both payout and cash payout ratio under the 50% bar. Over the past 10 years, MKC has been able to maintain relatively stable payout ratios and definitely ensures its dividend growth sustainability over the long haul. MKC meets my 3rd investing principle.
Principle #4: The Business Model Ensure Future Growth
McCormick is the largest player in a $10 billion dollar market. It has become the #1 choice of many retailers as they would rather deal with the biggest player (and more often the most reliable) to sell products on their shelves. Because of its market size, MKC is able to spend over $300 million dollar per year in marketing as well as research & development. This enables the company to remain in a leadership position and continuously bring new products to customers. Finally, MKC has also successfully developed private-label spices and seasoning for large businesses such as Dollar General (NYSE:DG) and Family Dollar (NYSE:FDO). They can now offer a wide variety of products from basic value to gourmet choices.
What McCormick does with its cash?
MKC spends lots of money in marketing and R&D. Management expects to see growth coming from ⅓ from internal growth (healthier and more tasteful recipe trends), ⅓ from new products and ⅓ from acquisitions. In 2015, they completed 3 acquisitions (Drogheria & Alimentari, Stubb's and Brand Aromatics) in order to strengthen their position in Europe, improve their premium BBQ sauce offering and boost their industrial segment capacity. As you can see, there is lots of money invested in growing the company each year.
Nonetheless, shareholders are not left behind with nothing. In fact, the company was able to show a very good balance between the usage of cash flow for marketing, acquisitions, dividend payment and share repurchases: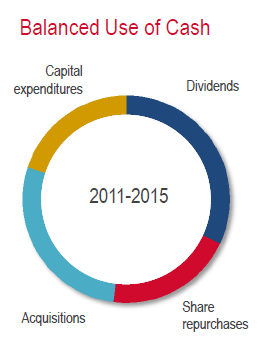 Source: MKC presentation.
MKC shows a very strong business model and meets my 4th investing principle.
Principle #5: Buy When You Have Money in Hand - At The Right Valuation
I think the perfect time to buy stocks is when you have money. Sleeping money is always a bad investment. However, it doesn't mean that you should buy everything you see because you have some savings aside. There is a valuation work to be done. In order to achieve this task, I will start by looking at how the stock market valued the stock over the past 10 years by looking at its PE ratio: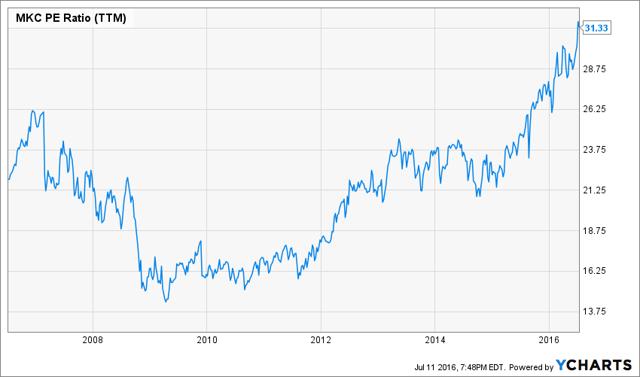 Click to enlarge
Source: data from Ycharts.
MKC seems to be priced relatively high at the moment. In fact, we have to go back in time to 97 to find a higher PE ratio. I understand that MKC shows interesting growth perspectives and have not disappointed the market while many other companies have in the past 2 years, but still, a PE ratio of 31 seems very high to me.
By using a second method, I will determine the value of MKC based on its dividend growth payment potential. For the first 10 years, I will use a 7.5% dividend growth rate which is in line with their most recent increase. Then, I will decrease the dividend growth rate to 7% for the years after. It is quite a high number, but the company has shown it is able to maintain a strong dividend growth increase. As for the discount rate, I think MKC deserves a 9%, the lowest rate I use for highly stable and predictable companies.
| | |
| --- | --- |
| Input Descriptions for 15-Cell Matrix | INPUTS |
| Enter Recent Annual Dividend Payment: | $1.72 |
| Enter Expected Dividend Growth Rate Years 1-10: | 7.50% |
| Enter Expected Terminal Dividend Growth Rate: | 7.00% |
| Enter Discount Rate: | 9.00% |
Here are the results of my calculation:
Calculated Intrinsic Value OUTPUT 15-Cell Matrix

Discount Rate (Horizontal)

Margin of Safety

8.00%

9.00%

10.00%

20% Premium

$230.96

$115.28

$76.72

10% Premium

$211.71

$105.67

$70.33

Intrinsic Value

$192.46

$96.06

$63.94

10% Discount

$173.22

$86.46

$57.54

20% Discount

$153.97

$76.85

$51.15
Source: Dividend Monk Toolkit Excel Calculation Spreadsheet
The second valuation methods show there is a 10% premium to buy MKC at current price. I'm not surprised to see such a strong company being overvalued at this point. However, it will be hard to defend its purchase now since the dividend yield is at its lowest point and its valuation at its highest. MKC doesn't meet my 5th investing principle.
Principle #6: The Rationale Used to Buy is Also Used to Sell
I've found that one of the biggest investor struggles is to know when to buy and sell his holdings. I use a very simple, but very effective rule to overcome my emotions when it is the time to pull the trigger. My investment decisions are motivated by the fact that the company confirms or not my investment thesis. Once the reasons (my investment thesis) why I purchase shares of a company are not valid anymore, I sell and never look back.
Investment thesis
MKC is by far larger than any of its competitors owning 20% of world market share (4 times bigger than its closest competitor). By spending 7% of its sales in research and marketing, MKC is always ahead of its competitors. Its private label segment opened the door to sell in Dollar General and Family Dollar stores. Finally, McCormick has developed a sticky relationship with many of its retailers and industrial clients making them very hard to push aside. An investment in MKC is an investment in a highly recurring business generating an ever increasing cash flow. The company has been highly successful in developing new products and making sure to benefit from the current trend towards healthier food with more flavor. When you can find a company that offers both growth perspectives and dividend growth payment, this quite an investment.
Risks
At this point, I see this market growing with very limited risk in an investment in MKC. Besides the fact the company seems overvalued by 10% at this time, MKC seems to benefit from very good years in its business. However, the fact that prices of many ingredients such as pepper, dairy ingredients, vanilla and nuts have grown significantly, it could hurt MKC's margins later down the road. MKC shows a very strong investment thesis and meets my 6th investing principle.
Principle #7: Think Core, Think Growth
My investing strategy is divided into two segment: the core portfolio built with strong & stable stocks meeting all our requirements. The second part is called the "dividend growth stock addition" where I may ignore one of the metrics mentioned in principles #1 to #5 for a greater upside potential (e.g. riskier pick as well).
Having both segment helps me to categorize my investments into a "conservative" or "core" section or into a "growth" section. I then know exactly what to expect from it; a steady dividend payment or higher fluctuation with a great growth potential.
MKC could definitely fit in a core portfolio but it is also able to bring more growth at the same time. It is very rare we see a consumer defensive company being able to post strong growth numbers. In the light of this analysis, I think MKC could fit in both core or growth portfolio.
Final Thoughts on MKC - Buy, Hold or Sell?
At this time, I'm more kicking myself to not have found MKC sooner than later. The company seems to be on a strong uptrend and it may not really matter if there is a premium price attached to its stock at the moment. If I had bought MKC 2 years ago, I would presently keep it. However, since I didn't buy it, I will keep it on my watchlist for a future dip in the stock price.
Disclaimer: I do not hold MKC in my DividendStocksRock portfolios.
Disclaimer: The opinions and the strategies of the author are not intended to ever be a recommendation to buy or sell a security. The strategy the author uses has worked for him and it is for you to decide if it could benefit your financial future. Please remember to do your own research and know your risk tolerance.
Disclosure: I/we have no positions in any stocks mentioned, and no plans to initiate any positions within the next 72 hours.
I wrote this article myself, and it expresses my own opinions. I am not receiving compensation for it (other than from Seeking Alpha). I have no business relationship with any company whose stock is mentioned in this article.