Prologue
Following the monthly review of the A-Team for July 2016, it's time now to check how the two inspection groups of the A-Team have performed.
Unlike the lengthy-detailed A-Team focused articles, the inspection groups' focused articles are shorter by nature and mostly being used to present the technique of hedging from both real (H-Team) and theoretical (O-Team) perspectives.
In this article I'll touch upon the performance of the H(edge)-Team ("H-Team"), check the health of its components and reemphasize my call to hedge and protect your holdings.
The time to hedge is now!
H-Team: A Short Background Reminder
The H-Team is a live-actual group of ten stocks that I sold short over the past couple of months: Physicians Realty Trust (NYSE: DOC), Equinix, Inc. (NASDAQ: EQIX), Healthcare Realty Trust (NYSE: HR), Healthcare Trust of America (NYSE: HTA), National Retail Properties(NYSE: NNN), Realty Income (NYSE: O), Retail Opportunity InvestmentsCorp. (NASDAQ: ROIC), Tesla (NASDAQ: TSLA), Wingstop (NASDAQ: WING), and Ventas Inc. (NYSE: VTR).
The group is mostly comprises of eREITs due to two reasons:
1. I believe that many eREITs are overvalued. While I was, no doubt, too early to leave this specific interest-rate sensitive instruments party, I still view this group as more overvalued than ever and I believe that anyone buying into any of the most overvalued names is putting his/her money at a great risk! The risk/reward is far from being attractive here.
2. Since I do hold many mREITs, BDCs and "even" eREITs (the non-overvalued ones... e.g. BRG, SKIS, CTRE, HCN, MPW, OHI, CLDT, HPT, HST, LXP, WPG, SNR) it makes perfect sense to hedge holdings of a certain type with holdings belonging to the same, or at least a similar, type.
Portfolio Management versus Risk Management
Too many investors mix portfolio management with risk management. Alternatively, they either don't know what risk management is or don't care enough about. Big, big mistake. Huge!
Portfolio management is the decisions that take place in regard to investment mix and policy, matching investments to objectives, asset allocation, and balancing risk against performance. Portfolio management is all about determining strengths, weaknesses, opportunities and threats in the choice of debt vs. equity, domestic vs. international, growth vs. safety, and many other trade-offs encountered in the attempt to maximize return at a given appetite for risk.
Risk management is the process of identification, analysis and either acceptance or mitigation of uncertainty in investment decision-making. Essentially, risk management occurs anytime an investor analyzes and attempts to quantify the potential for losses in an investment and then takes the appropriate action (or inaction) given their investment objectives and risk tolerance.
The question is therefore: Do and/or how portfolio management and risk management can and/or should be combined?
First and foremost, it's important to understand that those are not the same thing. In order to put things in the simplest form I would say that portfolio management is about taking care of the return while risk management is about taking care of the risk. Some people may prefer to view this as if portfolio management is about taking care of the LONGs while risk management is about taking care of the SHORTs. Let it be... though this isn't completely or always accurate and I prefer the following distinction:
While proper portfolio management supposes to be translated into better returns, inadequate risk management may result in severe consequences. Portfolio management is creating the gains while risk management is preventing the losses.
Risk Management is an Essential, Not a Luxury!
Over the past seven and a half years, since the markets found a bottom following the sub-prime crises, investors enjoyed a tremendous run: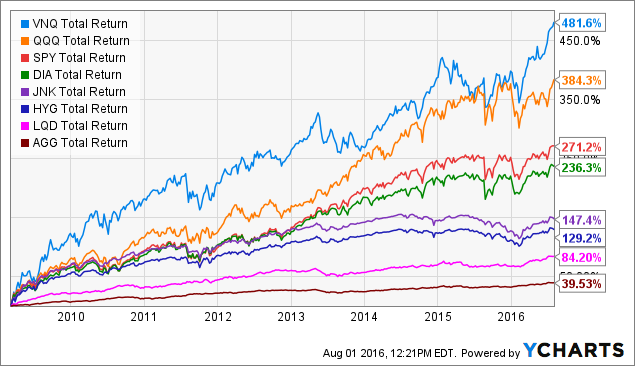 From equities (SPY, QQQ, DIA) to REITs (NYSEARCA:VNQ), from high (HYG, JNK) yield to investment grade (LQD, AGG) bonds - you name it - they all performed. Each and every asset class; some more, some even more..., some less.
This rally that we're in is already the second-longest in history: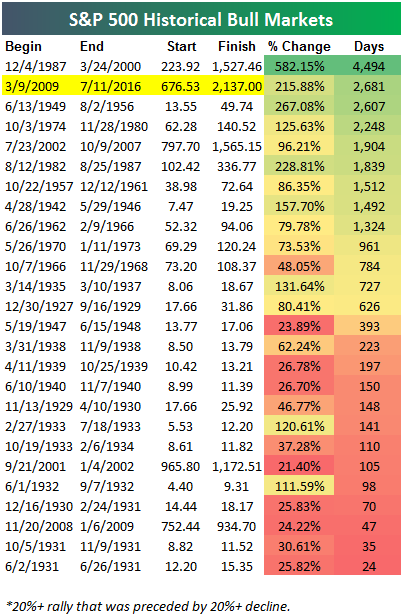 Source: Bespoke Investment Group
That's fantastic indeed but that's part of the portfolio management department. What I'm asking is where the hell the risk management department has gone to? Have the staff been laid off? Have they go on vacation? Or is it just like the case of a "forgotten employee" where nobody really cares/needs your services anymore but they know they can't fire you either. So you sit at home, getting a salary for doing nothing. Not because you can't, no because you don't want to, but simply because nobody knows what to do with you and/or how to use your skills, experience and wisdom.
Folks, what about risk management? What about being compensated enough for the risk taken? What about the distant, not too distant though, memory where markets may collapse?
Shall I remind you folks that all the above asset classes may also look like this scary chart: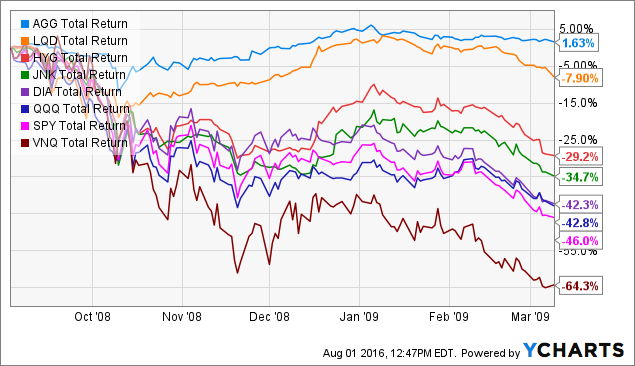 Guess who has led the decline back then during Q4/2008-Q1/2009? The VNQ with all its beloved eREITs.
As I wrote in my last article:
I'm not a "prophet of apocalypse", but I am an investment manager with circa 30 years of experience who has seen more than a few bubbles burst and quite a lot of "unexplainable valuations" turning into "explainable valuations".
Don't allow "unexplainable valuations" to turn into a very painful losses!
The Hunt for the Perfect Hedge
A "perfect hedge" is a position undertaken by an investor that would completely eliminate the risk of an existing, usually but not necessarily long, position. A perfect hedge can also be in the form of a position (or positions) that eliminates the entire market risk from a certain portfolio. Easy to understand; very hard to implement.
In order to be considered "a perfect hedge", a position would need to have a 100% inverse correlation to the initial position. As such, the perfect hedge is rarely found. Shorting eREITs against mREITs, BDCs and especially against other eREITs seem like a good/close enough hedge, though far from being truly perfect.
The correlation between mREITs (NYSEARCA:REM) to eREITs has been high during the majority of the past five years. It's especially high over the past 2-3 months when my short position were created: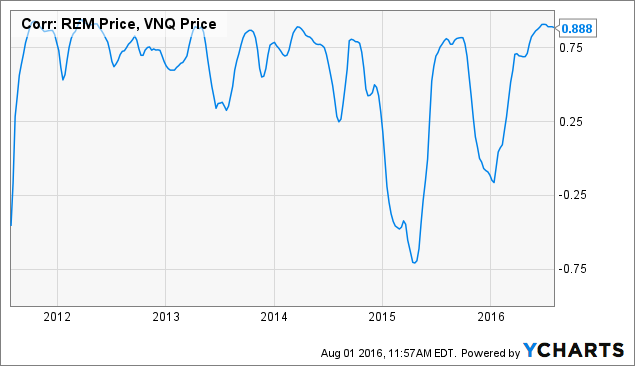 The correlation between BDCs (NYSEARCA:BDCS) to eREITs is much less consistent but it has been high enough over the past 2-3 months since my short positions were initiated: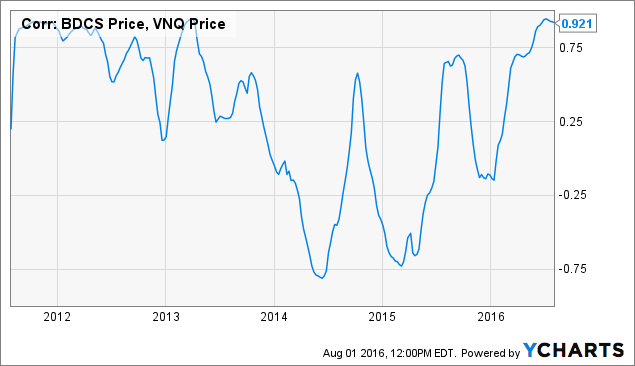 It's safe to say that hardly ever an investor can find a perfect hedge. Nonetheless, it's better to have a non-perfect hedge in place than not having a hedge at all.
Remember: You sleep well at night because of the quality of your defence not due to the aggressiveness of your offence!
Month in Review - July 2016 - H-Team
Let's see how the H-Team has performed over the past month: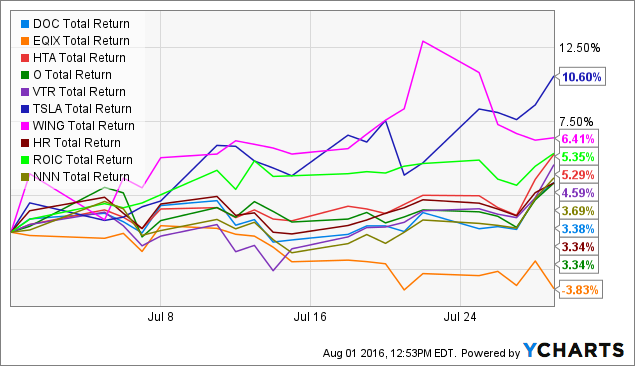 The average return of the entire H-Team is 4.216%, still below the 4.936% average return of the A-Team.
Taking into consideration that both TSAL and WING being non-eREITs are two exceptions, it's worthwhile noting that the average return of the eight eREITs components of the H-Team is just 3.144%.
Either way, that is exactly what a good hedge supposes to do: Protect from the downside while eating some of the upside. Although over the past month the hedge have eaten into much of the absolute performance of the A-Team, the net return of the A-Team minus H-Team is still a healthy 0.72%, or 8.64% annually. Not a bad return at all!
If we eliminate the effect of TSLA and WING we end up with a much more impressive net return of 1.79%, or 21.48% annually. Is there anyone in the audience that would say no to such a return? Bear in mind that this is hedged return that can easily compete with any non-hedged portfolio.
Prologue
I surely hope that this article has helped you make the necessary distinguish between portfolio management to risk management. Those are exactly such amazing times, when money seems to be growing on trees, that investors should be most worried off!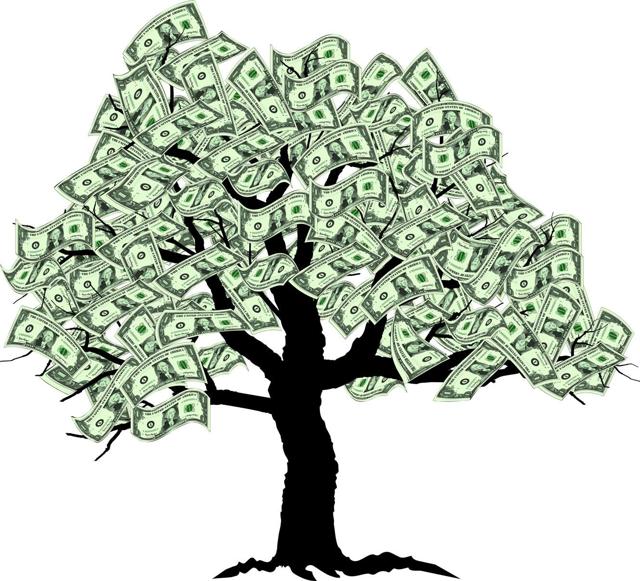 When great returns seem to be coming your way "easy peasy lemon squeezy", this is exactly when you should be minded of a potential squeeze; the non easy-peasy version of the lemon, aka long, squeeze...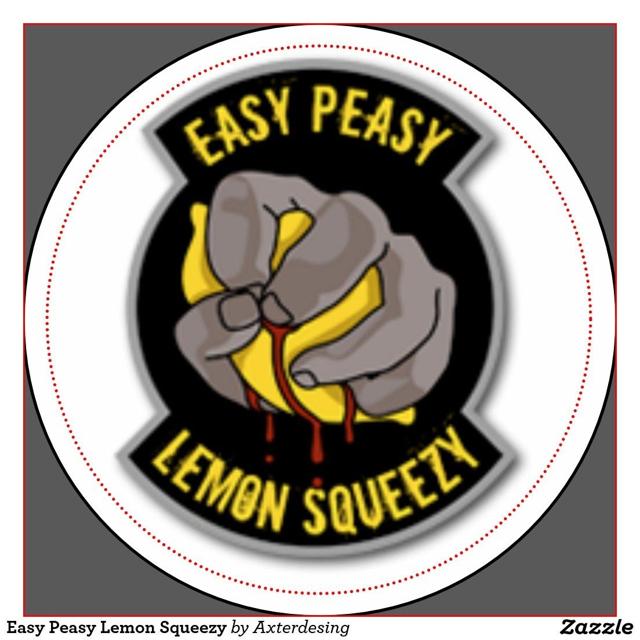 As I wrote over the past month, I'm hedging without an attempt to time the market but simply because I know it's the right thing to do! I don't know when the hedges would protect my holdings from the downside risk (rather than eating some of the upside) but I started this strategy while knowing that it may take a couple of months until it proves prudent, justified and crucially required.
As I wrote over the past month, you wish to buy your insurance policy when premiums are low, not when your house is already on fire. My main scenario is that a market pullback occurs sometimes during the next six months. I have no idea when but I surely wish to be ready now, knowing that I'm well prepared to weather the storm, if and when it comes, without me knowing or trying to guess its magnitude.
Since the storm may starts any minute - nobody knows when - I 'm happy to sacrifice some of the present potential return to avoid a future potentially major loss. After seven and a half years of phenomenal returns, what are six months of potentially (but not necessarily) lower returns? It's a price worthwhile paying!
I keep hunting for the perfect hedge in an ongoing attempt to avoid "The Hunt for the Red October"...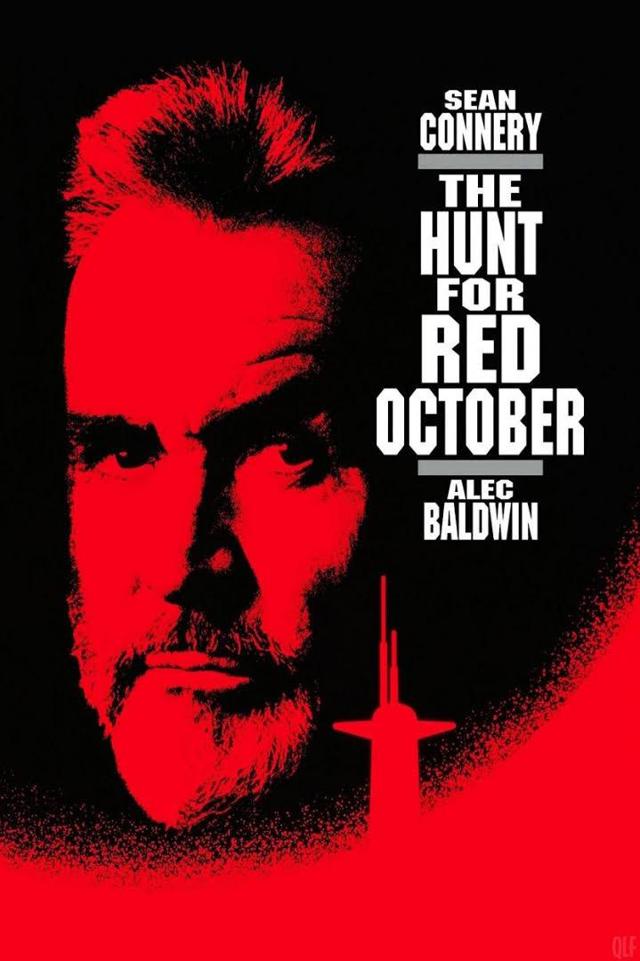 ... or August.... or September.... or any other month... I don't know, I can't know, and nobody can be sure of neither the occurrence nor the timing of such a "red" event. You can bet on and be sure of one thing though: I'm the "Fortune Teller" but I'm not telling you fortunes. Don't hunt for a small return while being hunted by a huge risk!
Disclosure: I am/we are short THE ENTIRE H-TEAM.
I wrote this article myself, and it expresses my own opinions. I am not receiving compensation for it (other than from Seeking Alpha). I have no business relationship with any company whose stock is mentioned in this article.
Editor's Note: This article covers one or more stocks trading at less than $1 per share and/or with less than a $100 million market cap. Please be aware of the risks associated with these stocks.