I recently wrote an article on British Land and suggested contrarian investors to have a closer look at this UK REIT which recently suffered a large and unjustified sell off as a result of Brexit. The buy thesis remains strong and today I want to have a broader look at the UK REIT segment and discuss why the market reaction to Brexit was unreasonable.
How big of deal is really Brexit?
On June 23rd 2016, the United Kingdom voted to leave the European Union. As an immediate consequence, the stock market crashed and certain sectors including the UK REIT market suffered even more than average. The reaction of many investors was to sell off all their UK securities with the intention of leaving the UK and reallocating the capital into a "safe harbor". Everybody always proudly explain how they are long-term investors, but at the first uncertainty, many unload all their shares without even asking themselves what really happened. Now what I don't understand is what sense does it make to sell right after a crash in order to reallocate the capital into another market such as the USA trading at all-time highs. Aren't we all taught to act in the exact opposite manner during such events? Brexit proved once again that the financial markets are very short-term oriented, and that investors cannot deal with short-term volatility.
It is interesting to note that these movements in the public financial market do not correlate with the actions taken in the private markets. As an example, the first and second day after the referendum, you saw UK REITs loose tremendous value due to very large sell-offs. Investors panicked and sold everything as quickly as they could. On the other hand, did the REITs sell their real estate portfolios in the private market following the decision to leave the EU? No they didn't. Private market actors took a step back and put a hold on their decisions and wait for the uncertainty to clear itself. The panic selling is happening in the public market which is overly short-term oriented - nothing else matters than next quarter! There is no panic selling in the private market, but a slowdown in market activity as sellers and buyers often prefer to wait for the clarification. So there is a clear disconnect between private and public markets in the short run that could potentially create an opportunity for sophisticated investors.
Throughout this article, you have to keep in mind that it is impossible to know at this point what the real exact short- and long-term implications of Brexit for the UK will be. It is famous that economic forecasts are rarely right, and hence, I will not give it a try.
I won't pretend to be an expert and tell you if Brexit was a good or bad idea as it is out of my circle of competences. What is clear to me is that the question whether it was a good or bad idea is not an issue one to answer. Anyone that pretend to know the answer and gives an opinion with great confidence is likely to have no idea what they are talking about. This question is much more complex than that and cannot be answered today. We will really know 5, 10 or 20 years from now if leaving the EU was the right call for the UK.
I won't debate if it was the right choice or not either. What I will do is simply note that everybody is totally freaking out, especially in Europe, without necessarily a justified reason. I come from Finland and have lived in many other places in Europe including the UK during last year and what I see is that the media over here is very one sided when covering Brexit and its implications. To a large extend, it is the fault of the media that people are getting so scared and confused over this event and in my opinion the story has been covered in a very negatively biased way. While it is clear that Brexit is likely to have negative effects on the economy in the short run, does anyone even consider the long-term picture anymore?
After all, the UK is the world's 5th largest economy and it is not going anywhere. With or without the EU, the UK's industry and economic power will remain strong in the long run. Many of the relationships that the UK has today will not be broken, they will just be reformulated or simply continue to exist. So the actual practical effects of Brexit are probably significantly less than what people are anticipating. People tend to forget that not all countries in Europe are part of the EU, good examples are Norway and Switzerland which are doing just fine without being members.
I believe that the UK leaders will end up coming with a deal that will ultimately be quite similar to the current membership with the EU. The UK will just not "technically" be a member any longer while still enjoying many of its benefits. British people will still be able to travel, to live and to work in the EU. Student will be able to go study in other countries within the EU and investors will have access to foreign EU markets… The UK is part of Europe and will always be…
So the question is not whether the UK will survive or not? It is clear that the UK will be just fine out of the EU. The question is: will the potential long-term benefits outweigh the short-term cost of leaving the EU? Nobody really knows today, but many believe so, and that's why the British people voted to leave the EU.
But it is important to understand that this isn't such a big deal as lots of people imagine and Brexit will be forgotten!
The UK REIT market valuations do not coincide with the underlying NAVs…
The scope of this article is not to provide an in depth analysis of each single UK REIT, but note that as a group, this segment of the market is likely to be undervalued as it suffered one of the largest drop in valuation.

Source: SNL Financials
From the above bar char, it can be seen that already before the referendum, the UK REITs as a group were trading at 13,9% below NAVs according to SNL Real Estate. The surprise Brexit vote just added fuel to the fire with giants such as Land Securities (OTCQX:LSGOY) and British Land (OTCPK:BTLCY) loosing up to 30% of their valuation in just days.
Many large and well-respected REITs were substantially penalized by the market as a direct consequence of the fear of the short-term uncertainty. British Land and Land Securities are just examples, among many others.
Their operating performances and earnings did not change, but they are now suddenly priced as if they were all undergoing a major crisis.
In such a situation when the market exclusively reacts to a political or macro economical event, I like to remind myself the following statement from Warren Buffett:
In the 54 years we have worked together, we have never forgone an attractive purchase because of the macro or political environment, or the views of other people. In fact, these subjects never come up when we make decisions, Warren Buffett
Very often the reaction is disproportionate to the real implications of the event and I believe that Brexit is a perfect example.
The Pound is very cheap today...
Another consequence of Brexit is that the pound lost about 13% of its value relative to the US Dollar, making UK assets even cheaper for US based investors.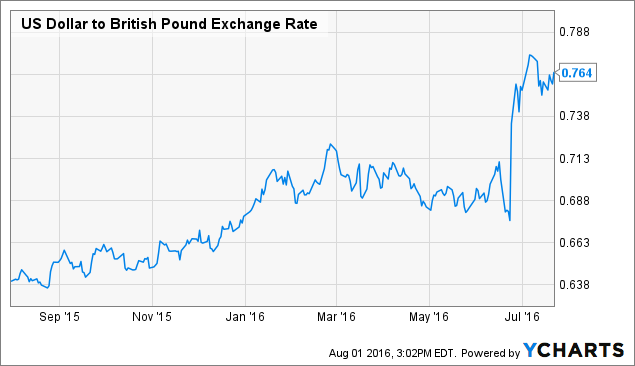 It must be noted that already pre-Brexit the currency translation was very favorable to US investors relative to historic average levels. Now, post-Brexit, the British pound trades at its 10 year lows and offer a very attractive entry point for the US based investor. At GBP/USD of 1.31, the potential for upside alone from a currency perspective is significant if the currency translation would revert to its mean in the future.
A closer look at couple individual UK REITs...
Now I am not going to review these REITs in detail, but I want to present couple examples within the large UK REITs (ADRs):
First let's have a look at British Land (BLTCY):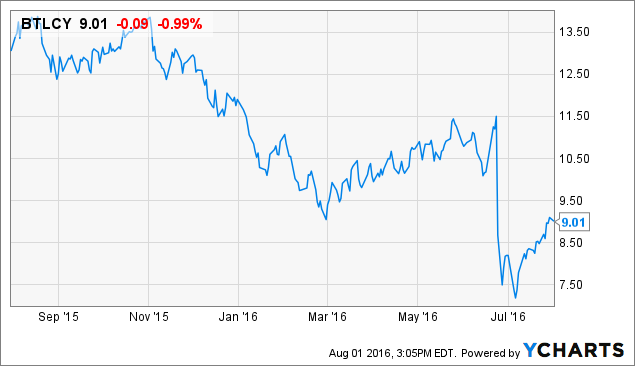 The ADR shares traded in US Dollars dropped from $11,50 to $8,25 in a couple days as a result of Brexit alone. Today they are back at $9 but remain significantly undervalued relative to its NAV.
On March 31st, 2016, British Land reported that its net asset value accounted 919p per share. To put this into perspective, its stock trades today at 645p on the London stock exchange. The discount to NAV equals around 30% according this private market valuation.
Another good example is Land Securities which is the largest UK REIT: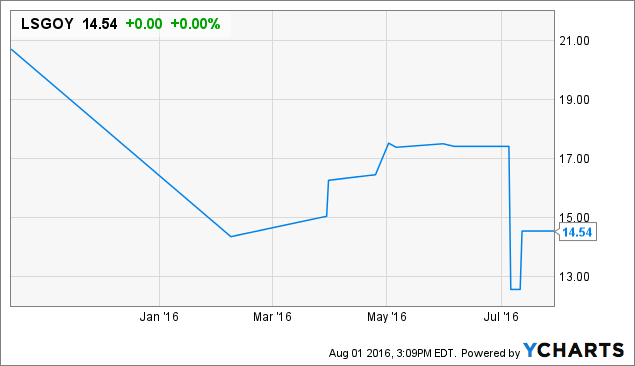 Not long ago it was still trading at over $21 per share and today it trades $14.54. Did the real estate portfolio value change that much in one year? certainly not. After already going up close to 20% in less than one months, the opportunity remains there. On March 31st, 2016, Land Securities reported that its net asset value accounted 1,434p per share. Its stock trades today at 1090p on the London stock exchange. The discount to NAV equals about 30% in this case too.
Final Thoughts
Each fresh crisis is an opportunity in disguise
When investors get scared and dump their assets at fire sale prices, it is time to have a closer look and see if the fear is disproportionate to the situation. Today, the best in class UK REITs have lost a large chunk of their value even if the private valuations of the properties haven't changed. There are real reasons why British people decided to leave the EU and if the long-term implications were very negative, I highly doubt that they would have even had this referendum in the first place. Many economist argue that leaving the EU will be very beneficial for the UK in the long run as they will regain control over their economic policies, regulation and their taxation. Let's remind ourselves that the situation within the EU is pretty scary as well and negative interest rates are not attractive to anyone.
Today, American REITs are in many cases well valued, often at quite significant premiums to NAV and I believe that UK REIT could provide great diversification to your real estate portfolio.
Disclosure: I/we have no positions in any stocks mentioned, and no plans to initiate any positions within the next 72 hours.
I wrote this article myself, and it expresses my own opinions. I am not receiving compensation for it (other than from Seeking Alpha). I have no business relationship with any company whose stock is mentioned in this article.
Editor's Note: This article discusses one or more securities that do not trade on a major U.S. exchange. Please be aware of the risks associated with these stocks.