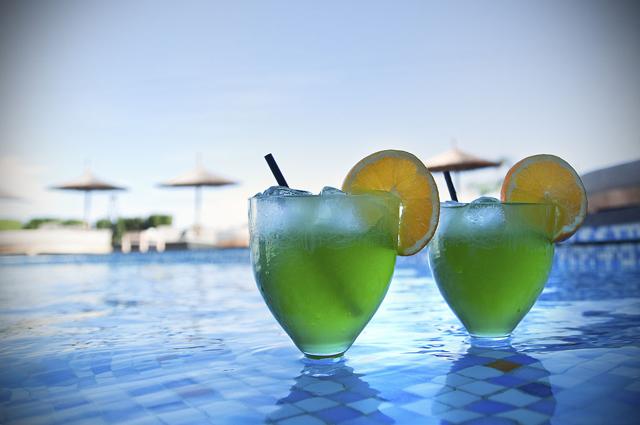 Click to enlarge
Introduction
Every week, we closely monitor net speculative positions on the COMEX as well as ETF holdings in so far as the historical economic behavior of gold prices suggests that over a short-term horizon (<3 months), gold prices are largely influenced by changes in the forward fundamentals, reflected in changes in net spec length, ETF holdings, and central bank reserves.
Speculative positioning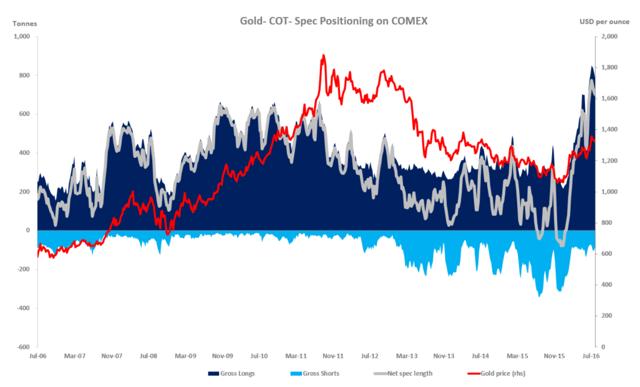 Click to enlarge
Source: CFTC.
Gold. According to the latest Commitment of Traders (NYSE:COT) report provided by the CFTC, money managers, viewed as a relevant proxy to gauge speculative activity, lowered their net long position for a third straight week as of July 26. Over the period covered by the data (i.e. July 19-26), the gold price weakened nearly one percent.
The net long fund position decreased 14 tonnes or 2 percent week-on-week (w/w) to 701.43 tonnes. As a reminder, it reached an all-time high of 774.16 tonnes early in July and started the year at 31.96 tonnes (in the week to January 5).
The weekly deterioration in the speculative positioning was exclusively driven by long liquidation (-24.21 tonnes w/w) that was partly offset by short-covering (-10.10 tonnes w/w).
Longs reduced their positions for a third straight week. Still, the gross long leg, currently at 790 tonnes, remains elevated judging by historical levels, highlighting an unwillingness from longs to materially reduce their exposure.
Shorts covered their positions for a second straight week. The gross short leg, currently at 88.89 tonnes, has progressively reverted lower toward its long-term average of 85 tonnes. As a result, the room for further short-covering has become limited, in our view.
The macro environment for gold was slightly negative over the period - although the dollar and US real rates were broadly unchanged, oil prices continued to fall steeply, producing deflationary pressure, and the financial market volatility pushed to new lows, highlighting a reduced demand for safe-haven assets like gold.
But the conclusion of the Fed's meeting on July 27 (not captured by the latest COT report) has probably changed considerably the situation. The Fed appeared to be less hawkish than the market had expected, which thereby resulted in a sharp fall in the dollar and US real rates, supporting gold prices via a highly likely increase in net speculative long positions. But we'll need to await the upcoming COT report due August 5 to confirm this intuition.
To sum up, we stick with our view that the fall in the net spec length in previous weeks was only temporary and a rebuilding of long positions is likely in the weeks ahead, which should push gold to a fresh 2016 high in August before an intense wave of speculative selling emerge. We therefore stand ready for the smash.
Investment positioning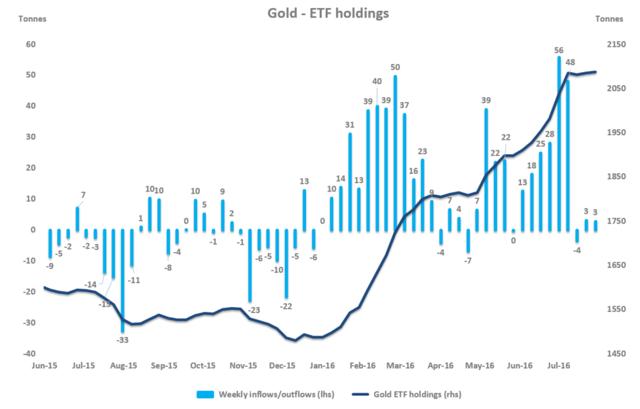 Click to enlarge
Source: FastMarkets.
Gold. ETF investors lifted slightly their holdings in the week to July 29, pushing ETF holdings up 2.80 tonnes or 0.1 percent w/w to 2,088 tonnes.
Gold ETF holdings rose 73 tonnes or 3.6 percent in July after increasing 118 tonnes or 6.2 percent in June. In the year to date, holdings are up 606 tonnes or 41 percent, indicative of a very strong sentiment.
The resilience of gold ETF demand in recent weeks in spite of a negative macro environment is encouraging in that it suggests that gold ETF holders have sticky hand with a longer-term philosophy. Still, it is fair to say that the strong rally in gold prices in the year to date has necessarily attracted momentum-based buyers with a shorter-term horizon. As long as the uptrend in gold continues, these trend-following traders are keep their long positions. But once the gold market shows signs of exhaustion, because of increasingly less buying pressure, these short-term buyers are likely to rush to the exit door, which we will translate into strong ETF selling such as what happened in 2013.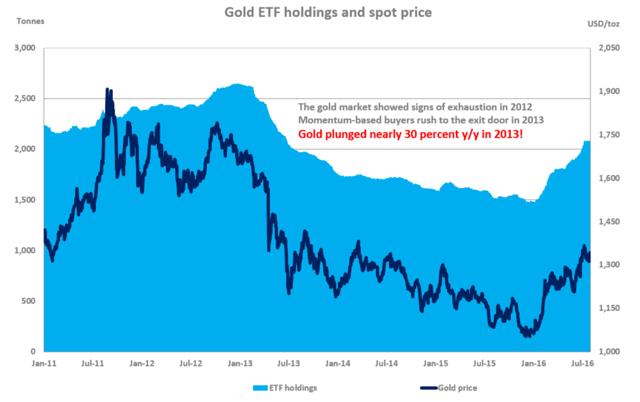 Click to enlarge
Source: FastMarkets, MikzEconomics.
As we noted in previous articles, the rally in gold prices in 2000s was largely driven by an increase in investment demand, supported by the launch of ETF products in 2003. Although the bulk of ETF demand was from long-term investors with sticky hands, an increasing part of ETF buying in the last phase of the rally was done by momentum-based traders to take advantage of the uptrend, which was incidentally significant in the first part of 2011. But the gold market showed signs of exhaustion in 2012 - gold failed to break above its previous high, indicative of less buying pressure, despite a very bullish macro backdrop (remember the EU sovereign debt crisis?). This was a clear indication for momentum-based traders to exit the gold market. Conservative traders were proven right because 2013 marked a historic sell-off of 28 percent in gold prices. We fear that this phenomenon happens again later this year.
But in the third quarter, we do not expect ETF holdings to fall dramatically, principally because the combination of a dovish Fed and a weaker US economic expansion is likely to push US real rates lower in the coming months, thereby attracting further spec and ETF buying.
The Fed: even more dovish?
The cautious posture adopted by the Fed was confirmed in its latest US monetary policy statement. Although the Fed acknowledged that near-term risks to the economic outlook had diminished, it did not give clear indication to the market about the timing of the next Fed rate increase. The Fed therefore continues to move the market toward a flatter expected path of Fed funds rate, as can be seen below.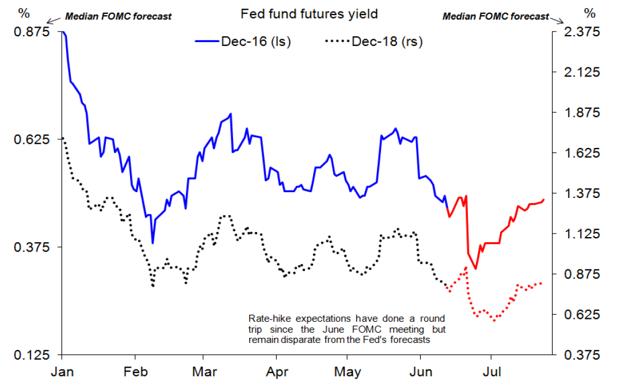 Click to enlarge
Source: DB.
US economic recovery: a disillusionment?

Click to enlarge
Source: US Bureau of Economic Analysis.
As can be seen above, US real GDP grew 1.2 percent in the second quarter, far below market expectations of 2.6 percent, while growth was revised down to 0.4 percent in the fourth quarter of last year. This is indication that the US economy is not is a robust state as initially envisaged. This should prompt the Fed to become even more careful in its assessment of the US economy and risks.
In light of a careful Fed and disappointing US economic growth, we expect US real rates and the dollar to work lower this quarter, which should therefore support ETF demand for gold.
But we think that the Fed will eventually be forced to become more hawkish later this year, not necessarily because of the possible improvement in US economic conditions but because of much easier financial conditions. As we wrote previously, the Fed is highly influenced by financial conditions, which is why the most dominant driver of changes in the Fed's Dots from one meeting to another has been changes in equity prices over the past three year, as the correlation analysis below suggests.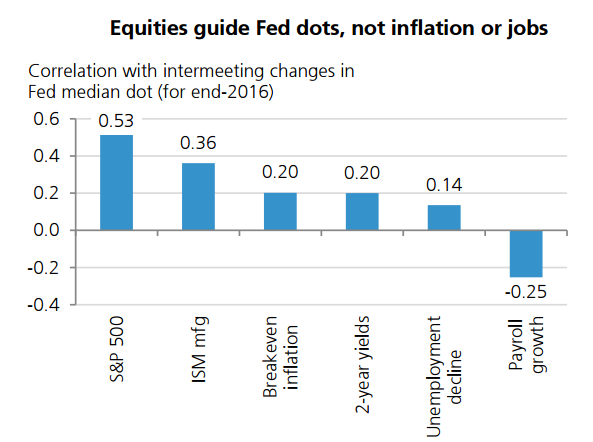 Source: UBS.
In this regard, we believe that the Fed will be forced to send dovish signals to the market in case of a sustained improvement in global risk sentiment, which could therefore result in a steeper expected path of Fed funds rate, which in turn would provoke a clear-bottoming out process in US rates. Under this scenario, we would expect strong outflows from gold ETFs and the exit of momentum-based traders. We foresee such a development in the fourth quarter of this year.
Spec positioning vs. investment positioning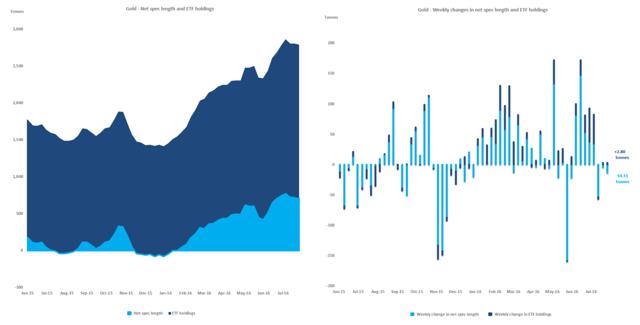 Click to enlarge
Source: MikzEconomics.
SPDR Gold Trust ETF (NYSEARCA:GLD) positioning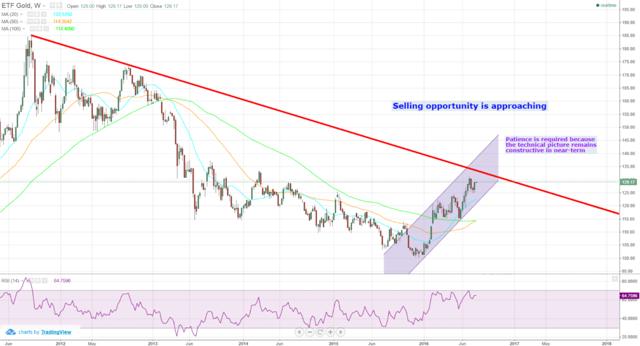 Click to enlarge
Source: TradingView.
SPDR Gold Trust ETF (GLD) rebounded noticeably in the week to July 29, up 2.12 percent. In line with our expectations, the weakness in gold that started early in mid-July was just a technical consolidation before new highs.
The technical picture remains constructive - key daily moving averages are upward sloping and GLD continues to trade in its ascending channel.
The macro environment remains positive for gold - US economic growth has been disappointing so far this year while the Fed has remained prudent. This could continue in coming weeks, so we do not expect a sell-off imminently.
The technical and macro views converge toward a slightly positive bias in the near-term. Seasonal patterns in the gold market also point to a positive view.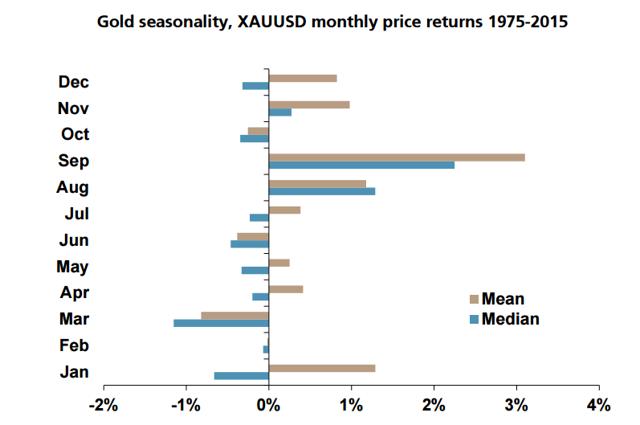 Click to enlarge
Source: UBS.
As can be seen above, gold's best buying opportunity tends to be in August and September in light of strong seasonal patterns, as I documented in a previous article (see Gold: Summertime Blues, published in May 2013).
But despite our slightly bullish bias, we are unable to implement long trades with reward to risk ratio skewed in our favour because we expect upward pressure in gold prices to remain somewhat limited.
Trading perspective
We are not currently positioned in GLD but we are looking to implement a short GLD position.
Because our three trading criteria (fundamentals, technicals, tone) are not currently met, we stay on the sidelines. Our intuition is that a selling opportunity may emerge in September or October.
For longer-term investors, we remain of the view that accumulating gold on a regular basis in a well-diversified risky portfolio with a horizon of 5+ years will be a rewarding strategy, especially for non-US investors (the dollar will remain king in the coming years). But shorting gold later this year could provide a decent hedge against a sudden sell-off in gold.
For the sake of clarity, please find below the track record of our trade ideas since the start of the year. We currently do not have active trade ideas.

Click to enlarge
Source: MikzEconomics
About: SPDR Gold Trust ETF, Includes: PowerShares DB Gold ETF (NYSEARCA:DGL),VelocityShares 3x Inverse Gold ETN (NASDAQ: DGLD), DB Gold Double Long ETN (NYSEARCA: DGP), DB Gold Short ETN (NYSEARCA: DGZ) SPDR S&P 500 Trust ETF (NYSEARCA:SPY)
Disclosure: I/we have no positions in any stocks mentioned, and no plans to initiate any positions within the next 72 hours.
I wrote this article myself, and it expresses my own opinions. I am not receiving compensation for it (other than from Seeking Alpha). I have no business relationship with any company whose stock is mentioned in this article.