The horrific terrorist attacks in France and Germany are taking a great toll on the spirit of Europe. On a practical level, the threat of terrorism limits public gatherings and holiday travel, even though Europeans traditionally like to take most of the entire month of August off from work. This August, I would not be surprised to see tourists stay closer to home, which will sharply lower the demand for petroleum products.
Here in the U.S., gasoline inventories are not declining as fast as they normally do during the peak summer driving season; so when seasonal demand plummets after Labor Day, I would not be surprised to see regular gasoline fall below $2 per gallon in many parts of the U.S., especially near where major refineries are located and gasoline taxes are low, such as in Louisiana, Georgia, New Jersey, Oklahoma, and Texas.
Crude oil and gasoline inventories remain higher than they were during last year's glut, so if global demand plunges – as it usually does in September – then crude oil futures may fall well below $40 per barrel. Since peaking at $53.69 intraday on June 8th, crude oil futures are down over 20%. Last Wednesday, the Energy Information Administration (EIA) reported that crude oil inventories rose by 1.7 million barrels and gasoline rose by 500,000 barrels in the previous week, despite the fact that oil and gasoline inventories typically fall in the summer. As a result, as I have warned repeatedly, steer clear of most energy stocks.
The stock market is getting narrow very fast. Companies must (1) post strong sales, (2) post even stronger earnings, and (3) provide positive guidance moving forward to inspire investor interest. The companies that cannot meet or exceed analyst expectations may be hit hard and subsequently taken to the woodshed.
The Fed held a two-day Federal Open Market Committee (FOMC) meeting last Tuesday and Wednesday. Its official statement on Wednesday essentially said that the "near-term risks to the economic outlook have diminished." However, the FOMC also said that the pace of the improvement in job growth has "slowed" and that it expects "gradual" adjustments in monetary policy. This has decidedly dovish overtones.
The Fed's likelihood of raising rates declined sharply after the GDP advance estimate on Friday came in at only 1.2% vs. the expected 2.6%. The price of gold surged $20 (from $1,334 to $1,355) after the GDP miss, since low interest rates create an advantage for gold as a store of wealth. Gold is also benefitting from increasing demand from the ETF industry as the leading gold ETF (NYSEARCA:GLD) is being increasingly added to more asset allocation models. As an asset class, gold often "zigs" when other financial assets "zag."
As far as future Fed policy is concerned, all eyes will now shift to Jackson Hole, Wyoming, where Fed Chair Janet Yellen will deliver a speech on August 26th at the Kansas City Fed's annual conference there. Since Yellen is clearly a dove and tends to move ultra-cautiously, I do not expect to hear any surprises at Jackson Hole. As I have said repeatedly, the FOMC is unlikely to raise key interest rates just before a Presidential election, since the Fed wants to steer clear of influencing the national economic debate.
Another reason for the Fed to be cautious is that the Commerce Department reported that durable goods orders plunged 4% in June, following May's revised 2.8% decline. For the first six months of 2016, durable goods orders have been flat, signaling major business uncertainty. Weak demand for commercial aircraft and defensive products are weighing down the overall durable goods number, while automotive orders remain relatively strong in the past couple months. Overall, durable goods orders have clearly stalled due to (1) more cautious business spending, (2) uncertainty following Brexit, and (3) fears that a stronger U.S. dollar will continue to suppress U.S. exports, thereby depressing the earnings of U.S. multinational stocks.
The Limbo Bar Keeps Going Lower in Europe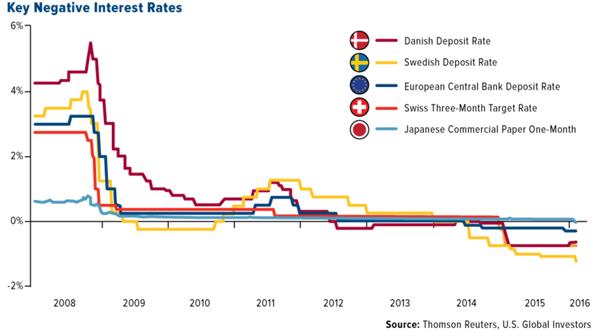 Graphs are for illustrative and discussion purposes only. Please read important disclosures at the end of this commentary.
On Friday, the Bank of Japan didn't lower rates further, but they said they would buy six trillion yen ($57 billion) in exchange-traded stock funds annually, nearly double the previous 3.3-trillion-yen annual pace. There is no doubt that the Bank of Japan is testing the limits of quantitative easing and since it makes virtually no sense to buy government debt with negative yields, the central bank is buying stocks instead.
Japan is now the world's biggest buyer of home safes, since it citizens are now increasingly hoarding cash and gold rather than putting their money in banks with negative yields. Clearly, we now live in a strange new world, but the real winner of the ultra-low and negative interest rate environment remains stocks, which continue to steadily disappear from stock buy-backs and the Bank of Japan's quantitative easing.
The European Central Bank (ECB) is not yet buying stock, but when it boosted its quantitative easing by 20 billion euros per month recently, the ECB allowed corporate bond debt to be bought by its member banks. So one of the outcomes of negative interest rates is that central banks increasingly have to buy corporate securities rather than negative-yielding government securities. This is bullish for stocks.
Disclosure: *Navellier may hold securities in one or more investment strategies offered to its clients.
Disclaimer: Please click here for important disclosures located in the "About" section of the Navellier & Associates profile that accompany this article.