By Gary Alexander
What kind of an upside-down world do we live in when anemic GDP numbers (+1.2%) inflate the price of gold and keep fueling record-high stock prices? Ironically, gold's leap and the market's relentless rise tell us that last Friday's ultra-low 1.2% GDP growth rate for the second quarter - less than half the economists' consensus of a 2.6% reading - means that the Fed will likely NOT raise rates in September.
The market is also telling us that it sees through the headline number to the positive details underneath. Bryan Perry touched on these points above, but I want to delve into a little more detail on the matter of inventories. In an analysis of GDP numbers ("Why U.S. GDP Figures Might Be Better than They Look: A fall in inventories suggests the economy is ready for a rebound next quarter," July 29), the Wall Street Journal showed that inventories have dragged down an otherwise "normal" growth rate of 2.1% over the last five quarters. Specifically, last quarter grew 2.36%, less a -1.16% inventory adjustment, netting 1.2%.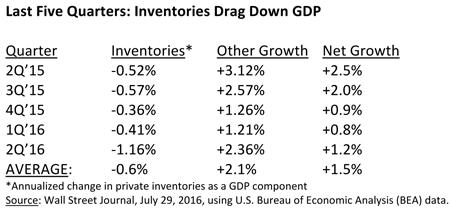 The Journal concluded: "If the rate of inventory accumulation had remained unchanged, the economy would have expanded 2.4%," explaining that "goods and services that are produced but not sold add to GDP growth and are counted as inventory investment. The opposite is also true: When consumption eats into inventories that were stacked up during previous periods, this detracts from growth." This augurs well for expanded GDP growth figures in subsequent quarters as these inventories must be replenished.
Why such an overload of inventories? Looking at GDP by quarter over the last five years, you can see the peak in mid-2014, when the GDP rose 5% in the third quarter. As a result, businesses became overly confident that this recovery would continue strong so they produced too much in 2015, creating a glut.

Some say the stock market is getting way ahead of itself in light of our weak growth figures, but I beg to differ. The new century has delivered ultra-slow stock market growth. On Labor Day 2000, the S&P was just over 1520. As of last Friday, it is 2173, up 43% in nearly 16 years, an average gain of just 2.3% per year. U.S. GDP was $10.285 trillion in 2000 and $17.947 trillion in 2015, for a much bigger (74%) gain. (Note: Annual GDP totals are in nominal dollars, while annualized GDP gains are inflation-adjusted.)
Since the year 2000, the strongest full-year GDP growth came in 2004, at 3.8%, which is barely above the average GDP growth of the previous four decades. While disappointing, this slow-growth stretch is due to the Law of Big Numbers. It's hard for a huge $18 trillion economy to keep growing by 3% to 4% a year.
The Folly of "Selling all Stocks"
The week ending August 2, 1996 - 20 years ago today - marked the largest weekly Dow Jones Industrial point gain to that date: +238 points, the first 200-plus point weekly gain in the Dow. Then it just kept rising. There's quite a story behind how and why that happened - and I was there, with a ringside seat.
In the summer of 1996 - the year before I started working with Louis Navellier - I was working with four investment advisors at a major publishing company, turning their research into readable and actionable advice for a large and growing consumer audience. That summer, there were three major sell signals by market timers who had a superb historical record as market timers. They were very famous at the time. (I won't name these advisors here but you can read an excellent summary in a New York Times account the week it happened: "From Bears to Bulls and Back Again" by Reed Abelson, N.Y. Times July 28, 1996).
One leading technical analyst issued his sell signal on June 22, 1996. I was not affiliated with this person, but I knew him well from introducing him at various investment conferences in that era. He was quickly joined by other bears. In mid-July, two famous advisors affiliated with our publishing company issued major sell signals within eight days. First, on Monday, July 15, 1996, after the Dow lost 161 points in a day, a famous mutual fund market timer issued a sell signal to his followers, who were legion. Mutual fund redemptions were unusually heavy that week. One fund attributed $100 million in sales to that call.
That kerfuffle was merely a foretaste of what happened on Tuesday, July 23, 1996, when a more widely followed market timer issued a "sell all stocks" signal on national TV at around noon Eastern time. The market had been up that day, through noon. The Dow was up 40 points as of noon, but it lost 84 points that afternoon to close down 44 points and the turnaround was blamed on her very public sell signal.
So what happened next? The rapid recovery during the week of July 29 to August 2, 1996 was the initial slap in the face for any hasty sellers. Then the market just kept soaring. On July 23, 1997 - one full year after that famous sell signal - the S&P closed at 936.56, up a huge 49.4% from 626.87 on the day of that ill-fated sell signal (July 23, 1996). To her credit, she reversed her sell signal in February 1997, but many investors failed to get back into stocks in time, as they had lost their faith in any market-timing gurus.
The prophets of doom will always be with us. After the terrible market opening in the first week of 2016, FORTUNE Magazine reported on a major bank analyst predicting a 75% crash (January 13, 2016: "Here Comes the Biggest Stock Market Crash in a Generation: It would be worse than the financial crisis.")
Five years ago, a viral 77-minute video circulated in our e-mailboxes throughout 2011 entitled, "The End of America," in which the promoter said that the dollar was doomed, gold would soar, and stocks would crash, but it was published in the year gold peaked and the dollar bottomed out. The S&P 500 had a sharp correction in August 2011, but it has doubled from its 2011 low of 1075 to 2163 in less than five years.
Please pay no heed to anyone who tells you to "sell all stocks." Even in the worst markets, try shifting sectors instead, but don't let the juggernaut of this incredible stock market wealth machine pass you by.
Disclosure: *Navellier may hold securities in one or more investment strategies offered to its clients.
Disclaimer: Please click here for important disclosures located in the "About" section of the Navellier & Associates profile that accompany this article.