Everyday Health (NYSE:EVDY) is a digital marketing and communications platform for healthcare marketers to engage with consumers and healthcare professionals. The company benefits from the shift towards consumers being more reliant on digital technologies when managing their health and searching for information concerning their health. The companies three core areas shown below allow the company to create a unique health engagement platform which can be monetized through marketing and customized engagement solutions. We feel Everyday Health is dramatically undervalued with numerous potential catalysts including the August 4th earnings report and potential acquirer interest(strategic and/or financial).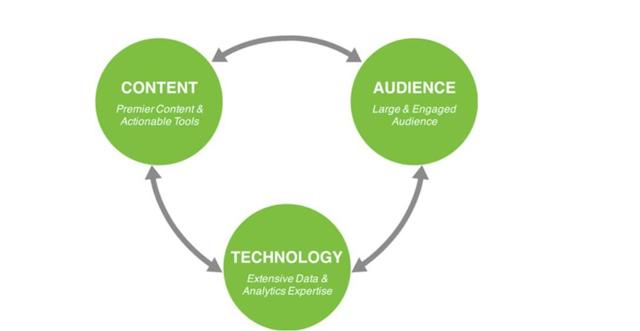 Click to enlarge
Source: Everyday Health Prospectus
The proliferation of mobile devices is increasing the usage of the internet and other digital services to manage a healthy lifestyle. Consumer are increasingly using calorie tracking applications(below) and exercise applications in order to better track their health. As part of the affordable care act, consumers receive incentives to monitor their personal behavior and health characteristics as they are increasingly being linked to their cost of insurance. Combine this trend with the growth of specialty drugs, which are forecasted to be 50% of all U.S. drug expenditures in 2018 versus 20% in 2009 and you have a great opportunity for Everyday Health to nearly double its market capitalization. Specialty drug growth is a shift away from blockbuster drugs towards profitable specialty products for small patient populations characterized by chronic illness. This shift benefits Everyday Health because these smaller populations are more difficult to reach through traditional advertising and as a result pharmaceutical companies will increasingly use digital channels to better reach consumers and physicians.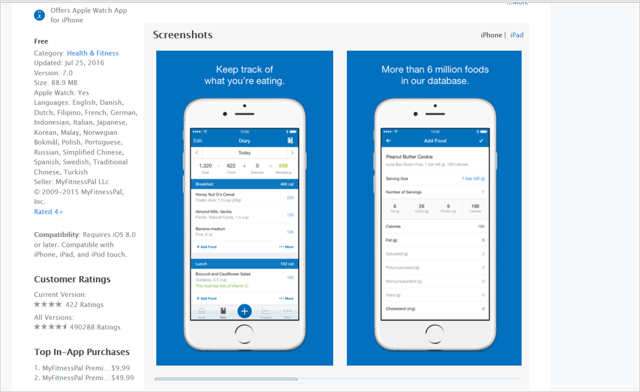 Click to enlarge
MyFitnessPal Apple App Store
A lot of the negativity around this company focuses on how WebMD is a very similar company with a much larger user base and how can Everyday Health differentiate itself effectively. However, we feel there is room in the market for two public traded companies and that the general macro conditions are so favorable both can growth substantially from their current levels. This growth has been demonstrated by Everyday Health's financial results with the company growing revenue 26% year over year in 2015 and adjusted EBITDA growing 27% year over year. We feel confident of positive results given the earnings beat posted by WebMD. The company has also acquired all top ten pharma companies based on revenue as customers and counts more than 350 hospitals in 30 states as customers, generating more stable bookings. With the majority of marketing still offline, there is also room for this customer base to expand dramatically. Additionally the company benefits from the growth of digital advertising, which is projected to grow from 22% of all U.S. media advertising spend in 2012 to 38% by 2018. So many pharmaceutical companies will likely develop comprehensive marketing plans which utilize many sources including both WebMD and Everyday Health. Additionally, WebMD could also be a potential acquirer of Everyday Health. With the WebMD share price near its 52 week high and over $500 million in cash on the balance sheet, this acquisition is definitely feasible and would provide WebMD with an even broader healthcare portfolio and greater ability to track individuals through a broader set of online properties.
In terms of valuation, we searched for smaller companies which function as information portals and/or marketplaces. Obviously WebMD is the most applicable comparable but others are similar in their information and data analysis business models. As can be seen below, Everyday Health trades at a significant multiple discount to its peers. We feel shares can trade in line with its peer mean enterprise value to revenue of two times projected 2017 revenue. We feel shares can move upwards to around $13 per share (60% upside) over the next 18 months.

Click to enlarge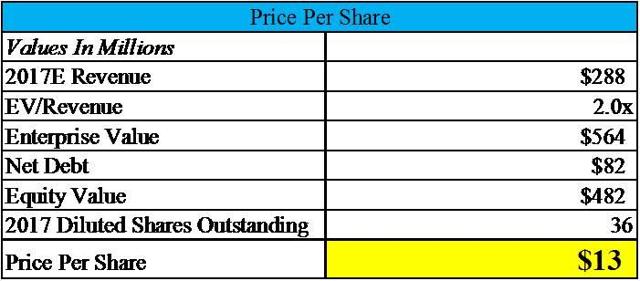 Click to enlarge
Source: Author Analysis/ SEC Filings
The major risks we see to owning Everyday Health shares are increasing budget pressure reducing pharmaceutical advertising spend and/or regulatory changes limiting the company's ability to operate certain of their properties. However, given the tremendous traction that Everyday Health has generated, the growing importance of specialty drugs, and the very attractive valuation, we feel EveryDay Health is a good way to play the growing prevalence of digital health monitoring and growing specialty drug development.
Disclosure: I/we have no positions in any stocks mentioned, but may initiate a long position in EVDY over the next 72 hours.
I wrote this article myself, and it expresses my own opinions. I am not receiving compensation for it (other than from Seeking Alpha). I have no business relationship with any company whose stock is mentioned in this article.