Coca-Cola (NYSE:KO) has been a bit of a mystery of late as it continues to make new highs despite the fact that its fundamentals have been worsening for some time. We all know the challenges of soft drinks and since KO gets an enormous amount of its revenue from that category, to say those challenges are important is quite the understatement. In addition, KO gets most of its revenue from outside the US, adding another headwind from the strong dollar. Despite a complete lack of growth and a ludicrously expensive valuation, KO continues to hover in the mid-$40s. To be fair, after predictably weak Q2 earnings, shares did give back a buck or two. But we are still talking about KO at $44; can you say 'dividend stock bubble'?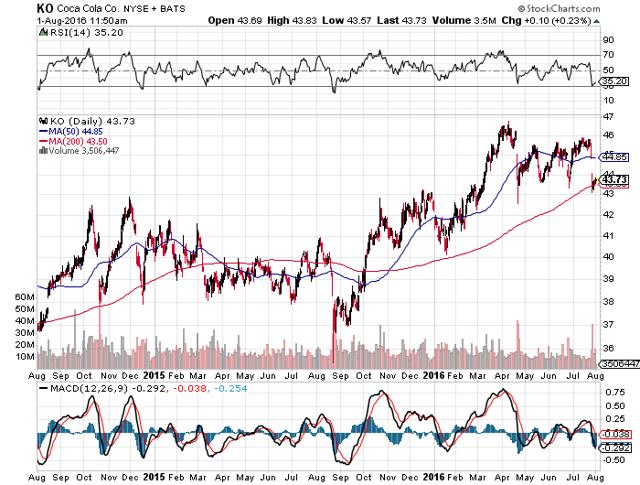 Click to enlarge
The problem with KO is that it is heavily leveraged to a dying business. It isn't as though soda is going away overnight but the struggles of soda makers particularly with respect to younger consumers is well documented. KO is in a lot of other non-carbonated businesses as well but volume is always going to be a problem. Unit case volume was flat in Q2 - a normal occurrence for KO these days. It has been quite some time since KO actually produced some sort of meaningful volume growth and there is absolutely no reason to think that is going to change anytime soon.
Price and mix was up three percent in Q2 and surely, bulls will cling to this stat perhaps more than any other. Yes, price and mix gains are real gains but the fact is that no business can thrive with flat or declining volume. Other international dividend players have similar situations and for KO, price/mix strength is only covering up for the lack of actual demand; how that doesn't alarm bulls is beyond me.
In addition, KO loses a few percentage points of revenue each quarter to the strong dollar since it is such a global business. KO, more so than many other multinationals, relies very heavily upon non-US revenue and when it converts that revenue, it gets hit with the translation. The Fed is still determined to raise rates at some point and while that's not cause for concern by itself, as the rest of the major central banks around the world become more accommodative, the dollar will likely strengthen further. That's terrible news for multinationals like KO and ignoring the impact of the dollar is perilous.
KO guided for organic revenue to be up 3% this year but why does anyone care about organic revenue? That is only a piece of the puzzle and ignoring all of the other things that make up KO's revenue picture is foolish. Besides, even if we just take the three percent organic growth at face value, that isn't exactly something to write home about. But you know the actual, real number is going to be much worse and solidly negative to boot. KO has so many headwinds to revenue growth and the fact that analysts see negative mid-single digit growth for the foreseeable future doesn't seem to bother the bulls.
In fact, analysts have KO hitting very moderate EPS growth for the next three or four years.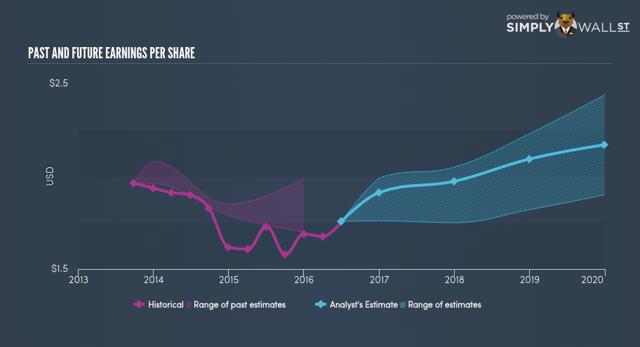 Click to enlarge
Source: Simply Wall St.
KO has something like 4% or 5% of EPS growth to look forward to for the foreseeable future, further highlighting how ridiculous its valuation is right now. The stock is going for 20.1 times 2019's earnings. That is absolutely insane for a company that has no growth prospects at all and is leveraged to a business whose heyday was years ago.
Then there's the matter of KO's deteriorating balance sheet, the result of a debt binge that has fueled buybacks that were then largely given out as compensation.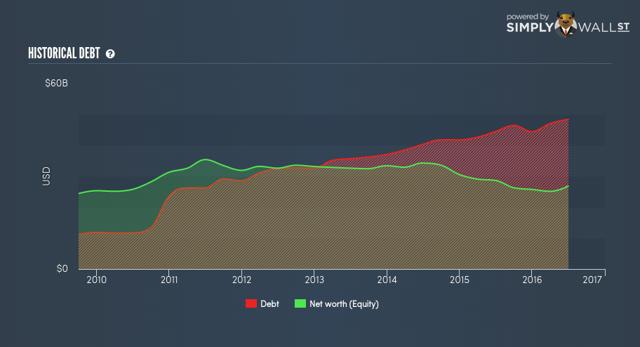 Click to enlarge
Source: Simply Wall St.
No company can keep up this pace of borrowing forever but it seems KO is going to try. It simply cannot produce enough cash to pay its dividend, run the business and buy back so much stock.
And speaking of the dividend, this is surely the reason KO is soaring; income can be hard to come by these days. It's 3.2% yield is robust and provides holders with a level of income that is difficult to replicate. But anytime you're investing for income, you have to consider risk and when you look at KO's perpetually declining revenue and ever-worsening balance sheet, low risk doesn't come to mind. There are other places to get a 3%+ yield with companies that actually have some hope of growing at some point in the future; you can't say the same about KO.
Looking at the chart, KO is at an important point. After the selloff from the earnings report, shares are hugging the 200DMA, something they haven't done since very early on in 2016. KO went straight up for so long that it was miles away from its 200DMA but some sideways action - including some lower relative highs - has investors deciding whether or not the rally gets to continue. KO may very well bounce off of its 200DMA because after a rally like what we've seen, a quick move below the 200DMA would be strange. Still, what happens after that is paramount. I think KO will see a small initial bounce and then pierce the 200DMA to the downside, setting up the end of the current rally.
I get that KO has a nice yield but that is where the positives for this stock end. KO's growth outlook is absolutely hopeless at this point and yet, it trades for more than 20 times earnings it won't collect for three more years. KO has a lot of problems - not the least of which is volume - and when its weak results are translated into dollars, it is even worse. I honestly can't imagine why anyone wants to pay $44 for this stock given all of the problems it has and the fact that it is very clearly part of the dividend stock bubble. If you own it, do yourself a favor and get out before it slices through the 200DMA and the floodgates open.
Disclosure: I/we have no positions in any stocks mentioned, and no plans to initiate any positions within the next 72 hours.
I wrote this article myself, and it expresses my own opinions. I am not receiving compensation for it (other than from Seeking Alpha). I have no business relationship with any company whose stock is mentioned in this article.