Following a 2015 to forget, Burlington Stores (NYSE:BURL) investors can finally pump their fists in victory as shares have appreciated 77% through two-thirds of 2016. After beating top and bottom line estimates in both quarters in 2016 so far (technically Q4 2015 and Q1 2016) and demonstrating strong comps and margins, the market has finally decided to reward the company and its shareholders: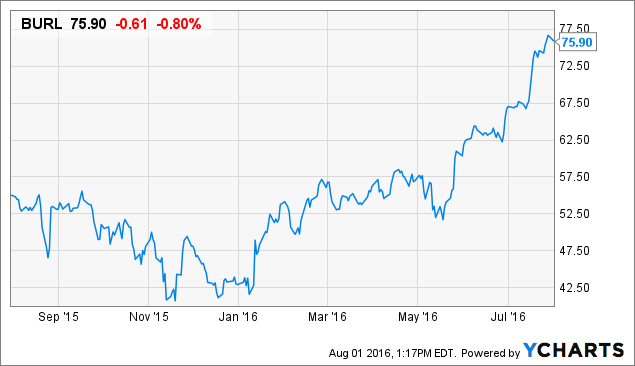 My last, and first, article I wrote on Burlington was back in June 2015 when I highlighted the stock in my "Buy on the Drop" segment, which I think is pretty self-explanatory. BURL had dropped 10% after reporting a revenue miss and a minimum wage hike for its employees, two developments to which the market did not take kindly. The stock stood at $48.83 when I wrote that piece and has risen 55% since. So I thought now, a year after I originally covered BURL, I would revisit and re-evaluate the company. Let's begin, shall we?
A quick run-through of Q1 2016's results will give you a feel for why the stock has appreciated as rapidly as it has. Beating estimates on both the top and bottom lines, quarterly revenue of $1.3 billion increased 10% year-over-year, and EPS of $0.57 was an increase of 46% year-over-year. Gross margin improved 35 bps to reach 40.1%, which continues the encouraging improvement in margin expansion we've witnessed over the years.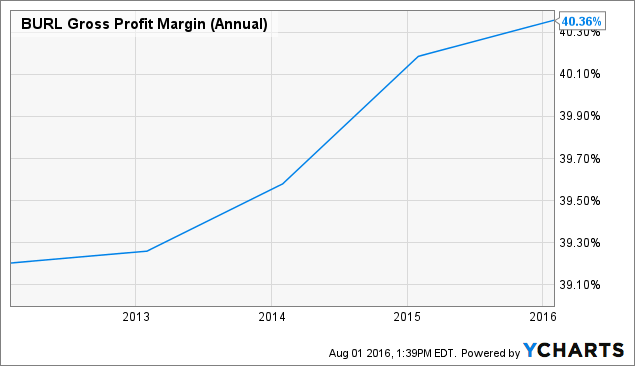 BURL Gross Profit Margin (Annual) data by YCharts
Net sales increased 8.4%, which was helped along by a very robust comparable store sales increase of 4.3% for the quarter. In conjunction with comparable store sales rising, Burlington stated that comparable store inventory decreased 9%.
That is all fine and dandy, but what mostly impressed me was the Q2 2016 and full-year 2016 guidance. Relative to the retail sector as a whole, which has been dragging its feet through 2016, Burlington has been a freight train in terms of growth and stock price returns: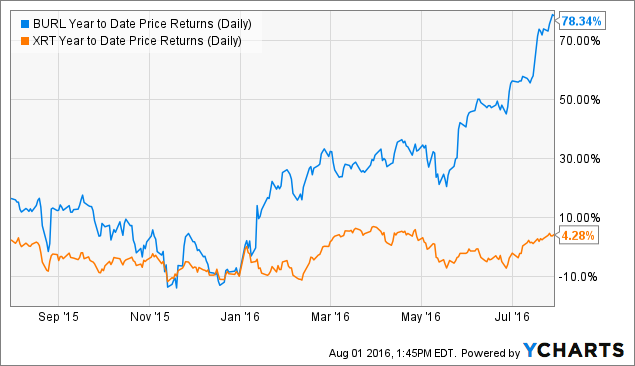 BURL Year to Date Price Returns (Daily) data by YCharts
Growth is the key, and it was on full display within Burlington's guidance. The company said in Q1 it expected Q2 net sales to increase between 6.3% and 7.3%, and comps to be up between 2.5% and 3.5%, and expected FY2016 net sales to increase between 7.1% and 7.6%, and comps to increase between 3% and 3.5%. This news was already impressive, but a few weeks ago Burlington announced Q2 comps were expected to be in the range of 4.2%-4.5%, which indicates much better Q2 performance than expected.
With most of the retail sector flailing and struggling to find solid ground, Burlington has thrived with its off-price retail model, which CEO Tom Kingsbury cited as the key to the company's success. At this point, it's hard to argue with the results.
But while growth continues and results push the stock higher, how much of Burlington's future success is already priced in? Well as of the Q1 report, management expects diluted EPS to be in the range of $2.68-$2.78. Using the midpoint of $2.73, this yields a 2016 forward P/E ratio of 27.8, which appears pretty lofty. Let's see how that stacks up against competitors, mainly other off-price retailers TJX (NYSE:TJX) and Ross Stores (NASDAQ:ROST):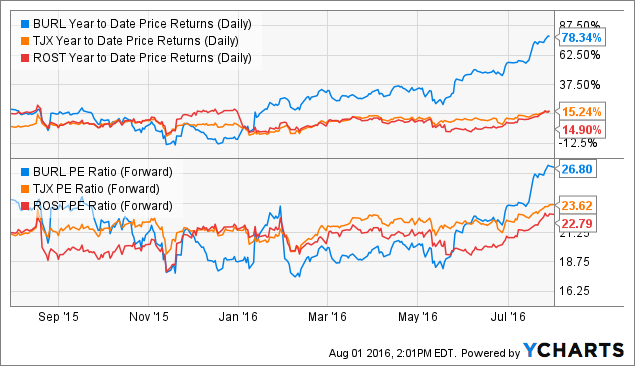 BURL Year to Date Price Returns (Daily) data by YCharts
The top chart, which graphs price returns year-to-date, shows that BURL has far outperformed TJX and ROST in 2016 so far. The bottom chart, which graphs forward P/E ratio, shows that, despite BURL's 77% gains, it is not valued at a multiple much higher than its competitors. Higher, yes. But not exorbitantly so.
However, the valuation gap, such that it is, can likely be explained by differences in the operating metrics of the companies. Ross Stores saw comps increase just 2% in Q1 2016 and expects full-year 2016 comps to increase between 1% and 2%, which if you recall is well below the 4.3% comps increase Burlington saw in Q1 and 3%-3.5% increase expected for full-year 2016. Ross' gross margin is also well below that of Burlington.
In regards to TJX, the company is doing better on comps, but is lagging badly in the gross margin department. TJX saw comps increase 7% in Q1, which was much higher than initial guidance of 2%-3% comps growth. This will likely also eventually boost the company's guidance of 1%-2% comps growth for full-year 2016. Despite the positive performance in comps however, TJX had a gross margin of just 28.8% in Q1 2016 and lags well behind Burlington in that metric: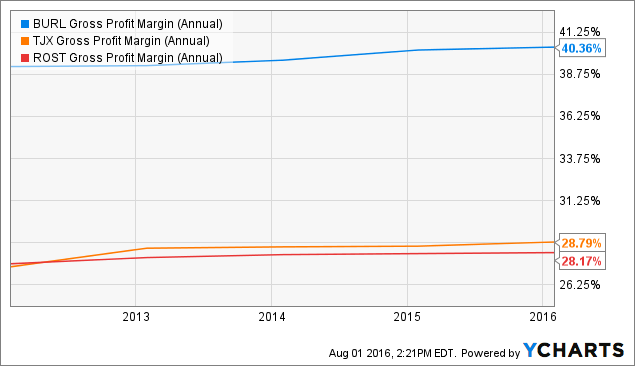 BURL Gross Profit Margin (Annual) data by YCharts
With this information in hand, I think the valuation gap exposed by forward P/E ratios is actually smaller than it should, and BURL should be trading at a much higher multiple than both TJX and ROST based on both the 1200 bps difference in gross margin and higher expected comps growth. I expect BURL to continue its run higher despite the already significant gains in 2016.
If you want to stay up-to-date on my articles, you can Follow me by going to my author page or by clicking "Follow" at the top of this page.
Thanks for reading!
Disclosure: I/we have no positions in any stocks mentioned, and no plans to initiate any positions within the next 72 hours.
I wrote this article myself, and it expresses my own opinions. I am not receiving compensation for it (other than from Seeking Alpha). I have no business relationship with any company whose stock is mentioned in this article.