By Scott Tzu
We have written numerous times about why we are long Twitter (NYSE:TWTR). While we are not extraordinarily confident in the company's management team, nor have we been impressed with management's performance over the last year, we saw some promise in the last earnings report (user growth) and we continue to see some promise moving forward.
We like the direction that Twitter appears to be moving in as we commented in our last few articles about the company. We were impressed that the company was able to secure streaming deals for sports and news that will be upcoming this fall. The platform's commitment to being a source for real time news plays to its many advantages, we believe.
Adding this streaming content addresses one of the two major problems that we believe the platform has.
1. Lack of user growth
2. Lagging revenue
The other main problem is its utilization of its advertisements, which we will touch on a second. The first problem that Twitter truly has is getting the platform to return to growth in terms of its user base. Facebook (NASDAQ:FB), Snapchat, and all other successful social media sites continue to grow significantly while Twitter's active user base has simply stalled growing over the last three quarters.
The company is also fighting against a secular slowdown in social media growth as the world continues to adapt to social media.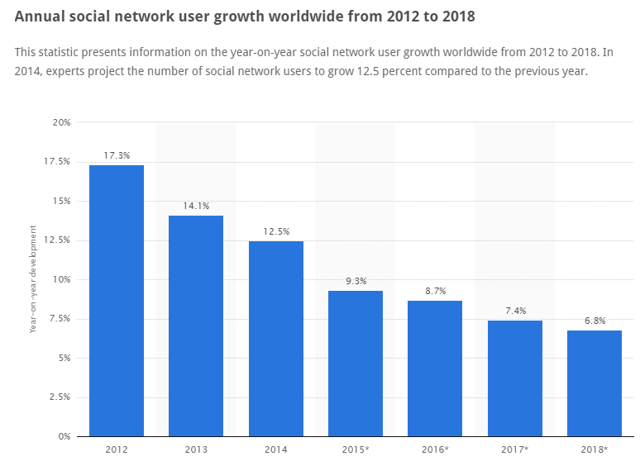 Click to enlarge
(source)
While we did see a return to growth slightly over the last quarter, Twitter needs to proactively work on ways to bring new users to the platform. Like Netflix (NASDAQ:NFLX) and Amazon (NASDAQ:AMZN) have taught us, it is all about the content that you can offer.
Twitter going after breaking news and sporting content shows us that it hopes to lure over new users with exclusive content. Twitter makes for a great spot to quickly get both text and video news, as with the regular platform you can read quick clips and with Vine you can view quick video clips. This definitely plays to the platform strength.
Also playing to the platform's strength is the company's upcoming stream of the "Suicide Squad" premiere. The company is very clearly trying to lure a younger user base that would be the most likely candidates to be interested in this film, which is going to be the movie event of the fall. Engadget wrote,
After livestreaming the Democratic National Convention, Wimbledon and MLB and NHL games, Twitter is diving into the entertainment space with a stream of the Suicide Squad red carpet premiere in NYC. It'll kick off at 6 PM tonight from the Beacon Theater, Variety reports, and the stream itself will be displayed on a special page alongside realtime tweets. The streaming event is being produced by Buzzfeed Motion Pictures, and you can expect chatter from Buzzfeed's Try Guys personalities Keith Habersberger and Zach Kornfeld. Given Twitter's big push into live video, it makes sense for it to start with one of the biggest film premieres of the year. It also reemphasizes the company's new branding, which centers on what's happening now.
This continued commitment to custom content, we believe, will help Twitter immensely going forward. With Periscope being used to record live news all over the world, Twitter should easily be able to position itself as "the network of what's happening right now".
We think the company needs to head further down this road and explore options like live streaming full sporting events, similar to the way Yahoo has been streaming one NFL game a year.
Twitter is taking the Netflix model and trying to lure users by improving their content. They're combining this with all of the best elements of "LIVE" TV. Why do we watch live TV anymore? Basically for live sports and live news - everything else can be streamed whichever. Time sensitive news cannot.
We don't think this will turn out to be a bad investment for the company.
Another problem the Twitter has is that it needs to monetize its advertisements a little bit better. We noted in our last article about the company that we thought it could significantly beef up the amount of advertisements displayed on its newsfeed in order to generate more topline revenue.
When we log onto Facebook, we are frequently greeted with a slew of ads that occupy a good portion of our respective newsfeeds. With Twitter, there seems to be plenty of newsfeed space for ads as well as space for ads on the sidebars of the website. We understand that it is important to commit to a clean look that does not make the advertisements the primary focus, but we do think Twitter has some leverage they can pull and we would like to see them get a little bit more aggressive with advertising.
On the negative side, a major executive left the company, as was reported last night. NBC reported,
Twitter's head of communications has left, just months after joining the company, Twitter confirmed on Monday.

Natalie Kerris, who joined Twitter in February, has left the company and Chief Marketing Officer Leslie Berland will assume responsibility for communications, the spokesperson confirmed.

"During her time leading communications at Twitter, Natalie helped us share the Twitter story with the world. We are grateful for her energy and enthusiasm and the impact she's had, even in this short time. We wish her all the best," the spokesperson said in a statement.
As we've said with Tesla, any signs of executives leaving in troves likely means that there is chaos and disorder at the top of an organization. This is really the first major executive that has left the company that we have noticed over the last year. While we are not concerned immediately about this departure, we are going to keep an eye open to stay mindful of any future executive departments.
But to conclude, Twitter is moving in the right direction.
We stated several times we believe Twitter will be bought out.
We've stated our reasoning for being long and we don't want to beat a dead horse again right now.
We believe Twitter as a real time platform and specifically Periscope as a platform, both have immense value.
We believe the company's new commitment to streaming is going to help it once again grow its user base and we believe an effective management team would help the company pull more levers when it comes to advertising and advertising revenue.
While the departure of a senior executive has us on the watch, we are certainly not stepping away from our bull case on Twitter and we remain long.
We look forward to seeing what content the platform can capture.
Disclosure: I am/we are long TWTR.
I wrote this article myself, and it expresses my own opinions. I am not receiving compensation for it (other than from Seeking Alpha). I have no business relationship with any company whose stock is mentioned in this article.