Shareholders of Resource Capital Corporation (NYSE:RSO) may be used to the feeling of disappointment. This earnings season is bringing more than its share. It wasn't a bad quarter for the mREIT sector overall. Several mREITs have delivered excellent performance with dividends covered and book values rising. The glorious story of mREITs paying out double-digit dividend yields while gaining book value comes to an end with a thud at the doorstep of RSO.
Timing Mattered
The earnings release is fairly long. It was also issued incredibly late. I checked for their earnings release several times after the market closed. Then I went out to dinner and went grocery shopping. Finally, RSO released earnings. Believe it or not, the timing of the report is relevant to the story.
RSO appears to have delayed the filing to take care of some other business. The very first bullet point identifies the new item: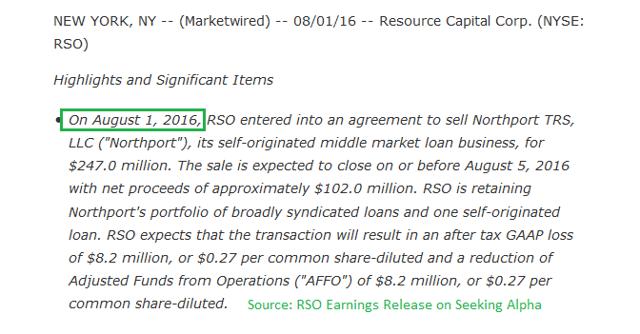 Click to enlarge
The green box emphasizes that this is a transaction occurring on Aug. 1. The delay in filing makes sense in the context of RSO wanting to incorporate this into the filing. By having this transaction completed before the filing goes out, there is no need for speculation about how the transaction will look. On the other hand, hearing that the transaction creates another loss and a reduction in AFFO for the third quarter is a little much to digest when investors are still chewing on the gristle of an unpalatable second quarter.
Quick Summary
Book value, the single most important metric for RSO, came in at $16.63. That is down from $17.63 at the start of the year and down from $17.12 at the end of the third quarter.
Earnings
AFFO per share was $.48, up from $.47 per share in the first quarter. That is the good news. The bad news is that AFFO per share is a metric designed for equity REITs and it is useless for mortgage REITs. Unfortunately, RSO reports AFFO per share anyway.
Why is AFFO per share a useless metric?
Equity REITs like to push some amortization costs out of their earnings picture. That seems fine. It also makes sense when an equity REIT wants to remove depreciation (since their assets appreciate instead of depreciate). Getting rid of amortization for a mortgage REIT doesn't make much sense. Remember that a mortgage REIT is simply a leveraged portfolio of loans. Would you ignore amortization in calculating the yield on a bond? I would not.
The AFFO metric for some equity REITs includes adding back share-based compensation. I don't like that strategy, but it is common. In the case of RSO, the total AFFO was $14,528. Share-based compensation was $1,415. Almost a tenth of the total value for AFFO is created by simply paying management with shares instead of cash.
What Earnings Metric Should Be Used?
RSO should be evaluated with comprehensive income per share or total economic return. Since RSO trades at a substantial discount and can boost book value through share buybacks, I believe total economic return is the best metric. This measures the change in book value plus the dividend. Starting BV was $17.12. Ending BV was $16.63. That means RSO lost $.49 in book value. However, they paid a dividend of $.42. Consequently, the TER is equal to negative $.49 plus positive $.42. The value is negative $.07.
Why Use TER?
The big flaw with RSO is that their operating expenditures devour their common equity. The operating costs are simply far too high relative to shareholders' equity. The mREIT doesn't have the necessary economies of scale and it seems unlikely they will be found. To get further economies of scale would require issuing new shares, not buying back the existing shares. But issuing new shares would further dilute the value of each share in place. This is a situation that small mortgage REITs with high costs can find themselves in. Unlike AFFO, TER is not increased by paying management with shares.
The problem with a negative TER of $.07 is that this was arguably the single easiest quarter for mREITs to declare positive values in the last year. Credit sensitive assets should have excellent performance. If there was a quarter where mREITs should succeed, it was the second quarter. Even with the odds stacked in their favor, RSO was able to grasp defeat from the jaws of victory.
Rather than give investors false hope for a great third quarter, RSO opened with "hey guys, look at the lemon we prepared for the third quarter". Well, at least this time investors have their warning.
I'm reiterating my sell rating on RSO. This rating was also offered prior to earnings in my "Quick and Dirty Discounts".
Want to Know More About Mortgage REITs and Preferred Shares?
Since the Mortgage REIT Forum is a new exclusive research platform, the first 100 subscribers will be able to lock in their subscription rates at only $240/year. My investment ideas emphasize finding undervalued mortgage REITs, triple net lease REITs, and preferred shares. With the market at relatively high levels, there is also significant work on finding which securities are overvalued to protect investors from losing a chunk of their portfolio.
Disclosure: I/we have no positions in any stocks mentioned, and no plans to initiate any positions within the next 72 hours.
I wrote this article myself, and it expresses my own opinions. I am not receiving compensation for it (other than from Seeking Alpha). I have no business relationship with any company whose stock is mentioned in this article.
Additional disclosure: Information in this article represents the opinion of the analyst. All statements are represented as opinions, rather than facts, and should not be construed as advice to buy or sell a security. This article is prepared solely for publication on Seeking Alpha and any reproduction of it on other sites is unauthorized. Ratings of "outperform" and "underperform" reflect the analyst's estimation of a divergence between the market value for a security and the price that would be appropriate given the potential for risks and returns relative to other securities. The analyst does not know your particular objectives for returns or constraints upon investing. All investors are encouraged to do their own research before making any investment decision. Information is regularly obtained from Yahoo Finance, Google Finance, and SEC Database. If Yahoo, Google, or the SEC database contained faulty or old information it could be incorporated into my analysis. Tip Ranks: Please give me a sell rating on RSO 08/01/2016.