Investors love to find the next "big short." The newest fodder for bears seems to be the sluggish GDP growth rate, which was "just" 1.2% in Q2. Combined with the downwardly revised Q1 growth rate of 0.8%, the U.S. is currently on track to grow GDP at a rate of 1%, the slowest since 2011. Funny that this is the comparison being made, considering that the S&P 500 (NYSEARCA:SPY) is now 71% above its level in 2011.
The bears' argument that investors should be alarmed is quite simple, but wrong. The argument is that because GDP is slowing now, then it must be an indication that things will get worse and worse! From a historical perspective, we know that this has never been the case.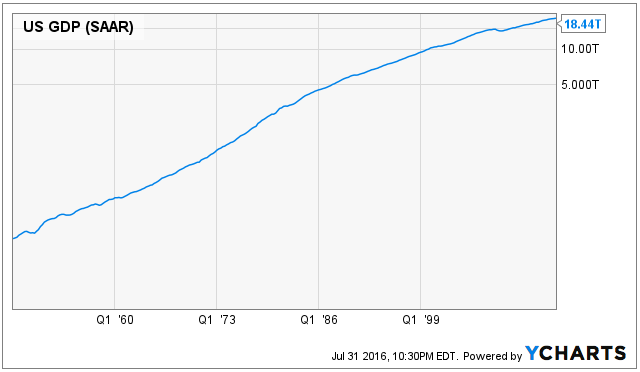 The above graph shows that despite short-term fluctuations, GDP has grown consistently over the long run. This has been true throughout history, economic growth isn't just luck, it's how the world functions.
But what about shorter time frames? Can we really time the market (QQQ, DIA) using such a simple indicator? The answer is no. It is known that there is virtually no link between GDP growth and the performance of the S&P 500. The reason is that there is no direct correlation between past economic growth and future valuation of the market. Keep in mind that corporate profit is just one of the drivers of the equity market; so even if you manage to nail future GDP growth rates, there is no guarantee that the S&P 500 will rise and fall according to the growth rate.
We can do a case study on how "predictive" the GDP figures were during the last recession.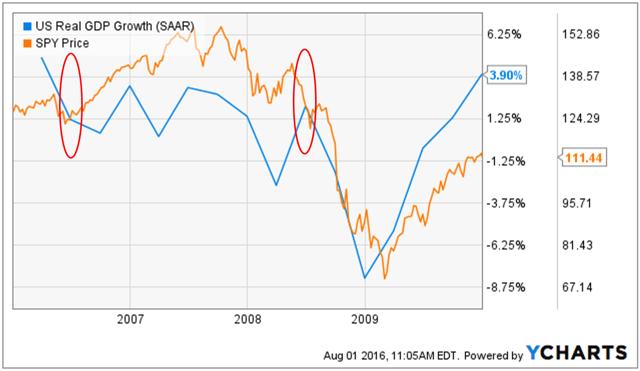 In the chart above we can see that a slowdown in GDP growth at the beginning of 2006 would have caused one to miss the pre-crisis bull market, and strangely, would have signaled investors to get back in after a dramatic increase in growth in Q2 of 2008.
In my previous article I talked about why I don't like to use GDP figures to forecast a crash (read How To Predict A Crash). Not only does it suffer from time lag, it is very general and it doesn't answer the all-important question of "why." Much like the market's fixation on crude inventory, GDP figures represent the end results caused by a variety of other macro variables. Without understanding the fundamentals that influence GDP growth, the number itself is meaningless. Had investors looked at some of the fundamental warning signs (such as the interaction between interest rates and inflation, as explained in the previous article), they would've had a much better chance of spotting disaster.
If we look at some of the major economic indicators today, we will find that the U.S. economy is still doing very well with no indication of a slowdown. Unemployment is only at 4.9%, inflation is at a healthy 1% (could be a bit higher) and consumer spending (driver of corporate profits) has never been higher at $11.48 trillion in Q2. All of the above is telling me that the fundamental factors that will lead to economic growth are still in order, and there is no reason to suspect that the U.S. will suddenly descend into chaos, much to the chagrin of bears.
Click the "Follow" button beside my name on the top of the page to be updated with my latest insights. To learn more about the V20 Portfolio, whose goal is to compound capital at 20% over the long term, I encourage you to read the introduction to my investment process. Premium subscribers get full access to the V20 Portfolio.
Disclosure: I/we have no positions in any stocks mentioned, and no plans to initiate any positions within the next 72 hours.
I wrote this article myself, and it expresses my own opinions. I am not receiving compensation for it (other than from Seeking Alpha). I have no business relationship with any company whose stock is mentioned in this article.