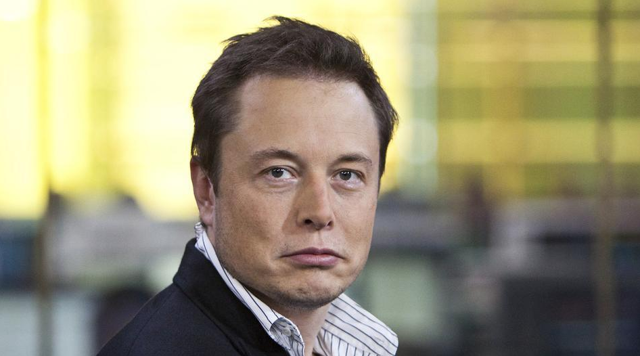 Click to enlarge
Social Data Turns Negative On Tesla
Readers may recall we've cited social data aggregator LikeFolio on a few occasions. We received an email from LikeFolio's co-founder Andy Swan warning about Tesla (NASDAQ:TSLA), which we'll share below. First, for those unfamiliar with social data aggregation, we'll recap how it works.
Harnessing Social Data For Stocks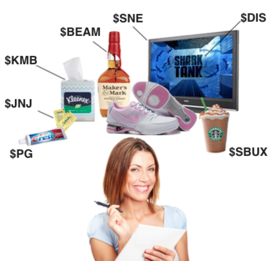 There's a lot of chatter on social media about individual stocks, but a challenge with generating any useful data from it is the tendency of an investor to "talk his book" - anyone who is long a particular stock is likely to make bullish comments about it, and vice-versa. Likefolio attempts to surmount this challenge by mining comments about brands owned by publicly traded companies, rather than the stocks themselves, as the image above from its website illustrates. Someone who comments about Yum Brands (NYSE:YUM) on Facebook (NASDAQ:FB), Twitter (NYSE:TWTR) or other social media platforms may be talking his book. But for every YUM investor there are many more Taco Bell, KFC, and Pizza Hut customers, and they are sharing their thoughts about those brands on social media constantly (to see an example for yourself, enter "Taco Bell" in the search field on Twitter now, and click the "Live" tab). A drop in social data sentiment and volume on Yum Brands offered a warning in June of 2015 that was confirmed by the company's disappointing earnings release last October.
Two examples of social data sentiment data being confirmed this year were Apple's (NASDAQ:AAPL) 2nd quarter miss, and the spectacular rise and fall of Nintendo (OTCPK:NTDOY), powered by the Pokemon phenomenon. We didn't write about Nintendo at the time, since we generally focus on stocks that can be hedged, and its ADR can't be, but the graphic below shows how social data led the stock price on both the way up and down.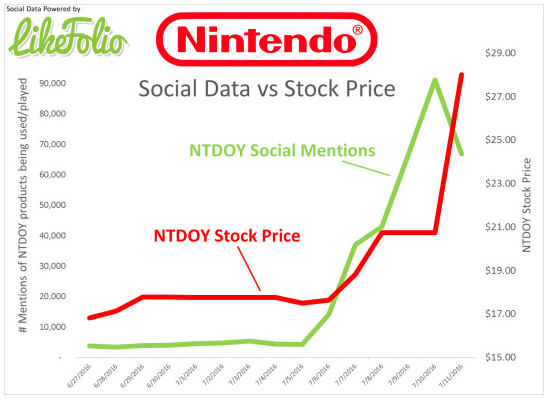 On Tesla, the results this year have been less clear cut: the stock is roughly flat since LikeFolio's warning at the end of March. But social data correctly signaled a bullish move in the stock earlier in the year. Given that, and the examples of Apple and Nintendo, it may be worth paying attention to LikeFolio's new warning.
LikeFolio's Current Warning On Tesla
Andy Swan's email Monday included the chart below.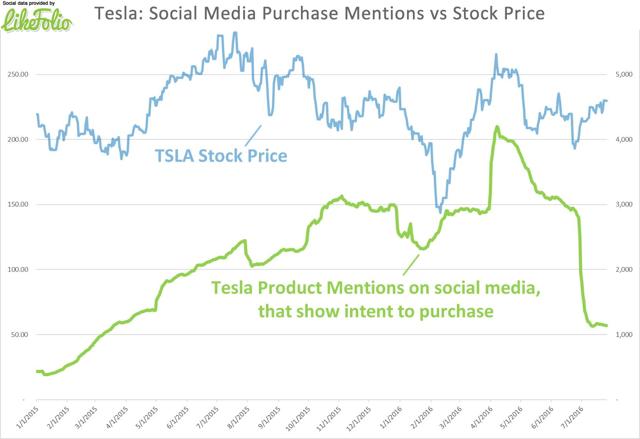 Click to enlarge
The email included the following takeaways:
The spike in April/May is Model 3 reveal.

The latest drop, from mid June through now is very large....we are back to the lower levels of 2015 purchase intent volume.

Tesla purchase intent mentions have been VERY predictive of stock price...one of our best correlated companies. Here is a bullish note we put out as the stock bottomed in February of 2016.

The recent drop occurred in mid June through July, and may not be fully reflected in Wednesday's earnings report. We expect Tesla to have a very difficult 2nd half of the year, regardless of what happens with earnings.

LikeFolio purchase intent data also predicted Ford's (NYSE:F) sales problems prior to it getting clobbered. The pattern was somewhat similar, though Ford's weakness in social data was seen earlier in the quarter than Tesla's, and Tesla's is always much more volatile.
The email closed with a disclaimer recommending readers not rely solely on social data when making investing decisions, which makes sense, though it's worth noting Wall Street analysts' opinions on Tesla have soured of late too. The consensus 12-month price target for the stock is well below the stock's current price.

Click to enlarge
Does It Make Sense To Hedge Tesla?
It may make more sense to not own it, as the stock is fairly expensive to hedge over the next several months. We have included two hedges on it so you can see the cost (screen captures via the Portfolio Armor iOS app).
These were the optimal puts, as of Monday's close, to hedge 200 shares of TSLA against a greater-than-17% decline by next March.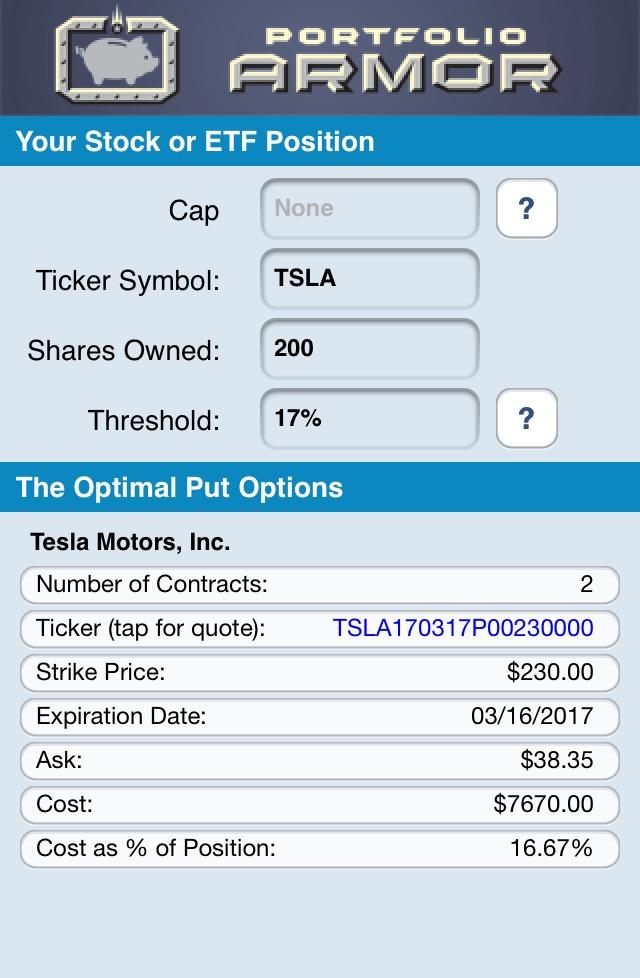 As you might guess from the cost, $7,670, or 16.67% of position value, 17% was the lowest decline threshold against which it was possible to hedge Tesla with optimal puts on Monday. Two notes about this hedge:
The threshold includes the cost. In the worst case scenario, the investor would be down 0.33%, not including the hedging cost.
To be conservative, the hedging cost was calculated using the the ask price of the puts. In practice, an investor can often buy them for less (at some price between the bid and ask).
It was possible to reduce the hedging cost by using an optimal collar, but we doubt the tradeoff in possible upside would be worth it to most Tesla longs. We capped upside at 6% with this collar, because that was the potential return our site estimated for Tesla over the next several months.
As of Monday's close, this was the optimal collar to hedge 200 shares of TSLA against a >17% decline by March, while not capping possible upside at less than 6%.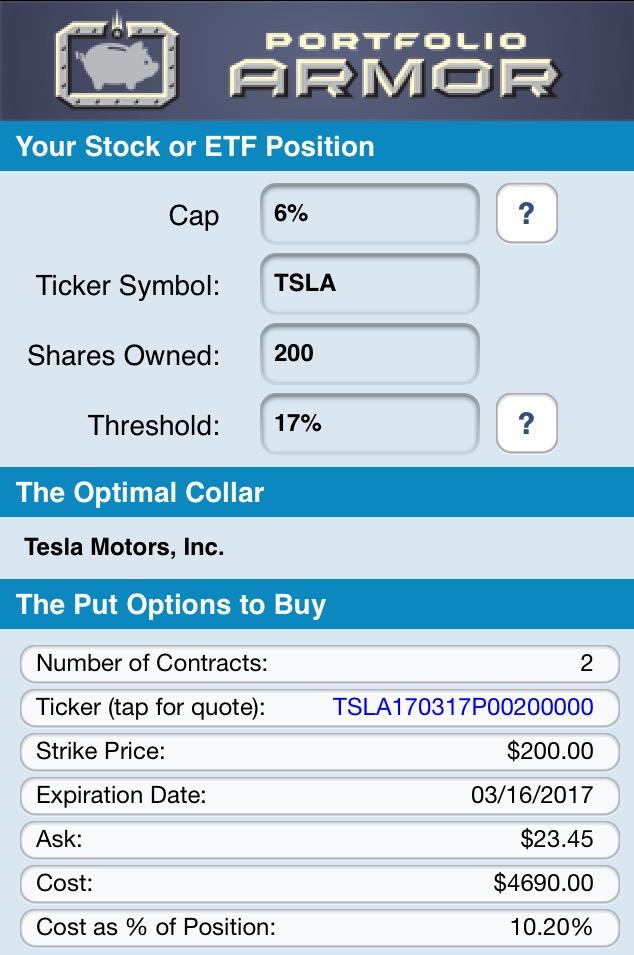 As you can see above, the cost of the put leg here ws $4,690, or 10.2% of position value. But the income generated from selling the call leg was $3,600, or 7.83%, as you can see below.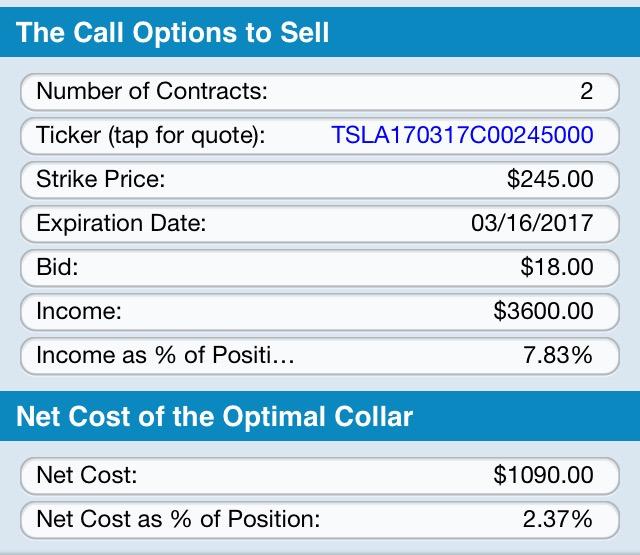 So the net cost of this collar was $1,090, or 2.37% of position value. Readers of our previous article (Danaher: Better Than Berkshire Hathaway) will note the stark contrast in hedging cost between Tesla and Danaher (NYSE:DHR).
Disclosure: I/we have no positions in any stocks mentioned, and no plans to initiate any positions within the next 72 hours.
I wrote this article myself, and it expresses my own opinions. I am not receiving compensation for it (other than from Seeking Alpha). I have no business relationship with any company whose stock is mentioned in this article.
Editor's Note: This article discusses one or more securities that do not trade on a major U.S. exchange. Please be aware of the risks associated with these stocks.