I recently wrote an article titled "Twitter is a potential multi-bagger". It's time to reexamine Twitter's (NASDAQ: TWTR) outlook now in light of last week's Q2 results.
Here's what I wrote in the article:
Twitter gets an A for its strategy for streaming content.
Twitter gets an F for execution of its streaming strategy.
We should see execution improvements in Q3 and Q4. If Twitter executes well, the stock is easily a triple from here.
I haven't changed my views after seeing earnings, except that it will be Q4 before we may see real improvement in TWTR's outlook. I still believe that there's enormous upside in the stock, but last week's numbers highlight the fact that there is also a lot of downside risk. The next few quarters will be strategically critical for the company. If Twitter doesn't get its act together quickly, then it will go down the path of MySpace.
Others have written excellent articles on Seeking Alpha about Twitter's results. A very good one is Not Buying Twitter, written on Seeking Alpha by Vince Martin. Some of his most persuasive concerns were these:
Twitter is unprofitable after taking into account employee stock compensation- which is a real expense and which would be difficult to reduce.
Live streaming is a major question mark.
Advertisers are falling out of love in a hurry.
There may not be as much intrinsic value in Twitter as we would hope. In other words, the floor is well below $16, or even $14 per share.
Mr. Martin's article articulates well the conventional wisdom about TWTR. In other words, a 16-17 share price is the investor consensus of Twitter's value in light of its recent problems. This is, after all, the same Twitter that traded for $50 per share a year ago. Clearly investors see problems.
The big question here is the direction of the next surprise- up or down. I would like to look at two key numbers from the earnings report to get a sense of what's next.
CPE Trends
The first really important number is last quarter's CPE (cost per exposure- it's what TWTR charged advertisers per ad). Twitter lowered the price of ads by 64% year over year. That's horrific, especially in light of Alphabet's (NASDAQ:GOOG) (NASDAQ:GOOGL) announcement that its CPE for Q2 was down only 7% YOY. It's also important, because about 90% of Twitter's revenue is from advertising. Here are CPE trends for the last five quarters, from Twitter's earnings slide show, found here.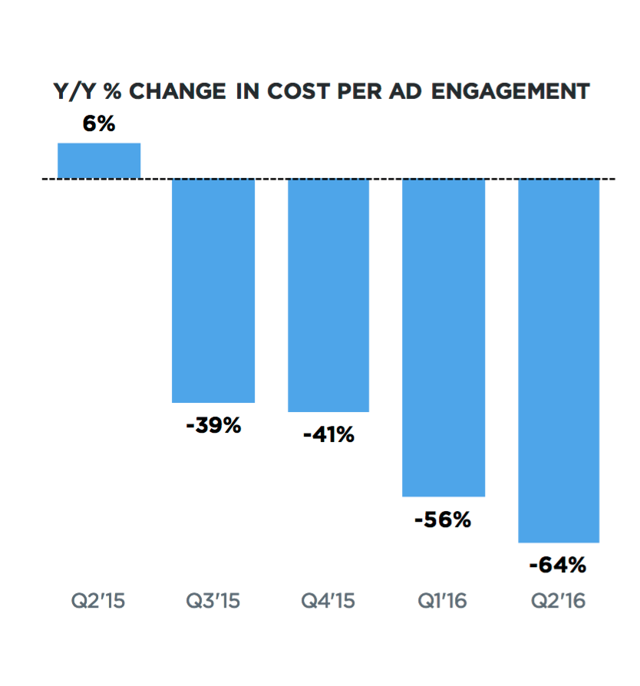 Click to enlarge
There were some positives about advertising:
Twitter highlighted steps it is taking to enable advertisers to understand and target ads better.
Although CPEs were down, total ad engagements were up even more (by 202%), so that on balance TWTR's advertising revenue actually rose, by a bit less than 1%.
Starting next quarter CPE comparisons will start to get a bit easier, because CPEs started to decline in Q2 2015 (they fell a "mere" 39% YOY in Q3 2015, versus a rise of 6% in Q2 2015).
Below is a graphic, also from the Twitter investor page, showing the growth in ad engagements.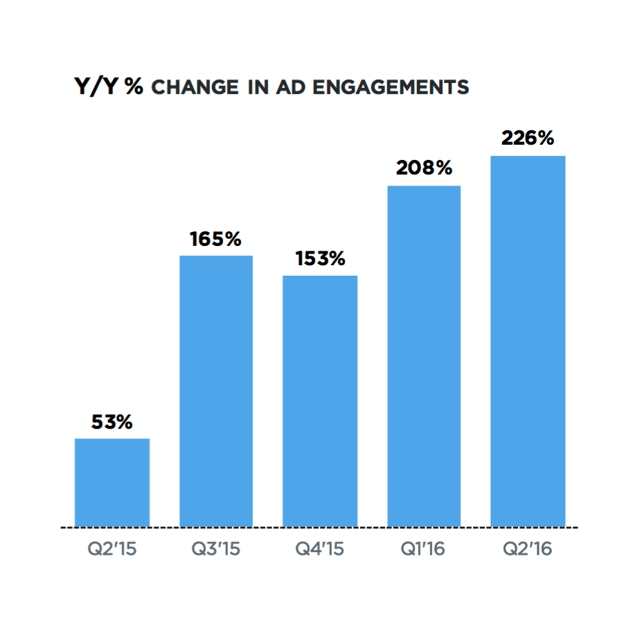 Click to enlarge
I think that the falling CPEs are merely a proxy for the fundamental problem of Twitter: it has become a more and more spammy, bot-ty and unpleasant place. Here the MySpace analogy is disturbingly apt. It's hard to believe, but in 2006 MySpace was the number one social network in the US, well ahead of Facebook (NASDAQ: FB). Then by 2009, it was all over. Facebook took the lead, and went on to grow its user base to about 1.5 billion users, versus a current 50 million for MySpace. MySpace went from a value of $580 million in 2005 (when it was bought by NewsCorp) to $35 million in 2011 (when it was bought by Specific Media). Ouch.
The fall of MySpace has been attributed to a number of factors, including a lack of focus, buggy feature development, and pressure from NewsCorp to monetize at the expense of the user experience. Forbes gave a good summary of the MySpace decline. The former CEO of MySpace shared his thoughts. Having lived through the rise and fall of MySpace as a user, I would agree with the assessments of these people, but in addition I think that a critical reason for the fall of MySpace was that the MySpace community was simply coarse and unfriendly. MySpace users were anonymous, whereas Facebook users are normally very well authenticated. Perhaps anonymity has encouraged the sort of vicious dialogue on social and political issues that plagues Twitter. This is the kind of problem that famously led Leslie Jones to close her Twitter account recently.
Anonymity is one reason why Twitter dialogue is often rude. Another reason is that political activists, who are rarely well-behaved even in person, have targeted Twitter as a way to mold public opinion. Political bots- fake accounts whose comments are computer-generated- flood the platform with comments after important events. Their operators understand that Twitter has in the past been perceived as a sort of poll of what the American public thinks about events, so they try to influence perception of public opinion.
One indication of the importance of fake accounts in the political space is that whereas Twitter itself claims that about 5% of its accounts are fake, studies have shown that closer to 50% of the followers of Hillary Clinton and Donald Trump are fake.
It's further notable that, whatever the number of fake accounts is, the number of "fake" tweets significantly exceeds the number of fake accounts. That's because bot-generated tweets come not only from fake users, but also from real users. Last year, Alexandra Samuel, a Twitter user and the author of Work Smarter with Social Media, wrote in the Harvard Business Review that many users rely on apps, like Buffer and Hootsuite, that will write tweets for them. She said that "The result is a Twitter that is authored by predictions and algorithms, rather than by humans." She further wrote:
For many users, that means Twitter offers a far less satisfying experience than it did just two or three years ago, when sharing a link often provoked follow-up comments and questions from people who'd actually read whatever you'd shared, or when tweeting a question could instantly elicit offers of help or insight. In on- and offline conversations with friends and colleagues, I frequently hear from folks like Michele Perras, a San Francisco-based design and product entrepreneur. "Twitter has become too much noise and not enough signal," she says. "It used to be more like a hallway conversation, and now that's harder to find that amongst the robotweeting and marketing."
Twitter recently announced that it will allow individuals to apply to authenticate their own accounts, thereby removing their anonymity. That's a great first step. It is urgent that Twitter address civility on its site. Otherwise Twitter won't have to worry about growth; it will need to address a downward spiral.
The Positive Number
Here's the (potentially) positive number for Twitter: $150 million. That's how much the company spent last quarter on R&D. We can hope that all of this investment is going into improving the user experience through streaming and other innovations. Here are some of the new initiatives that Twitter mentioned in their shareholder letter and management discussion:
For advertisers-
Advertising using video on the streaming platform
Enabling advertisers to control frequency of reach to users
Better targeting of user groups
Enabling advertisers to measure ROI better
Introduction of the Twitter Dashboard which enables businesses to track user engagement with their brands Related to video
Basic developments-
Continued development of streaming deals
Acquisition of Magic Pony, which reduces streaming bandwidth requirements
Bringing streaming from beta to a real product
Out of this mix of investments, it's difficult to assess what impact, and timing of impact, that Twitter's advertiser initiatives will bring.
What we do know is that right now, Twitter's streaming products are not generating a whole lot of revenue at all. This is not only true for the company's hidden video streams of the Republican and Democrat conventions. It's also true of Twitter's streaming video app, Periscope. I recently tested the app, and found myself in a world that even MySpace would consider empty. Here's a screenshot from my own cell phone of the live streams Periscope showed as available at 6:17PM EST last Thursday (July 28). The total number of people broadcasting in the United States was less than 250: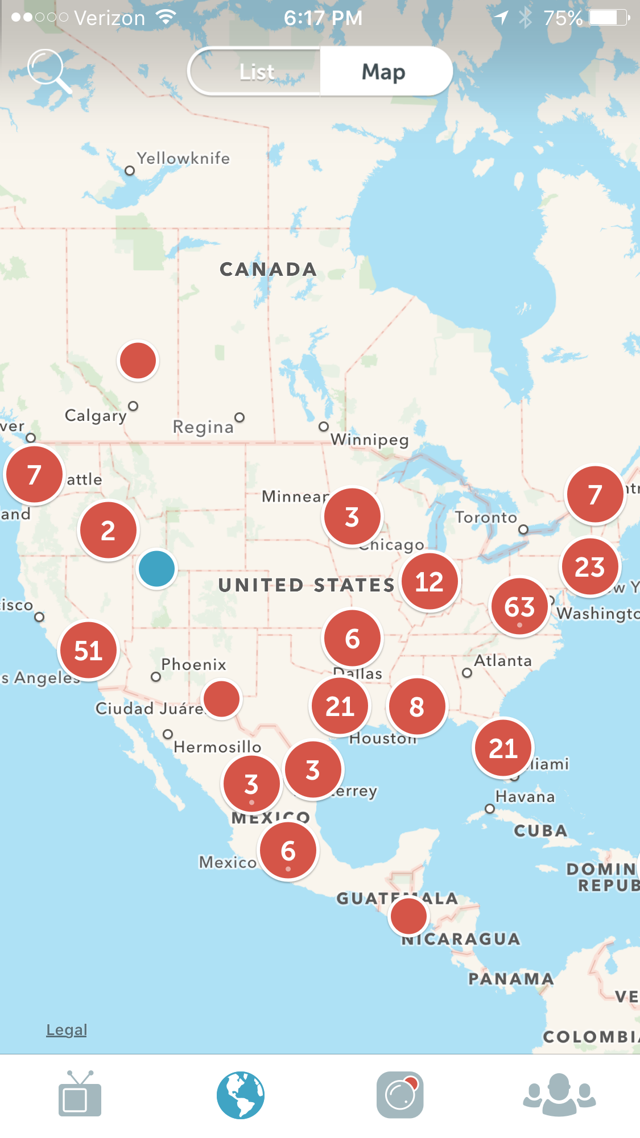 Click to enlarge
Now that's really pretty bad. Perhaps Periscope, for reasons only it knows, doesn't show all the streams, and there were really more. Still, I watched a good number of feeds, and saw that most users globally had only a few tens of followers. Really successful users had about 1,500. The feeds were at best strangely fascinating, but normally really boring. For instance, I saw:
A Russian parrot eating fruit
The side of a number of people's heads, as they watched messages come in on their screens while they were seemingly unaware that people were watching them.
A couple of profoundly amateur guitar players
Some singers who should have been playing guitar
A few completely dark rooms with people talking
Periscope seems to me to be far from prime time.
The takeaway here is that Twitter's streaming initiatives are all- even Periscope- hopes and talk at the moment. Until the company can show ability to present an engaging user streaming experience, Twitter's risks, as expressed financially by their declining CPE, make this stock a bad investment.
Further, it will be a while before we see much impact from Twitter's streaming initiatives. In the management discussion, CFO Anthony Noto said that live video will "launch in a more considered way in September", when the company will broadcast its first two NFL games. That's the tail end of Q3, meaning no streaming impact this quarter.
Conclusions
I recommend watching closely, and testing Twitter's streaming products. Streaming still seems like an investment with a lot of promise. Twitter can uniquely improve the viewing experience with real-time commentary from users. But without success in streaming, TWTR is not a buy.
There's no reason to rush investment. If Twitter gets streaming right, then the ride up will be a long one. There's no reason to time the bottom. In the meantime, Twitter has incurred enough self-inflicted wounds in failing to deal with its hostile user environment in a balanced and proactive manner, that it shouldn't get the benefit of the doubt from investors. I'm going to stay on the sidelines waiting, hopefully but skeptically.
Finally, this article is free. I wrote it to understand the investment potential of Twitter for my own research, and to share my thoughts with you. If you would like to read more articles like this, please take a few seconds and click my name above at the top of the page.
Disclosure: I/we have no positions in any stocks mentioned, and no plans to initiate any positions within the next 72 hours.
I wrote this article myself, and it expresses my own opinions. I am not receiving compensation for it (other than from Seeking Alpha). I have no business relationship with any company whose stock is mentioned in this article.