Click to enlarge
Source: NextEra Energy
2016 has been a stupendous year for regulated utilities, including my personal favorite, NextEra Energy (NYSE:NEE). Thanks to record low interest rates, rising uncertainties about America's slowing economy causing a flight to safety, and investors' desperate hunt for yield, NextEra has absolutely crushed the market over the past seven months.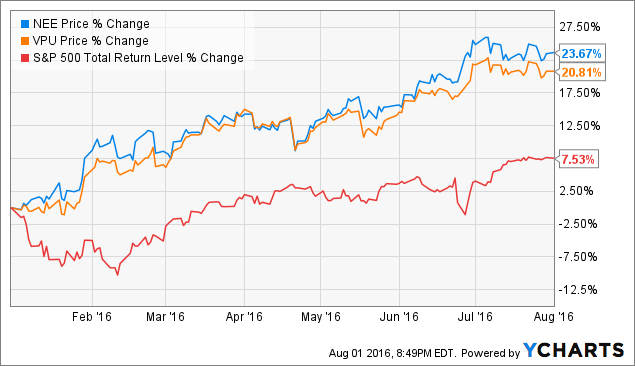 NEE data by YCharts
Of course, a frequent complaint I hear in the comment section is that NextEra, despite its incredible track record for generating long-term investor wealth, is simply too expensive right now. However, thanks to its just announced deal to acquire the largest electrical distribution network in Texas, NextEra Energy isn't nearly as overvalued as it might initially appear. Learn why this game changing deal is likely to turn NextEra Energy into one of the most successful utilities of the next few decades -- one worth buying even at today's record high prices.
Forget Hawaii - NextEra's Future Lies in Texas
On July 18, Hawaiian regulators rejected NextEra's proposed $4.3 billion acquisition of Hawaii Electric (NYSE:HE). However, not one to have its growth ambitions thwarted, NextEra turned right around and announced on July 29 that it was buying Oncor Electric -- Texas' largest electric distributor -- for $18.4 billion.

Click to enlargeSource: NextEra Energy merger presentation
Specifically, NextEra Energy will acquire Energy Future Holdings' 80% stake in Oncor, which owns 119,000 miles of power lines across the Lone Star State. The deal will be funded with a combination of cash and both convertible and common stock, which will be used to extinguish all of Energy Future's debt. Oncor's debt will remain within the separately run subsidiary, which will retain its current management, Dallas headquarters, and name. The acquisition, which management expects to be highly accretive to NextEra's earnings, will close in the first quarter of 2017 pending approval by both the U.S. Bankruptcy Court of Delaware, and Texas Public Utility Commission.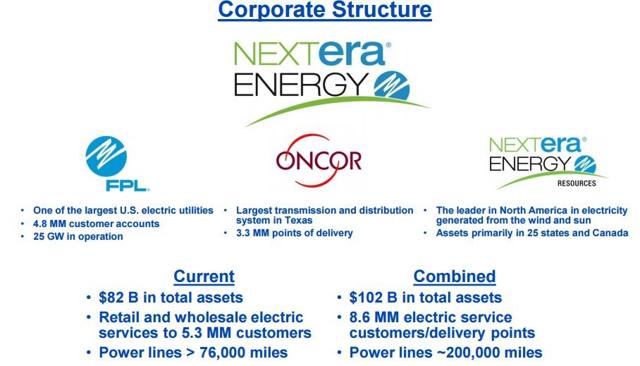 Click to enlarge
Source: NextEra Energy merger presentation
Once complete, NextEra Energy will have expanded its customer base by 3.3 million. Better yet, both Florida and Texas are not just enormous energy markets, but fast-growing states with strong economies. In fact, between 2010 and 2050 Florida is expected to see its population swell by 13.9 million, or 80% to 31.2 million. Meanwhile, Texas is expected to grow even faster, more than doubling in size to a stunning 54.4 million over the next 34 years. All of this points to a bright future for NextEra Energy and its dividend-loving shareholders.
Why This Deal Is a Potential Game Changer
NextEra Energy believes that, thanks to its adding Oncor to its growing energy empire, management will be able to hit the upper range of its long-term earnings growth target of 6% to 8%. Why is that such an important fact? Because over the past 10 years NextEra Energy has absolutely crushed both rival utilities, and the S&P 500, on the back of 8.1% CAGR earnings and dividend growth.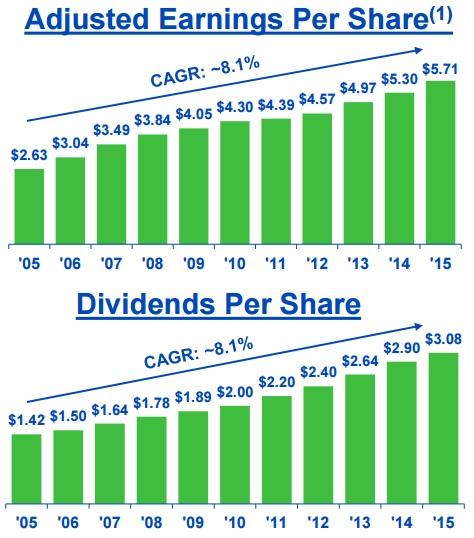 Source: NextEra Energy earnings presentation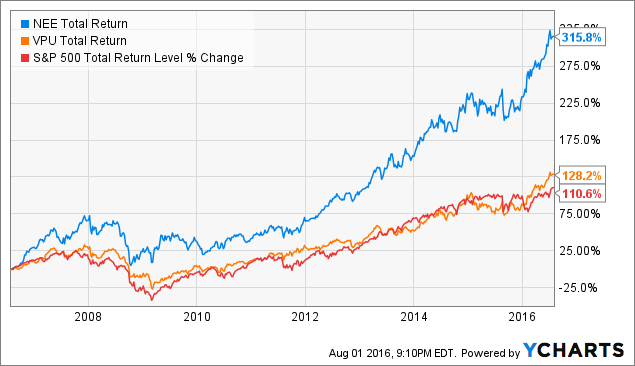 NEE Total Return Price data by YCharts
More important for investors today is the fact that the booming Texas energy market represents an enormous growth catalyst that can solve the biggest complaint my readers seem to have: justifying buying shares at today's record highs.
| | | | | | | |
| --- | --- | --- | --- | --- | --- | --- |
| Yield | 5 Year Average Yield | PE | 20 Year Average PE | Price/Tangible Book Value | 13 Year Median P/TBV | Average Historical Premium |
| 2.7% | 3.1% | 20.8 | 15.5 | 2.59 | 1.84 | 29.3% |
Sources: Yahoo Finance, Fastgraphs, Gurufocus
After all, compared to its historic yield, P/E, and price-to-tangible-book value, NextEra currently appears to wildly overvalued.
| | | |
| --- | --- | --- |
| Morningstar Fair Value Estimate | Current Share Price | Premium to Fair Value |
| $109 | $128.50 | 17.9% |
Source: Morningstar
Even accounting for the next five years of growth, NextEra remains about 18% overvalued, according to Morningstar analyst Andrew Bischoff. Now, I'll be the first to admit that all analyst estimates need to be taken with a grain of salt. However, because of Morningstar's reputation for long-term, conservative, fundamentals-oriented approach, I view them as the gold standard for determining a reasonable estimate of a company's intrinsic value. In this case, Bischoff anticipates a 75% probability of the Oncor merger being completed, requiring $8 billion in debt, and $1.5 billion in new equity, with a weighted average cost of capital of 6.0%.
Looking toward the future, Morningstar anticipates NextEra investing $36 billion over the next four years, and achieving a return on equity of 10.5%. Given management's current guidance, trailing 12 months return on equity of 11.6%, and highly favorable regulatory environments in both Florida and Texas, I view these assumptions to be reasonable.
| | | | | |
| --- | --- | --- | --- | --- |
| TTM EPS | Projected 10 Year Growth Rate | DCF Fair Value Estimate | Implied 10 Year Growth Rate at Current Share Price | Margin of Safety |
| $5.59 | 8.0% | $142.30 | 5.6% | 10% |
Source: Morningstar, Gurufocus
In fact, I think they might be on the conservative side. That's because, using a discounted cash flow model that accounts for the present value of NextEra's likely earnings over the next 20 years, I calculate that NextEra still maintains a moderate margin of safety, even at today's valuation. That's due to the Oncor acquisition boosting earnings growth from their previous forecast of 6.8%, to the 8% that management says is now within reach, with growth of just 4% for the 10 years after that. I used the market's historical 9.1% CAGR as the discount rate to let you see at what price investors are, at least statistically, likely to at least match the market's performance over the next two decades.
Now understand that, like all fair valuation models, this number is also just one data point and doesn't necessarily guarantee that today's price is certain to result in market-smashing returns going forward. After all, such models assume smooth compound annual growth, whereas real earnings growth can be more volatile. Similarly, the stock market is incredibly unpredictable and there's no telling whether or not utilities will be in or out of favor with future investors at any specific point in time.
That being said, I wanted to point out how, despite historically high valuation multiples, NextEra isn't necessarily outrageously priced. At least not if you have a long enough time frame to let management execute on its incredible growth potential, thanks to this major expansion into the Texas energy market.
Risks to Consider
There are three main risk factors that current and prospective investors need to keep in mind. Assuming the deal closes as expected, NextEra Energy's balance sheet is going to become a lot more leveraged, with around $40.3 billion in total debt, post-merger. That will mean it will be more sensitive than the average utility to future interest rate increases. And while tepid U.S. economic growth means that might not happen until 2017, higher rates might still raise the utilities future refinancing costs, as well as its overall cost of capital. In addition, any future rate hikes may result in market corrections, as we saw in early 2016, after the Fed's first rate increase in nine years.
While long-term investors know that short-term price volatility is actually beneficial, thanks to chances to add cheaper and higher-yielding shares, risk averse investors who need to sell shares to fund expenses might want to avoid buying today.
Finally, there's no guarantee that NextEra's purchase of Oncor will actually happen. For example, either Texas regulators or the judge overseeing Energy Future's bankruptcy might block it. While I think that isn't likely to happen, given that Energy Future's creditors are likely to come out ahead thanks to this deal, there's also the risk that NextEra Energy's offer gets topped by larger, better-capitalized competitors who are also eager to acquire Oncor's valuable assets and growth market.
For example, on July 14, Bloomberg reported that Berkshire Hathaway (NYSE:BRK.B) was also interested in acquiring Oncor. With $58.3 billion in cash and cash equivalents on its balance sheet, and the company generating $17.5 billion in free cash flow over the past 12 months alone, if Warren Buffett sets his mind on buying Oncor, there's not much NextEra can do to stop him.
Bottom Line: NextEra Energy Is Poised to Become the Dominant Electric Utility in America's 2 Fastest-Growing Mega-States
NextEra Energy was already one of the fastest-growing utilities in America even before this deal was announced. If NextEra can close the Oncor acquisition, its growth prospects over the coming years and decades will only brighten further. That's why I think that, even with shares at all-time highs, long-term dividend investors are still likely to do very well over the coming years and decades.
Disclosure: I/we have no positions in any stocks mentioned, and no plans to initiate any positions within the next 72 hours.
I wrote this article myself, and it expresses my own opinions. I am not receiving compensation for it (other than from Seeking Alpha). I have no business relationship with any company whose stock is mentioned in this article.