As we will discuss in more details later, Pokemon Go, or POGO as many refer to it as, is safe to say the most successful mobile video game yet.
Without a doubt, that instant success and viral popularity drove many investors, both professional and retail, to bid up the price of Nintendo before doing much research. As such, Nintendo's (OTCPK:NTDOY) stock price catapulted from the $18 range to highs a few cents short of $38 per share within days.
Shortly thereafter, you had numerous articles both on Seeking Alpha and elsewhere criticizing the huge jump in share price. The final nail to the rally, at least in the short term, came from Nintedo's disclosure that they are not expecting a material impact for the next quarterly report. Only at this point did investors start looking at Nintendo's share of the Pokemon Go income.
To anyone who spent more than 5 minutes researching Nintendo, none of that would be a major surprise, in fact most well researched publications assumed Nintendo's exposure to be in the 30% to 40% range. Furthermore, astute investors who are familiar with Nintendo were not excited for POGO for the revenue success, but more importantly what it meant for Nintendo's future sources of revenue.
While there were already a number of great Nintendo articles here on Seeking Alpha, I wanted to focus my research on Nintendo and POGO from a different point of view and to consider why $25 per share is not out of line for the company.
In Part 1 we discussed the monetization strategies for POGO that were being overlooked by both investors and institutions. In Part 2, as the stock was hitting the $30s, we looked at 11 companies that would be positively impacted by POGO's long term success.
For this Part 3, and probably the last in the series, I wanted to focus on the staying power of Pokemon Go, and a deeper look at how the game has changed business.
Non Stop Success
For all intents and purposes, Pokemon Go is the most successfully launched mobile game, and will likely be the most successful mobile game yet.
As discussed in Part 1, Pokemon Go has been the most downloaded game, in the first week of launch, in any country it launched in.
More importantly as per Sensor Tower, a mobile analytics advisor, Pokemon Go has surpassed 50 million downloads, in 19 days, solely on Android Play Store... smashing a record that ordinarily includes iTunes and Android Play Store downloads, having been launched in only 32 of 100 markets.
After you let that sink in for a moment or two... let's continue.
To put this into perspective, it took King Games' Candy Crush Jelly Saga just over 3 months to hit the same 50 million downloads, and as Sensor Tower reminds us, that was with a good amount of advertising. Pokemon Go has not sponsored either Apple iTunes or Google Play stores, nor advertised elsewhere. The viral growth has been strictly word of mouth.
Sensor Tower now estimates the game has been downloaded 75 million times, and will possibly hit 100 million downloads in the first 60 days.
Why does this all matter?
Pokemon Go is not like other video games. Traditional video games provide the same gameplay experience no matter if you are sitting on your couch or at a foot ball stadium.
Pokemon Go is largely a social game where a good amount of the gameplay and long term success evolves around going to "Pokespots" and "Pokemon Gyms," to train your Pokemon Go monsters and to do battle with other trainers.
More importantly, if you want to progress in the game further, faster and more easily, visiting Pokemon Gyms is the only way to earn Poke Coins, the in game currency, that is redeemable for items, without using real dollars.
More players means a more complete gaming experience, which means more time spent playing the game, that translates into more long term success.
One metric where we can judge that this game is a keeper is in the retention numbers.
It is estimated that the average next day return for games is about 30%. For Pokemon Go, that retention rate is roughly 70%.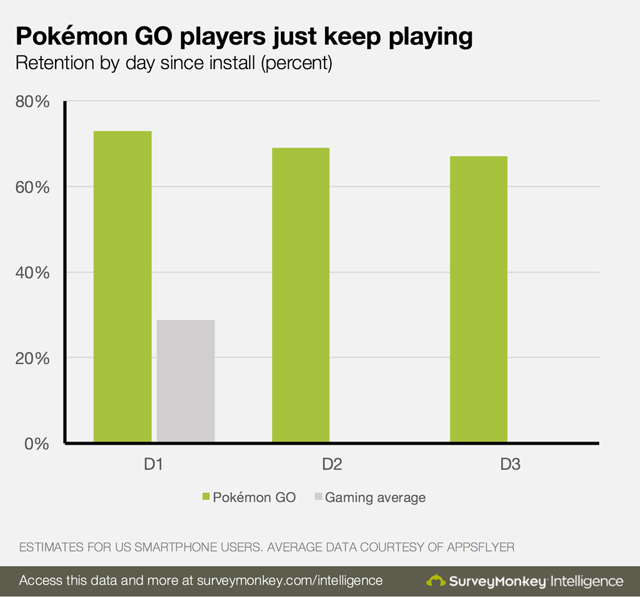 Click to enlarge
The Right Demographics
One of the points where Pokemon Go hits it out of the park is in the demographical breakdown of target users.
As I stated in previous articles, many of the players I have met while doing my due diligence had grown up with Pokemon, watching the cartoons, playing the console games and collecting the trading cards. To them, Pokemon Go is a natural extension of that brand.
While a number of Pokemon fans were not surprised by the announcement of Pokemon Go, and in fact patiently waited for the game, I would guess that the majority of Pokemon Go players today were reintroduced to the Pokemon brand by the release of Pokemon Go. One comical example is this "Bros Vs Pokemon" video on Youtube. (caution, adult language).
The brand reintroduction theory looks to be correct with the reported twofold increase in sales of GameStop (NYSE:GME), driven by the demand for older Nintendo systems and Pokemon games. If you were an avid Pokemon fan, you would already have those games and systems anyway.
All of this seems to be further supported in the data gathered so far by various media tracking and analytics companies.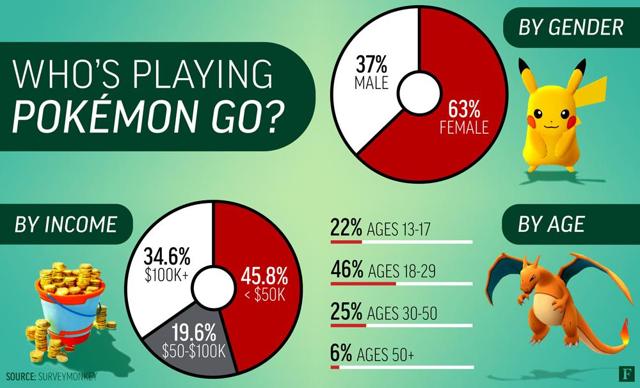 Click to enlarge
Data by SurveyMonkey, graphic by Forbes.
As per SurveyMonkey, we know that approximately 46% of the current users are in the 18-29 year old demographic group, ie, the generation that grew up with Pokemon. A further 31% of the users are ages 30+.
Combined, we have approximately 77% of the app users that are in a position to make in game purchases and further purchases outside of the game.
Furthermore, they estimate that more than half of the POGO players have an income of $50,000 or more.
So how does this play out into the results?
SurveyMonkey estimates that Pokemon Go generates TWICE the average revenue for casual games, even surpassing the cash cow known as Candy Crush.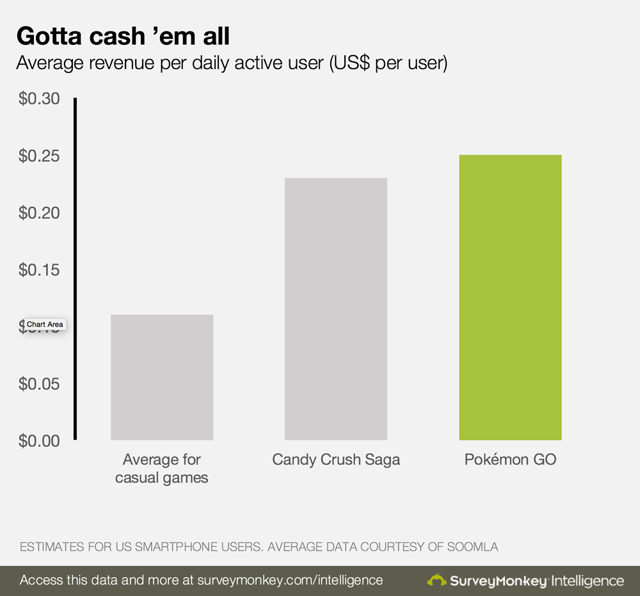 Click to enlarge
As I had previously mentioned, I have never spent money on mobile games, but in the last week I did make two purchase, first to buy Poke Balls to catch a Pokemon I did not already have and secondly to purchase a pack of Lucky Eggs that I would use to double the experience earned which would let me level up quicker.
Using my own numbers, I am right at the $.33 per day spent on Pokemon Go.
It begs the question, how many others are there out there like myself, who spent money on the game who would ordinarily not do so and why.
In order to find out, I decided to ask the Pokemon Go Reddit group.
From the users that responded, we had a range of answers from $15 to over $100 dollars with a number of logical reasons for the purchases.
For rural players, the money was spent on Poke Balls used to catch Pokemon and Lures and Incense to spawn more monsters in their area.
For those living in suburban or urban areas, money was spent purchasing more Lucky Eggs that are used to double experience points along with Egg Incubators to allow you to hatch Pokemon eggs quicker than 1 at a time.
Importantly, parents seem to be much more content spending money on Pokemon Go rather than other video games as they look at Pokemon Go as a way of spending time with the family.
As per one user, "Once my family started playing, I decided it was worth spending $ to drop lures for the family to enjoy whenever we are out. I spent $100 for the most bang/buck."
I had seen more evidence of this yesterday. Since it was a fairly nice outside and I had not yet had my daily dose of Pokemon Go yet, I visited a small local arboretum in the area that has 8 Pokestops and 2 Poke Gyms on a 1 km loop.
While pushing my daughter's stroller, I saw at least two other families there with their phones out, laughing and having a good time while looking for Pokemon.
There was one family of 5 or 6, another father with his 8 or 9 year old son, and a family I started chatting with while we were looking for the Magmar that popped up near us. (A fairly rare Pokemon).
From our conversation I learned that the baby boomer father and mother along with their millenial aged son spend time a few days a week exploring different areas while searching for Pokemon together.
Surprisingly it was the mother that stated she was the most serious player, spending the most time playing throughout the week.
With that context, it is possible to see how parents view the game and the in game purchases.
Rather than looking at if they want to spend $5 to buy items in the game, they may simply look at it as $20 spent on having an enjoyable time hanging out with their loved ones in the park.
Everyone Is Getting In On The Act
Perhaps the biggest evidence of how sticky the game is, is by looking at the businesses and organizations getting in on the act.
Simply put, Pokemon Go is everywhere, even in Church.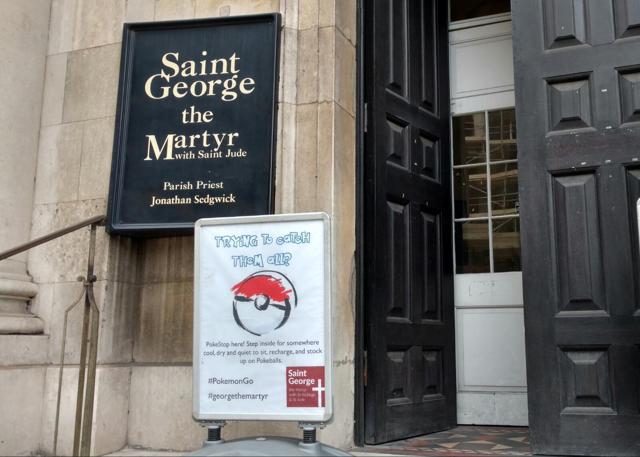 Click to enlarge
Source: Imgur Submission by athoul
As discussed in previous articles, what sets Pokemon Go apart is by how eager businesses are to embrace the game.
Coffee shops, bars and restaurants that are near Pokestops are eager to advertise those points as it means new visitors and increased business.
Theme parks such as Six Flags (NYSE:SIX) are continuing to support Pokemon hunts in their parks.
Local baseball teams are hosting Pokemon Go nights during games.
As we discussed in Parts 1 and 2, McDonald's (NYSE:MCD) was rumored to be an in game partner. It was later revealed that McDonald's would sponsor Poke Gyms in Japan.
As of July 26th, we had the first signs that it is working as McDonald's credited Pokemon Go for the increased sales in Japan.
Now we have to wonder if and when this will be rolled out world wide, and just how much this will cost McDonald's.
If you want to see just how big of a deal this is to restaurants, Yelp (NYSE:YELP) has included a Pokemon Go filter to its restaurant search, both on the web and in the mobile apps. Furthermore, they published a guide for restaurants on how to take advantage of the game in their latest blog post.
Bottom Line & Why I Invested
The right game, the right demographics, the right monetization strategy and the wide adoption by the society as a whole are the very reasons why I chose to invest in Nintendo.
As discussed in Part 1 and again in Part 2, I knew I wanted to invest in Nintendo.
While I had the chance to invest prior to writing Part 1 at around $20 per share, I did not want to front run the transaction before publication. After publication, the stock kept shooting up to over $35, and while it might of been a fair price, I was not comfortable at that level and wanted to wait for a more attractive long term entry point.
That opportunity came up last week after the reports from Nintendo's meeting that sent shares down to $25 per share, which is where I chose to open my position.
While it is not $20 per share, I am comfortable with the $25 per share mark.
I fully believe the earnings from Pokemon Go are fairly well priced into the stock. That is not why I chose to invest in Nintendo.
I believe the future growth will come from the other monetization options for the game, such as sponsored PokeSpots and Gyms and others discussed in Part 1.
More importantly, Nintendo will further benefit from increased sales of in house Pokemon games out now and the two Pokemon games due out soon. Furthermore, Nintendo now has close to 100 million people who are prime candidates to purchase the next generation Nintendo console.
Finally, the runaway success that is Pokemon Go should convince Nintendo executives to bring the rest of the Nintendo catalog to mobile. While some executives may not want to tarnish the integrity of console gaming, the $6 million per day that Pokemon Go is reportedly currently generating is hard to argue with.
Using the Survey Monkey numbers, we can see where the $6 million was generated. Assuming 25 million daily users, and the given $.25 generated per user per day, we get a little over $6.1 million per day, or over $2.2 billion per year.
I believe as players progress, they will end up spending more money on the game, perhaps bringing it up to an average of $.30 per day.
Furthermore, I believe as Pokemon Go is released in the rest of the world, we will see Pokemon Go surpass over 50 million daily users fairly soon. Keep in mind, Pokemon Go is STILL not released to MOST of the world's population.
Pokemon Go has only been released to 1 country that ranks in the top 5 for global population, the United States.
Pokemon Go is STILL not released in most of #1. China, #2. India, #4 Indonesia, #5 Brazil, #6 Pakistan, #7 Nigeria, or #8 Bangladesh.
Going back to our numbers, 50 million daily users, with an average revenue of $.25 translates into $4.5 billion in revenue for the game... which is slightly above ALL of Nintendo's revenue over the trailing twelve months ($4.1 billion).
I believe as Pokemon Go is launched in more places, we will see Nintendo come back and start revising earnings expectations.
Bottom line... once we look at the success Pokemon Go has in the United States and Europe, the monetization options STILL on the table, and view this as a microcosm for the majority of the yet untapped world... there is only one word to describe the opportunity...
HUUUUUUUGE.
Final Note: I hope you found this article helpful. I am a believer in active management that works and I am here to help you find those opportunities. Please follow me here on Seeking Alpha as we look for those opportunities and sort out the good managers from the mediocre.
Simply click the "Follow" button below if it appears for you, or click "Follow" next to my name at the top of the article. Alternatively, you can click the orange "Follow" button from my profile page.
Disclosure: I am/we are long NTDOY.
I wrote this article myself, and it expresses my own opinions. I am not receiving compensation for it (other than from Seeking Alpha). I have no business relationship with any company whose stock is mentioned in this article.
Additional disclosure: Maks Financial Services is a registered investment advisor and our Form ADV Part 2 is available upon request. We certify that the opinions and predictions in these articles are our professional beliefs at the time of publication and should not be construed as personal investment advice. Please consult your financial professional to see how anything discussed here applies to you. Furthermore this is not a solicitation to buy or sell any securities. This is not Tax Advice. Please consult your tax professional.
Editor's Note: This article discusses one or more securities that do not trade on a major U.S. exchange. Please be aware of the risks associated with these stocks.