Shares of Chegg (NYSE:CHGG) are up more than 15% today, 8/2, following a strong Q2 ER, which saw the company beat both top- and bottom-line estimates. Shares are now up nearly 50% since we first recommended the stock as a buy on May 4, and we think investors should remain long the name. The valuation remains attractive and the long-term growth story looks stronger than ever.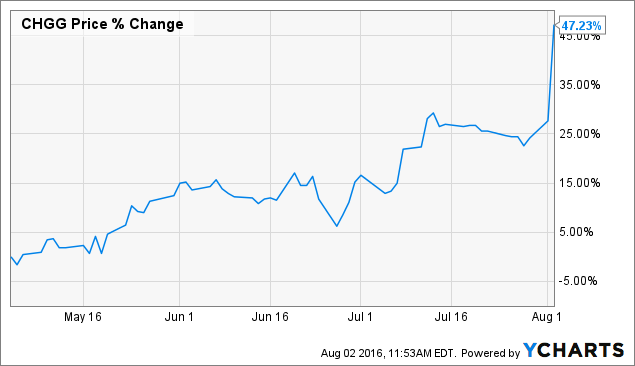 In our opinion, CHGG is perfectly positioned to capitalize on the secular shift to digital learning. We have covered this in-depth in both our previous article and in the comment section on that article, so we will avoid an analysis of the qualitative story here. The company is growing at similar rates this year as it did in 2015, but on top of a much larger base, and this affirms to us the secular growth story is strengthening.
This article will instead focus on valuation and why investors should continue to be long CHGG. The current quote puts the stock at 23.7x forward earnings, but we think the FY17 cons. estimates are light. We think the top-line estimate undervalues the significant revenue impact Test Prep will have (practically every high school junior in the nation will have to take either the ACT or SAT every year, so the TAM is huge and the subs naturally replenish). We see $240 million in revenue next year (versus cons. of $232 million) and EPS of $0.31 (versus cons. of $0.27). For measure, we also think the FY16 estimates are light, and see upside on revenue and EPS driven by accelerated Services growth in the back-half of the year.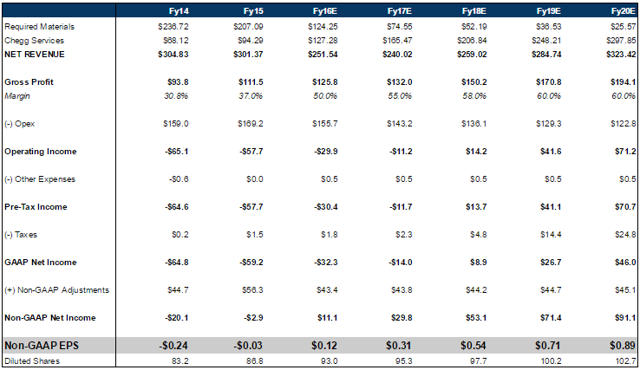 We see upside across the board to analyst estimates, and therefore think the company still has some earnings surprises in its back-pocket. This should provide solid firepower for the stock to continue to rocket higher on positive ER reports.
Long term, we see FY20 EPS at $0.81, a 61% CAGR from our projected FY16 EPS of $0.12. This sort of growth will be driven by gross margin expansion to the long-term target of 60% as well as continued strong Services growth (management sees 30% revenue growth here, and we model in light of that in later years). With 60%+ earnings growth potential, we think the current ~20x forward P/E multiple is more than justified (PEG of 1/3) and actually believe that multiple could expand as growth is realized.
Nonetheless, even if we conservatively model for significant multiple compression from here over the next several months, then a 15x multiple by FY16 end on FY18E EPS of $0.54 implies a year-end price target of over $8 (another 25%+ upside). While that might seem overly optimistic, investors should remember that the current quote would've been considered a trough in 2014 or 2015, and that the stock traded north of $7.50 for the better part of 2015.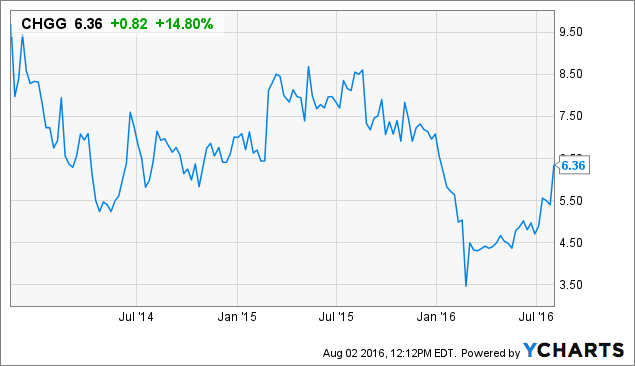 The 2017 business will look much different, and much more promising, than the 2014 and 2015 business. It will be completely digital, have higher margins, be exposed to a wider array of growth opportunities, and be ideally leveraged to capitalize on a digital education shift. Because of this, even GAAP earnings should be positive by FY18 (something the company hasn't seen) while non-GAAP earnings have tremendous growth potential. For all intents and purposes, the stock should trade higher into 2017 than it did throughout 2014 and 2015.
From this standpoint, an $8 price target by year end seems very reasonable. We think the stock is still rebounding from multi-year lows, and while there might be a near-term pullback, we think this stock continues to head significantly higher over the next several months.
Disclosure: I am/we are long CHGG.
I wrote this article myself, and it expresses my own opinions. I am not receiving compensation for it (other than from Seeking Alpha). I have no business relationship with any company whose stock is mentioned in this article.