By Parke Shall
Mallinckrodt (NYSE:MNK) is a diversified drug company that just reported great results and raised its guidance for the upcoming year. The company guided for $8.50-8.80 versus estimates of $8.15-8.50 and here is Seeking Alpha's full rundown of the report:
Mallinckrodt FQ3 results:
Revenues: $970.6M (+10.6%);
Operating Income: $202.9M (+59.6%);
Net Income: $195.7M (+252.0%);
EPS: $1.79 (+280.9%);
Non-GAAP EPS: $2.20 (+8.9%);
Quick Assets: $521.9M (+42.6%); and
CF Ops: $994.4M (+77.8%).
2016 Guidance: Adjusted EPS: $8.50-8.80 from $8.15-8.50.
All in all, looks like aces across the board.
However, we believe it's important to not get overly optimistic about these results and perhaps take some profits if MNK moves into the high $70 and $80 region.
In other words, we'd be looking at about $85 at a potential best-case scenario and would take some profits leading up to that price.
For those that do not remember, it is this type of non-GAAP accounting that saw companies like Valeant (NYSE:VRX) get into trouble and is seeing other debt-heavy roll-up pharmaceutical companies like Endo (NASDAQ:ENDP) and Horizon (NASDAQ:HZNP) trade at extremely depressed valuations. Here's the "specialty" segment PEs.
ENDP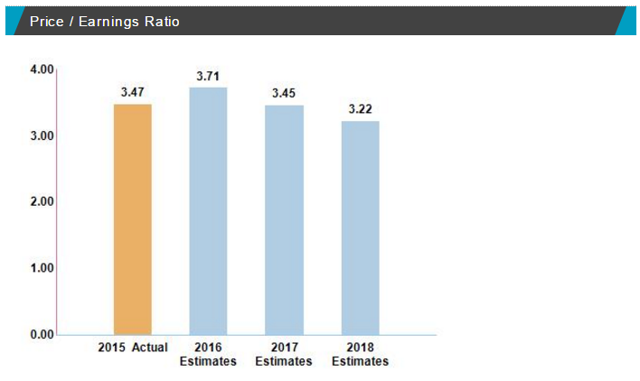 HZNP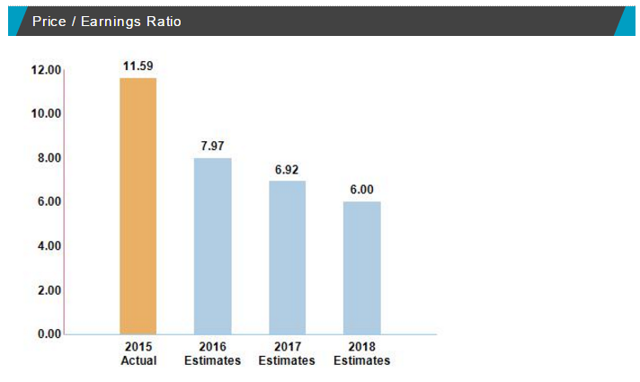 VRX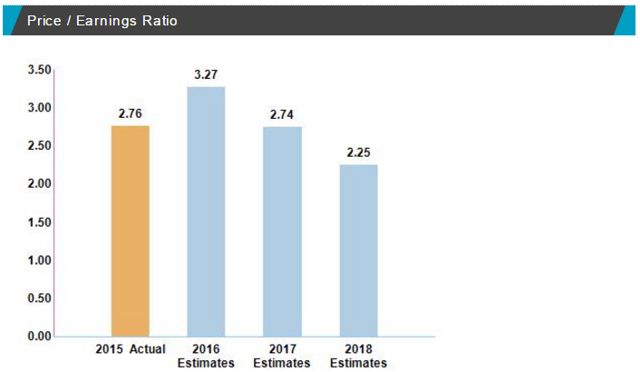 Yet, Mallinckrodt is going to be the exception that takes on a traditional pharmaceutical PE? We don't think so. 10x is more than enough.
MNK is a story similar to these other specialty companies. The company seems to be performing well as catalyzed by its core specialty drugs. However, the company is burdened under a significant debt load that it took on to acquire some of its current assets, and it currently carries debt that's about 4.25x EBITDA.
This morning, the stock is trading at $72, and assumed price to earnings multiple of about 8x on the company's new estimates.
We want to offer just a couple of reasons for caution as to why we do not think the multiple should expand much more from here and why we think, despite the raised guidance, that MNK shares may not be a fantastic buy any higher than $85.
First, we have the debt. As we were just saying, the company's significant debt load needs constant servicing and is a liability to the company in any environment where interest rates may rise. When the company has paid down some of its debt and reduced its leverage, when we see some of the ratios come down, there may be a little bit more room for the multiple to breathe. For now, the company is wound as tight as it can go comfortably in terms of leverage.
Second, the company still seems heavily reliant on Acthar, which is a drug that has been in question for the last couple of years. When you approach stocks like Buffett does, you want to think about the compounded consistency of its future cash flows. How confident are you that MNK can continue to perform this well with its current portfolio of drugs for the next five years? 10 years? 20 years?
At a PE of 10x, the market is assuming that these results will (at least) be able to be replicated for the next 10 years. Most investors bank on growth, not just consistency.
This is important because one of MNK's core drugs continues to come under fire, and that could have an impact on future cash flows going forward. We believe 10x is a best-case multiple that takes into account the risk of potentially losing or having to alter a major revenue stream (which may not ever happen - we are just trying to assess the risk).
Most recently, short-seller Andrew Left of Citron Research has come out and questioned the efficacy of Acthar versus an ACTH synthetic version of the drug and placebo. Mr. Left claims that clinical trials need to performed for several different indications and that the synthetic version of the drug may be an extremely cheaper method for patients to get access to the drug that works for them. This would be bad for MNK's margin if found to be true.
Mr. Left has made the argument over the last year that MNK is one of the original abusers of the healthcare system, charging a significantly marked-up fee for a drug that has not proven itself in clinical trials.
The company has responded to him several times, indicating not only MNK is firmly focused on driving its results (which it has), but also it is not heavily reliant on this drug for all of its monetary success. However, in today's press release, it seems as though Acthar is being attributed as the main driver for the company's success. Specifically, these few lines make it seem as though it is the backbone of the company's success right now:
Total Mallinckrodt net sales were $970.6 million in the third quarter of fiscal 2016, up 10.6%, or 10.8% on a constant-currency basis. Specialty Brands segment revenue was up 32.1% and was the primary component of overall net sales acceleration. Results were led by solid volume growth in H.P. Acthar Gel (repository corticosteroid injection), unusually strong net sales results for INOMAX (nitric oxide) gas, for inhalation, and incremental volume growth for OFIRMEV (acetaminophen) injection and for the Therakos immunotherapy platform.
The increase principally reflects higher net sales and profits from acquired assets in the Specialty Brands segment and strong net sales and profit contribution from Acthar.
We are particularly pleased with the results in the quarter from Acthar - driven solely by volume gains - and INOMAX, with OFIRMEV and Therakos continuing to contribute notable advances.
GAAP gross profit was $541.3 million for the quarter, up 7.4% over $503.8 million. This growth resulted from the performance of Acthar, the full quarter inclusion and performance of INOMAX, the performance of OFIRMEV, and the inclusion and performance of Therakos, partially offset by decreased gross profit from the Specialty Generics segment.
Mr. Left certainly hasn't been winning his war against the company thus far. Over the last three months, the company has clearly been the victor.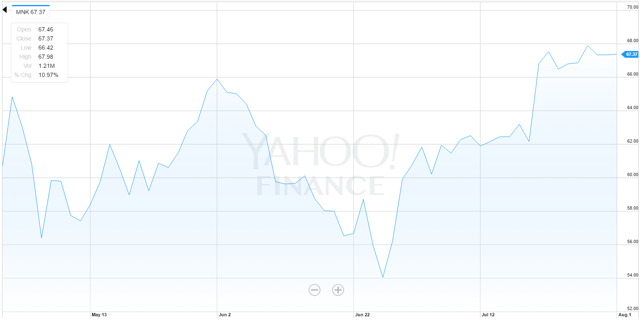 Whether or not the company or Mr. Left will be proven correct over the course of the long run remains to be seen. However, while we are waiting for this story to play out, we think that these risks should curb the company's prospects moving forward enough that the company should max out at a 10x multiple, giving it upside to about $85, or 18%.
Disclosure: I am/we are long VRX.
I wrote this article myself, and it expresses my own opinions. I am not receiving compensation for it (other than from Seeking Alpha). I have no business relationship with any company whose stock is mentioned in this article.