Click to enlarge
(Image: General Electric turbine manufacturing line)
Important note: This article is not an investment recommendation and should not to be relied upon when making investment decisions - investors should conduct their own comprehensive research. Please read the disclaimer at the end of this article.
Following two years of continued delays with the Constitution Pipeline project, which culminated in an impasse, Cabot Oil & Gas (NYSE:COG) is working hard to find access to premium markets for its currently stranded Marcellus natural gas resource in Susquehanna County. In a notable development, the company recently added to its marketing portfolio agreements to supply up to ~0.4 Bcf/d of natural gas to CCGT power plants to be constructed in the company's area of operation. Of note, the contracted volumes are comparable to those that Cabot initially expected to ship on Constitution Pipeline (0.5 Bcf/d net to Cabot).
Cabot's contract announcements illustrate a broader trend in the Northeast. In response to strict regulatory mandates, the PJM Electric Region saw a massive wave of coal-fired electric generation retirements in the last few years, which significantly tightened capacity markets. With the area being endowed with an abundant, low-cost natural gas resource base, the PJM is seeing an acceleration in gas-fired generation newbuilding. In the next three years, over 15 GW of new generation capacity is scheduled to come into service in the PJM, most of which are high-efficiency CCGT plants using new-generation turbines and plant designs. I estimate incremental demand for natural gas from these facilities to approach 2 Bcf/d by 2019.
Pennsylvania, which is part of the PJM market, has been undergoing a real CCGT construction boom, with a dozen plants recently constructed, under construction or in permitting. The current wave of construction is comparable only to the merchant generation newbuilding spike that occurred in 2002-2003 following the deregulation of electric generation in several important markets.
Cabot's announcement of the long-term natural gas supply contracts is positive news for the stock and the increase in natural gas generation demand is positive news for all natural gas producers in the Marcellus area. That said, I would not expect windfall profits to E&P operators.
The in-basin market for natural gas, even for longer-term supply contracts, is highly competitive, with multiple producers racing against each other to secure takeaway solutions for their resources. Northeast Pennsylvania is particularly problematic in this regard. As a result, it is natural to expect that E&P operators will have to settle for moderate returns under long-term supply agreements, sharing margins with power plant developers, utilities and consumers.
A case can be made, however, that Cabot has a "differential rent" advantage versus many of its peers. The company's acreage is, arguably, the most productive in the Marcellus. Moreover, being located within the dry gas window, the production mix is a perfect fit for power generation: the wells are prolific, relatively inexpensive, and there is no extra cost and development lead time associated with the processing, extracting and transporting the NGL component. Cabot is also an attractive counterparty from a credit perspective.
Given that the price for long-term supply contracts to local customers will ultimately be set by E&P operators with higher costs of supply, Cabot should enjoy differentiated returns. Still, even in Cabot's case, one should expect that some of the return upside will be competed away and go to consumers and investors in the downstream portion of the value chain.
Worth noting is the innovative structure of Cabot's contracts. While Cabot did not share much detail due to confidentiality, it appears that the company has agreed to a partial risk-sharing formula with the plant developers and their customer. Risk sharing under long-term supply contracts may become an increasing trend in the U.S. natural gas industry and may involve merchant generators, power marketers, regulated utilities, LNG buyers and LNG project developers.
Cabot's Power Plant Supply Contracts
Cabot has entered into long-term contracts to be the exclusive provider of natural gas to two newbuild natural gas-fired power plants.
Under the first contract, Cabot entered into an agreement with South Jersey Industries, a utility holding company, to be the exclusive provider of natural gas to the Caithness Moxie Freedom project, a high-efficiency 1,029 megawatt CCGT power plant in Luzerne County, Pennsylvania, which is scheduled to start commercial operation in 2018. At maximum capacity, the plant will burn up to 165 MMcf/d of natural gas.
In July, Cabot disclosed a 10-year sales agreement to be the exclusive provider of natural gas to Invenergy LLC's Lackawanna power plant. The transaction is also anchored by South Jersey Industries. The proposed facility is a high-efficiency 1,500 megawatt CCGT plant to be built in Lackawanna County, Pennsylvania. Commercial operations are expected to begin in mid-2018 and to reach full capacity by year-end 2018. The facility, at maximum capacity, will burn up to 240 MMcf/d of natural gas.
Both plants will be feeding off the local gas gathering system, eliminating the need for Cabot to pay long-haul transportation fees.
In these contracts, South Jersey Industries is acting as a counterparty to both Cabot and the merchant power plants through exclusive fuel management agreements. In my understanding, Cabot is exposed to South Jersey Industries' counterparty credit and receives collar-like price protection from SJI. Cabot has commented that the contract envisions price floors and caps for the natural gas supplied that protect Cabot and also protect the power generator. Between those floors and caps, the price realization fluctuates based on certain percentage of the day-forward power price.
This unusual pricing formula effectively gives Cabot some equity (with the upside and downside associated with it) in the economic performance of the newbuild merchant generation plant and also reduces risks for the plant's developer. Should the competitive environment for power generation in this specific portion of the PJM market remain favorable, Cabot may earn some premium to its price realizations.
Cabot did not disclose specific terms, but commented that the agreement "guarantees" Cabot attractive rates of return while "providing fuel costs directly linked to power prices, eliminating risks for each of the parties involved in the transaction." The company commented that it expects the netbacks under these contracts to be materially better than the anticipated netbacks on in-basin sales of natural gas. Answering an analyst's question during its second quarter conference call, Cabot commented that it expects price realizations under the contracts to be Henry Hub minus approximately $0.25-$0.35 per MMBtu, which represents a significant uplift to the company's current and expected in-basin price realizations.
Cabot also commented that these high-efficiency plants are expected to have high utilizations, at least 95% in the first five years. The forecast appears credible, based on what PJM capacity markets are currently showing.
The price formula under the contracts is innovative and may be a harbinger of many more long-term supply contracts that feature cooperation and risk sharing between natural gas producers on one hand and customers on the other.
A Line Of Sight To 3.5 Bcf/d Of Market Access Capacity
Not including Constitution, Cabot's current marketing portfolio includes projects that may allow the company to increase its market access to 3.5 Bcf/d by the end of 2018, an almost two-fold increase from the currently produced volumes. Most importantly, with these projects coming in service, the company's margins should expand significantly, as natural gas will be sold under more favorably priced sales agreements or into strategically attractive markets.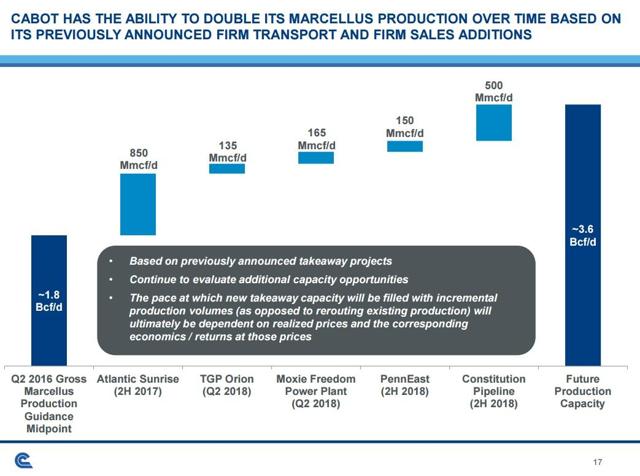 Click to enlarge
(Source: Cabot Oil & Gas, June 2016)
The Atlantic Sunrise project accounts for more than half of the incremental volumes, with 0.85 Bcf/d firm commitments net to Cabot. Atlantic Sunrise has now become the biggest potential catalyst (and uncertainty) for the stock. Its progress will now be closely watched and scrutinized by analysts and investors.
Implications For Turbine Manufacturers
The accelerating transition from coal-fired power generation to natural-gas fired electric generation is a boost to leaders in the turbine market - General Electric (NYSE:GE) and Siemens AG (OTCPK:SIEGY). While the trend has been well telegraphed to the markets, the surge in these two companies' bottom lines from the U.S. Power businesses is likely to be particularly visible in the next two years.
Both manufacturers have perfected their turbine designs and related equipment they supply to power plant developers, including optimized plant configurations. These improvements have resulted in record-low heat rates that new CCGT plants can deliver, positioning natural gas as an even more competitive fuel versus coal.
Implications For Natural Gas-Focused Stocks
The accelerating growth in power demand is a much needed tailwind to natural gas prices in the next few years, particularly for local prices in the Northeast region where in-basin differentials remain a major challenge.
In addition to Cabot, examples of significant natural gas producers in the Marcellus area include:
The fundamental factors discussed above are relevant to natural gas focused ETFs:
For in-depth data and analysis of commodity fundamentals, please consider subscribing to Zeits OIL ANALYTICS that provides analysis of the crude oil and natural markets.
Disclaimer: Opinions expressed herein by the author are not an investment recommendation and are not meant to be relied upon in investment decisions. The author is not acting in an investment, tax, legal or any other advisory capacity. This is not an investment research report. The author's opinions expressed herein address only select aspects of potential investment in securities of the companies mentioned and cannot be a substitute for comprehensive investment analysis. Any analysis presented herein is illustrative in nature, limited in scope, based on an incomplete set of information, and has limitations to its accuracy. The author recommends that potential and existing investors conduct thorough investment research of their own, including detailed review of the companies' SEC filings, and consult a qualified investment advisor. The information upon which this material is based was obtained from sources believed to be reliable, but has not been independently verified. Therefore, the author cannot guarantee its accuracy. Any opinions or estimates constitute the author's best judgment as of the date of publication, and are subject to change without notice. The author explicitly disclaims any liability that may arise from the use of this material.
Disclosure: I/we have no positions in any stocks mentioned, and no plans to initiate any positions within the next 72 hours.
I wrote this article myself, and it expresses my own opinions. I am not receiving compensation for it (other than from Seeking Alpha). I have no business relationship with any company whose stock is mentioned in this article.
Editor's Note: This article discusses one or more securities that do not trade on a major U.S. exchange. Please be aware of the risks associated with these stocks.