In our previous article, we looked at the health of the Indian economy through the latest earnings of three major banks - HDFC Bank (NYSE: HDB), Axis Bank and Kotak Bank. We said why there are no signs of improvement on the ground as far as the economy is concerned. In this article, we look at the recently released results of another major, ICICI Bank (NYSE: IBN), which is India's third-largest bank.
First, the good
Credit growth continued to be robust in the first quarter of FY17. Loans to businesses grew 15% year on year, i.e. at the same pace as the whole of FY16. Although growth in loans to small- and medium-sized businesses (SMEs) slowed to 4.0%, it was largely an issue with timing as a large chunk of such loans were repaid in the quarter. Loans to the corporate sector improved from 7.2% year on year in FY16 to 11.2% in the quarter gone by.
Then, the bad
ICICI's bad loans increased by a whopping 30% sequentially (INR 82.5 billion) compared to the fourth quarter of FY16. Now, that should tell you something about the state of India's economy. Yet, there is a lot more to it than what the headline number for bad loans seems to suggest. The devil, as they say, is always in the detail.
While the bank added INR 82.5 billion to its bad loans portfolio during the first quarter of FY17, it could recover or upgrade only INR 8 billion of its total outstanding bad loans. This INR 8 billion figure is unchanged sequentially as can be seen from the table below.
ICICI Bank's Bad Loans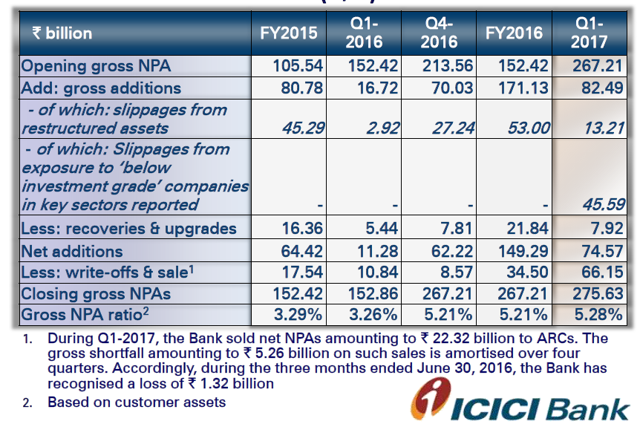 Click to enlarge
Source: ICICI Bank Q1 FY17 investor presentation
In the last two financial years, i.e. FY15 and FY16, ICICI Bank managed to recover or upgrade INR 16 billion and INR 22 billion respectively. In contrast, additions to bad loans portfolio stood at INR 81 billion and INR 171 billion, or 5x and 6x of total recoveries respectively. While FY15 was the year when telltale signs of deterioration came to the fore, things got ugly in the subsequent year, i.e. in FY16. A part of the mess in FY16 was also a result of the RBI's instructions to banks to stop kicking the can down the road, as we have noted before.
In the most recently concluded quarter, bad loans were more than 10x recoveries and upgrades, which should tell us that the situation is turning from bad to worse. Moreover, ICICI wrote off almost INR 44 billion in bad loans because they were essentially irrecoverable. In addition, they sold INR 22 billion to asset reconstruction companies (essentially distressed loan funds). Some people would term this as prudent and proactive portfolio management. In a way, it is. However, when a bank either writes off or sells INR 66 billion worth of bad loans at a time when other loans keep turning bad, it means it has given up all hopes of meaningful recoveries from these assets. It is a leading indicator of sorts for the economy, just that it is not indicating anything positive.
And finally, the worse
Let's look at the table again to get some more perspective around asset quality. More than INR 45 billion out of the INR 82.5 billion in bad loans added in the quarter came from borrowers rated below investment-grade by the bank's own internal rating system. Another INR 13.2 billion were from restructured loans that again turned bad. In ICICI Bank's own words:
"About 77% of the gross additions to NPAs for the wholesale and and SME businesses in Q1-2017 were on account of slippages from companies internally rated below investment grade in key sectors and slippages from the restructured portfolio."
It is a sign that borrowers with high leverage/low credit quality are finding it increasingly difficult to service their debts in the current economic environment. The most stressed sectors continue to be the usual suspects, i.e. power, steel, mining and cement. These are core sectors of the economy and unabated balance sheet stress does not augur well for the economy's outlook. Note that in our previous article we mentioned that Axis Bank too is facing trouble with the same sectors, so it is not a bank specific problem but a system-wide one.
In conclusion, another major Indian bank reported its earnings and the story with bad loans is much the same. The overall picture is that of stressed balance sheets of Indian businesses, especially in those sectors which are the engines of economic growth. It tells us that no matter what macro data releases seem to suggest, economic growth in India is yet to gain traction.
Disclosure: I am/we are short IBN.
I wrote this article myself, and it expresses my own opinions. I am not receiving compensation for it (other than from Seeking Alpha). I have no business relationship with any company whose stock is mentioned in this article.