Before SiriusXM (NASDAQ:SIRI) released earnings late last month an article listed six areas for investors to look at:
Growth in total subscribers
Growth in self-pay subscribers
Self-pay monthly churn
ARPU, or Average Revenue Per User
Advertising revenue
Connected Vehicle Services Revenue
Most of the results were quite positive, and the company raised its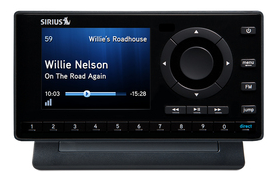 guidance across the board:
Net self-pay subscriber additions of approximately 1.6 million (vs. 1.4 million)
Total net subscriber additions of approximately 1.7 million (vs. 1.6 million)
Revenue approaching $5 billion (vs. approximately $4.9 billion)
Adjusted EBITDA of approximately $1.8 billion (vs. approximately $1.78 billion
Free cash flow approaching $1.5 billion (vs. approximately $1.4 billion)
The increased guidance pushed the shares to repeated intra-day post-merger highs last week, reaching $4.44. It then gave back most of those gains earlier this week touching $4.20 on Tuesday, before recovering a bit. As noted in a prior article, there was some weakness in the Connected Vehicle Services subscription revenue which declined both sequentially and vs. the prior year. This particular article will look at Advertising Revenue, an area that management frequently highlights and one which had shown continued strength in Q1.
The Q1 ad revenue had grown 17.4% over Q1 2015, and this was after turning in strong back to back years, growing by 21% in 2015 and 13% in 2014. By comparison, subscriber revenue grew 11% in Q1 2016 after growing 8% in both calendar years 2014 and 2015. Sequentially, Q1 ad revenue dropped by 5.7%, not surprising, considering the seasonality of a Q4 that benefits from both holiday ad spending and Sirius's strong lineup of college and professional football programming.
The Q2 ad revenue continued to show strong growth, increasing 16.2% over the prior year to $33,521,000. It is also an increase of 6.3% from Q1. For the first six months of 2016 the ad revenue was $65,062,000 an increase of 16.8% or $9,350,000. In 2015 the full year ad revenue totaled $122,292,000 with the latter half coming in 19.5% higher than the first half.
During the conference call, CFO David Frear stated:
...advertising turned in its 11th straight quarter of double-digit growth at 16%.
If that 16%-17% growth realized in the first two quarters continues in the second half of the year, the full year ad revenue could be $142-$143 million. That's still a tiny fraction of the estimated $20 billion spent advertising on radio, but it's not too shabby for a company that doesn't even advertise on its music stations.
Disclosure: I am/we are long SIRI.
I wrote this article myself, and it expresses my own opinions. I am not receiving compensation for it (other than from Seeking Alpha). I have no business relationship with any company whose stock is mentioned in this article.
Additional disclosure: In addition to my long position in SIRI, I have $4 covered calls written against a portion of my position and I regularly trade blocks of Sirius. I also may sell $4.50 covered calls against my uncovered position at any time.