Introduction
After posting Q2 earnings on July 28th, shares of Wayside Technology (NASDAQ:WSTG) have been circling around the $18 price mark. This represents an increase of around 11% from post-Q1 values, and therefore a good return, especially when compared to the change in the overall index (S&P 500 was up 4.3%). However, with the Q2 update, Wayside proved its operating resiliency once more. As a result, its P/E ratio remained constant. With the extension of its operating track record, doubts about the company should be lower than the valuation implies. In essence, the company is still undervalued and has plenty of upside.
At A Glance, The Low Valuation Seems Appropriate
Wayside provides business software solutions for different corporate clients. It is a so-called channel company, which means that it acts as the middleman between producers and users. The company manages two divisions. The Lifeboat segment (85% of revenues) distributes software while the TechXtend (15% of revenues) is a value added reseller (VAR) itself.
In both these businesses, most value is added in other sections of the supply chain. Wayside's main value lies in its wide product offering (compared to a single producer), its product know-how and its high level customer service.

As producers of software increase their efforts to sell their products to customers directly, Wayside has to give up margin to stay competitive. This has been an industry trend for quite some time. As table 1 shows, overall gross margins have come down 3 percentage points. As the base level turns lower, future margin declines are expected to come in smaller, with margins flattening out.
A Closer Look Reveals Otherwise
Given gross margins alone, a lower-than-average valuation would indeed seem reasonable. However, it is worthwhile to see where margin declines are coming from, and how the other fundamentals perform. Table 2 shows total revenues for the same time frame:

Revenues have almost doubled while the company's cost basis remained steady (selling costs as a fraction of revenues went down by 1%). This means that margins have decreased because of price declines, which is - in itself - a natural mitigating factor.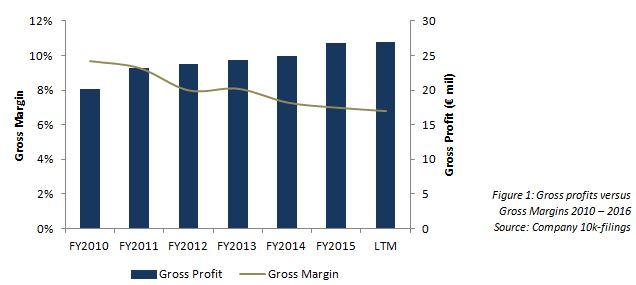 Figure 1 reaffirms that Wayside manages to grow profits in this trade-off between margins and sales. As long as this is the case (and the company has a positive margin), profits have ample opportunity for growth. Ever since margins started declining, profits, cash flows and dividends have only increased while the balance sheet has strengthened.
Other Strengths
The current CEO, Simon Nynens, is only 44 years old, but has been with the company since 2006. During that time, he has built a steady track record, but, more importantly, displayed a conservative approach towards mid- and long-term growth. A good example of this policy is the company's capital allocation. Instead of aggressively increasing dividends and buybacks, the company pays a steady 3.6% dividend. Buybacks are held constant too, at around $1 million per quarter. The result is a strong balance sheet that has no long-term debt, and a cash balance that approaches $25 million. With part of that cash, Wayside will start looking for acquisition opportunities. Indeed, the company's large potential for scale economies provide additional upside while a complementary fit could offer better diversification.
Another factor of interest is the company's size. Competitors such as Ingram Micro (NYSE:IM) and SYNNEX Corp. (NYSE:SNX) have a much lower return on equity and overall lower margins, but are almost 10 times as large. It would fit their strategy well to scale up themselves through acquisitions. Wayside with its debt-free, cash-rich balance sheet and relatively high margins may appear to be a strong candidate in such scenarios. In the latest earnings call, Nynens stated that he believes in the longer-term success of Wayside and that it would take a significant premium above the current share price, but that overall, management is open for those discussions.
Conclusion
With its quarterly update, Wayside has yet again proven its ability to successfully manage the volume versus margin battle. As a result, profits and cash flows keep on growing, strengthening the balance sheet even further. This year, Wayside will start looking to acquire additional growth. Combined with its organic growth strength, strong working capital management and conservative operating policy, the company should have a higher valuation. I believe the main reason this has not materialized (yet) is the lack of institutional attention. As the company keeps growing, it is likely to get noticed sooner than later. Alternatively, the company could get acquired by a larger competitor. Both scenarios will likely push the share price closer to my previous estimate of fair value. After Q2 earnings, Wayside gave positive reinforcement towards outperforming that thesis. I believe that makes the company an even stronger buy.
Disclosure: I am/we are long WSTG.
I wrote this article myself, and it expresses my own opinions. I am not receiving compensation for it (other than from Seeking Alpha). I have no business relationship with any company whose stock is mentioned in this article.
Editor's Note: This article covers one or more stocks trading at less than $1 per share and/or with less than a $100 million market cap. Please be aware of the risks associated with these stocks.