Back in May, I provided my initial expectation for this year's dividend raise for cigarette giant Altria (NYSE:MO). With a solid balance sheet and an expectation for strong adjusted earnings growth, I detailed how investors should be looking for a nice dividend increase this year. Now that the company's Q2 earnings report is in and we are just a few weeks away from the expected dividend raise, I'm here today to update my prediction.
Altria's target dividend payout ratio is approximately 80% of adjusted earnings per share. In the company's Q2 earnings report, management raised its yearly forecast, going from a range of $3.00 to $3.05 to a range of $3.01 to $3.07. The new range represents growth of approximately 7.5% to 9.5%, so that is one potential percentage range for an expectation of this year's dividend raise.
Another positive for Altria is that Anheuser-Busch Inbev (NYSE:BUD) has increased its offer for SABMiller, making Altria's stake in SABMiller even more valuable. If the deal goes through, Altria now expects to receive $3 billion in pre-tax cash, up from $2.5 billion, along with its stake in the new entity. A few hundred million in extra proceeds will help strengthen the balance sheet, which is good for future dividends, buybacks or even debt repayments.
Speaking of debt repayments, Altria's management might want to consider eliminating some of its high rate debt. With the recent Brexit vote sending US interest rates to new multi-year lows, Altria could refinance a good chunk of its balance sheet at much lower rates. In the table below, you can see the company's outstanding debt, and you'll notice four specific issues with rates over 9.00%.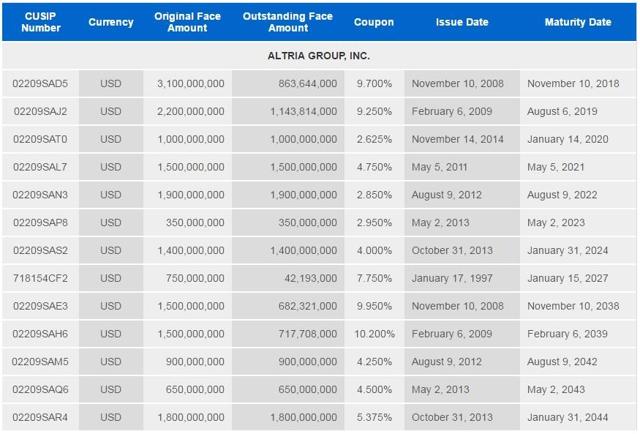 Click to enlarge
(Source: Altria fixed income information page)
Altria paid $817 million in interest and other debt expenses in 2015 according to its 10-K filing. The company could easily reduce that figure by a few hundred million, if it could refinance some debts as well as reduce overall debt if the SABMiller deal goes through. That would increase earnings per share moving forward, as well as improve cash flow and make the balance sheet look better. The company might also consider more share repurchases if it can borrow at after-tax rates that are lower than the dividend yield it repurchases shares at, providing another cash flow savings.
According to Altria's dividend page, the next dividend declaration is scheduled for August 25th, although exact timing may vary. Given Altria has paid out the current $0.565 per share quarterly rate for four quarters, this declaration is expected to be the annual raise. In my original article, I provided a table to show what a potential raise could look like and I have updated that table below.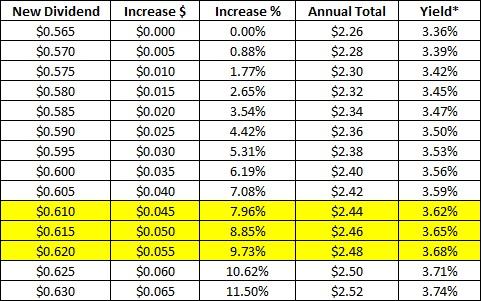 *Based on Tuesday's close.
Thanks to the company's raised forecast for this year's adjusted earnings per share, I upped the lower end of my dividend prediction by half a cent. I'm fairly confident that the 61-62 cent range will be where this new dividend lands, unless the board decides to go a little higher thanks to the expected cash infusion from the SABMiller deal. I didn't raise the high end of my range because the deal hasn't been completed yet, but as always, management and the board have more information than I do so that could influence their decision.
Now in the month of August, investors are just a few weeks away from Altria's next dividend declaration, which many expect to be the annual raise. Recently, management upped its yearly adjusted earnings forecast, as well as the proceeds it expects to receive from the SABMiller deal. This should bode well for any dividend raise, and I'm looking for a raise in the high single-digits, percentage wise. With bond yields dropping to new lows recently, Altria's solid dividend yield should continue to excite investors moving forward.
Disclosure: I/we have no positions in any stocks mentioned, and no plans to initiate any positions within the next 72 hours.
I wrote this article myself, and it expresses my own opinions. I am not receiving compensation for it (other than from Seeking Alpha). I have no business relationship with any company whose stock is mentioned in this article.
Additional disclosure: Investors are always reminded that before making any investment, you should do your own proper due diligence on any name directly or indirectly mentioned in this article. Investors should also consider seeking advice from a broker or financial adviser before making any investment decisions. Any material in this article should be considered general information, and not relied on as a formal investment recommendation.