Shares of casino operators like Melco Crown Entertainment (NASDAQ:MPEL), Las Vegas Sands (NYSE:LVS), Wynn Resorts (NASDAQ:WYNN), and MGM Resorts (NYSE:MGM) dipped slightly on August 1st (and continued to fall on August 2nd) after news broke that gaming revenue actually came in relatively strong for the month of July in Macau. In what follows, I will look at the data and detail what this means for investors moving forward.
Gaming revenue's fall was small
For several months now, I have been quite bearish on Macau and the companies that operate there. However, according to fresh data out, the picture in the region may be showing signs of stabilizing. In the table below, you can see that gaming revenue in the region for July came out to 17.774 billion patacas, which equates to around $2.2 billion. This represents a decline of only 4.5% compared to the 18.615 billion patacas seen the same month of 2015. This is actually on the lower end of the 4% to 8% drop forecasted by analysts so it is, on the whole, bullish for investors.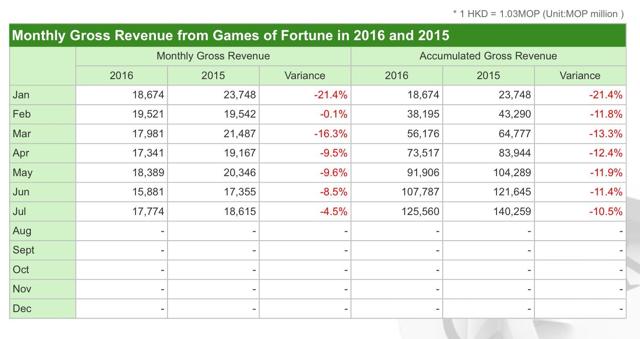 Click to enlarge
As a result of this monthly performance, total revenue year-to-date has averaged 125.56 billion patacas, or $15.54 billion. This implies a year-over-year decline in the area, in aggregate, totaling 10.5%, from the 140.259 billion patacas seen through the first seven months of 2015. In the table above, you can see results this year thus far and how they compare when stacked against last year's performance.
When looking at the table showing this year compared to last year, you see a sea of red, but that terrible performance extends over a period not just this year but for the past 26 months now. In the tables below, you can see that the drops in Macau year-over-year have been going on since June of 2014. Interestingly enough, with one exception earlier this year, the year-over-year decline in gaming revenue in Macau last month was actually the lowest drop experienced in exactly 2 years so this seems to show that the market may be stabilizing.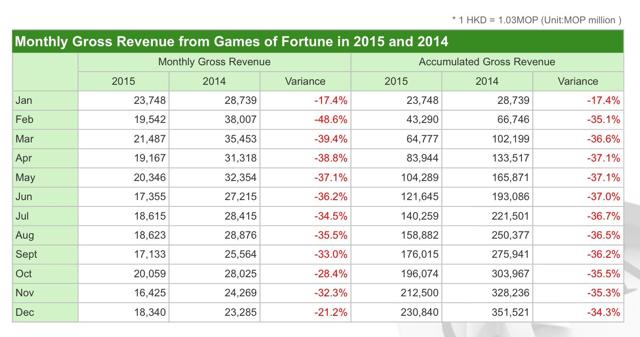 Click to enlarge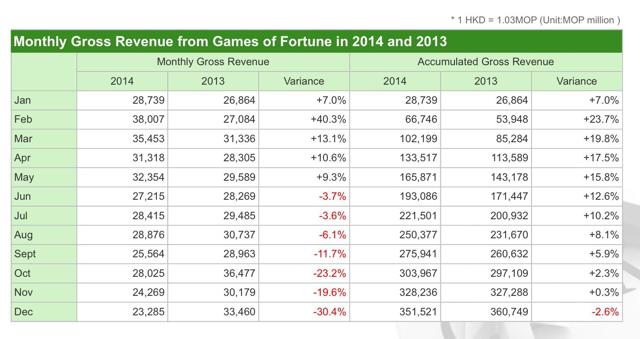 Click to enlarge
Who to play on a rebound in the market?
As of this moment, I am still concerned about Macau and have no intention to invest in any players in this space but for investors who do believe this is definitely a bottom or at least nearing one, one of the most interesting prospects to consider would be Melco Crown. So far this year, an estimated 91.4% of its sales can be chalked up to the region, while the rest of revenue stems from its City of Dreams Manila resort in The Philippines.
Of course, if a company that is nearly a pure-play on Macau is too much to consider, alternatives would be Las Vegas Sands, which generated 54.2% of its sales from the area in its most recent quarter, or Wynn Resorts, which received 60.4% of sales from the region. The one worry besides high exposure to Macau regarding Wynn, however, is the fact that the firm is opening up a new $4.2 billion project in Macau this month.
While this may sound great for bullish investors, there was disappointment last week when management said the facility would be allotted around 100 table games initially and that it would be likely to receive more down the road. In Macau, the government aims to allow companies to increase the number of table games by just 3% each year so Wynn, which had been hoping for 200 to 250 table games, has been the victim of that policy. According to analysts at Nomura, this could impact the casino's earnings power by around $85 million next year alone.
The last prospect to consider is the one I'd probably be most likely to buy if I did turn bullish on Macau; MGM. Unlike its peers, which generate over half of their sales from the region, MGM receives just 21.2% of its revenue from Macau. While this means that the firm's upside in a turnaround in Macau is smaller, it also means (most likely) less downside should investors turn out to be wrong in figuring out the extent or duration of the downturn.
Takeaway
Based on the data provided, it seems as though Macau is experiencing a stabilization in their gaming market at the moment. Whether or not this will extend into future months is something only time will tell but investors may look back and see this as the turning point for the region. I, for one, am not going to get my own hopes up because I am suspicious about the economy in China but if gaming revenue can continue to improve in the months to come then I may become convinced otherwise.
Disclosure: I/we have no positions in any stocks mentioned, and no plans to initiate any positions within the next 72 hours.
I wrote this article myself, and it expresses my own opinions. I am not receiving compensation for it (other than from Seeking Alpha). I have no business relationship with any company whose stock is mentioned in this article.