Shares of Caesars Entertainment Corp (NASDAQ:CZR) have advanced roughly 14% over the past day or so thanks to some good news. The company announced progress in its restructuring efforts with its subsidiary, Caesars Entertainment Operating Co ("CEOC"), and reported second quarter results that showed some solid underlying performance.
Figure 1: Caesars Price Graph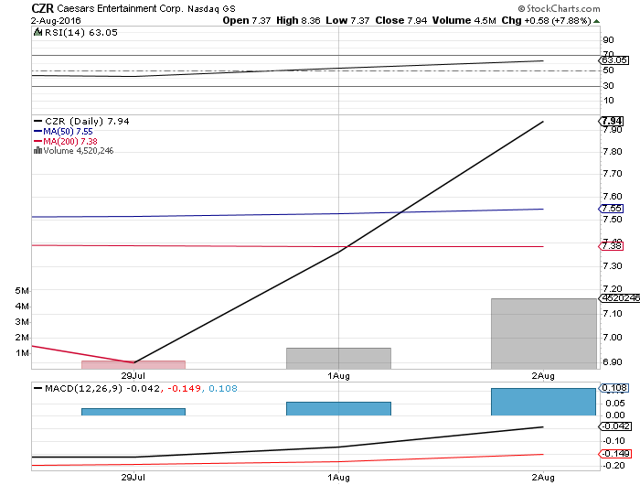 Click to enlarge
Source: stockcharts.com
Q2 revenues increased 7.9% year-over-year thanks to strong growth at Caesars Interactive Entertainment ("CIE"), which increased 34% on the back of greater monetization of the user base on social and mobile gaming businesses. We expect strong growth from this unit going forward as mobile usage increases and consumers increasingly turn to digital devices for media and entertainment. The core hospitality business showed strong performance as well, with increased resort fees and improved pricing power from room product enhancements driving up cash ADR 8.2% and RevPAR up 6.5%. The company reported EPS of -$14.24, but the loss of approximately $2 billion was the result of a $2 billion accrual related to the restructuring of CEOC (Figure 2), which filed for bankruptcy last year. Caesars will no longer consolidate the results of CEOC and its subsidiaries, and after adjusting for the on-time charge, EBITDA increased 11.8% year over year. And, despite a year-over-year increase in stock-based compensation at CIE that stemmed from fair value adjustments, continuing EBITDA margin for Caesars expanded 150 basis points. The ability to generate growth through pricing is an encouraging sign, and we believe CZR will rely on it more over the next few quarters as visitor traffic decelerates.
Figure 2: Q2 Results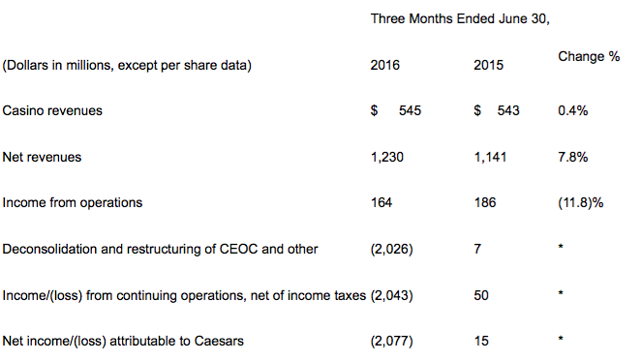 Click to enlarge
Source: Earnings Slides
Caesars has made progress in its bankruptcy proceedings with CEOC. The company reached a deal with 37% of the bondholders on its $5.2 billion of second-lien debt, which would see creditors receive 46 cents on every dollar owed to them, as well as a combination of new debt and equity in CEOC's parent, which is merging with Caesars Acquisition Corp as part of the restructuring. However there are still a lot of noteholders that aren't satisfied with the deal, and CEOC must receive support from the owners of 50.1% of the debt in order for the restructuring support agreement to take effect. The $4.4 billion sale of Playtika, a mobile games business, to a group of Chinese investors should help in this regard, as CZR can use the proceeds to sweeten the deal with bondholders. With a total of just $1.94 billion of liquidity prior to the asset sale Caesars was starved of cash and unable to entice more bondholders to agree to terms by offering a better payout.
Conclusion:
Caesars still has a long way to go in turning itself around and forming a financially healthy company, but the company made important progress in its restructuring efforts and reported a second quarter with solid underlying performance. We believe CZR can improve cash flows through price rises in the hospitality segment and by increasing monetization of its social and mobile gaming platforms. The Playtika sale did free up some much needed liquidity, but CZR will ultimately need to rely on cash from internal operations if it hopes to stay solvent.
Disclosure: I/we have no positions in any stocks mentioned, and no plans to initiate any positions within the next 72 hours.
I wrote this article myself, and it expresses my own opinions. I am not receiving compensation for it (other than from Seeking Alpha). I have no business relationship with any company whose stock is mentioned in this article.