After last week's shocker, oil analysts are trimming their estimates for crude inventory (NYSEARCA:USO) again. For the week ended July 29th, analysts are projecting an inventory draw of 1.8 MMbbl, 19% lower than last week's estimate of 2.3 Mbbl. Based on 2015 data, I still believe that the probable outcome would be around -2.3 MMbbl. As summer passes, inventory draw will decline, but now is not the time yet. Last week's increase in inventory indicated that supply is exceeding demand, meaning that the same could happen this week. However, I think it's a good idea to view such unexpected events as outliers until more evidence emerges. My opinion of a normal range remains at -7 MMbbl to +3 MMbbl.
Domestic Production
Counting last week, domestic production has now risen for three weeks in a row. This has not occurred since the beginning of 2016, when it rose from 9.202 MMbbl/day to 9.235 MMbbl. The magnitude of recent three-week jump is much higher. Domestic production has risen from 8.428 MMbbl/day for the week ended July 1st to 8.515 MMbbl/day for the week ended July 22nd, a change of 87 Mbbl/day. This compares to January's change of just 33 Mbbl/day over three weeks. Granted, the January run didn't happen after a 194 Mbbl/day decline (occurred during the week ended July 1st), but keep in mind that we are supposed to experience some downward pressure during the summer anyways. The fact that production sprung back up so quickly is not a good sign.
If domestic production does rise again, it won't be a record breaker. If we look at production on a continuous basis (i.e. not separated by year), the January streak was part of a longer six-week streak that began in December. Nevertheless, the continuous rise of domestic production should not be overlooked, as higher domestic production could provoke OPEC to further increase production.
Imports Weighing Down Price
Last week, we saw imports increase from 7.536 MMbbl/day to 7.76 MMbbl/day. We have not seen any major trend develop over the past of weeks, but the long-term trend remains positive.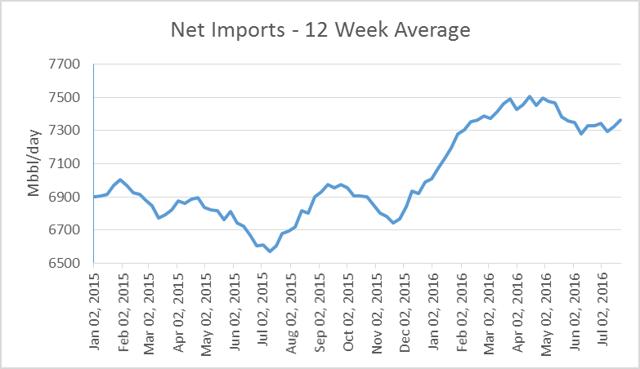 Click to enlarge
Given the recent stance taken by Saudi Aramco (Private:ARMCO), it's clear that it has no plan to cut production in the near future.
I recently stumbled upon a rather upbeat piece by The Telegraph, stating that "Texas shale oil has fought Saudi Arabia to a standstill." It is precisely the fact that domestic production has not completely collapsed that is causing Saudi Arabia to keep pumping at record rates. As long as the infrastructure is in place, it is easy for domestic producers to ramp up production should Saudi Arabia loosen its grip. This is obviously not desirable for Saudi Arabia. I estimated that it could be two years before Saudi Arabia would meaningfully cut production (read Wait Two Years). As such, investors should expect imports to remain at elevated levels.
Click the "Follow" button beside my name on the top of the page to be updated with my latest insights. To learn more about the V20 Portfolio, whose goal is to compound capital at 20% over the long term, I encourage you to read the introduction to my investment process. Premium subscribers get full access to the V20 Portfolio.
Disclosure: I/we have no positions in any stocks mentioned, and no plans to initiate any positions within the next 72 hours.
I wrote this article myself, and it expresses my own opinions. I am not receiving compensation for it (other than from Seeking Alpha). I have no business relationship with any company whose stock is mentioned in this article.