Overview
BioSpecifics Technologies Corp. (NASDAQ:BSTC) is no misnomer. The company produces specifically one product, injectable collagenase derived from the fecal bacterium C. histolyticum. Collagen is the major structural protein found in connective tissue, and is also a major component in scar tissue and plaques. Collagenase is an enzyme that breaks down collagen, and thus can be used therapeutically in diseases where scar tissue and plaques composed of collagen cause pain, loss of function, and/or are unsightly.
BioSpecifics Technologies Corp. is currently marketing and selling injectable Collagenase to treat two diseases, and research is ongoing to potentially treat other diseases.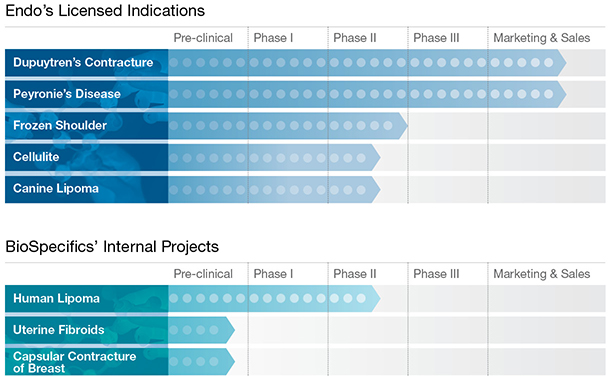 What is a Biosimilar?
From the company's website and most recent SEC filing, it is clear that all Research & Development goes into finding new applications for the single product that the company markets. This makes BSTC's biologic exclusivity patent, which prevents other companies from developing biosimilars, paramount. Collagenase is an enzyme derived from bacteria, and by modifying the protein sequence of the enzyme, a biosimilar could be produced that has less allergenicity, more activity, is longer-lasting, or any number of modifications.
In 2022, any of the other biotech giants could use a tiny portion of their research budget to produce an alternative to Xiaflex. BSTC would still be able to collect royalties, but they would no longer be able to pull in the millions of dollars they're able to generate by being the only company able to produce Collagenase.
Race Against Time
BSTC has a number of applications in the pipeline for their drug, but even if they reach and complete Phase III trials, they still need to be reviewed by the FDA before Xiaflex can be marketed and sold. So, is there a huge payout in the future for BSTC investors, or is all the clinical trial funding going to benefit larger biotech companies that will begin spitting out biosimilars when BSTC's biologic exclusivity patent expires? Investors have been hopeful for the former, while the CEO and directors running the company have expressed their confidence in the latter.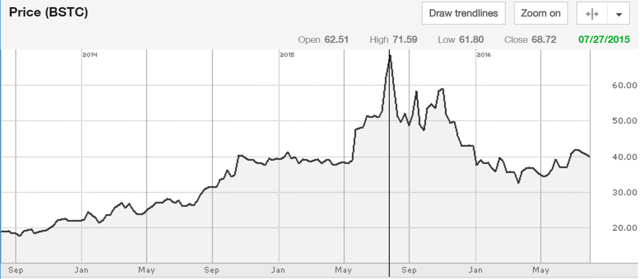 Click to enlarge
BSTC's share price peaked almost exactly a year ago, and within the past year, insider selling has been intense.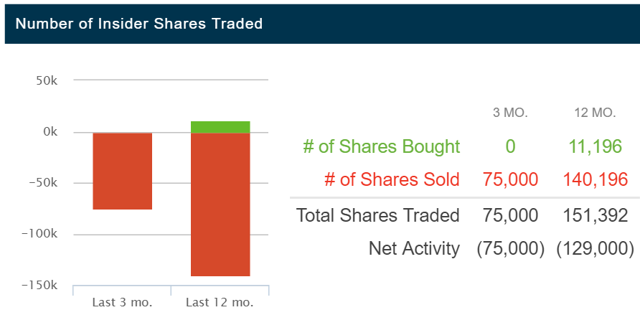 Click to enlarge
Research at BSTC
Why are insiders selling off shares? It could be due to their understanding that there is no growth in BSTC's future. Research and Development accounts for just 10% of the company's operating expenses, but how does it compare to how much cash, equivalents, and investments the company has on hand? In Q1 2016, $248,500 was spent on R&D while the company had $56.7M in assets. So, only 0.4% of the company's assets are being used for growth. This is striking in the face of the statement within their 10-K:
It has been our policy to retain potential earnings to finance the growth and development of our business and not pay dividends, and we have no current plans to pay dividends. Any payment of cash dividends in the future will depend upon our financial condition, capital requirements and earnings as well as such other factors as our Board of Directors (the "Board") may deem relevant.
In addition, a slide from a recent SEC filing highlights that the company is consistently profitable. If they are profitable and have no interest in investing more than a fraction of a percent of their assets in the growth and development of the company, then why not pay a dividend to their investors?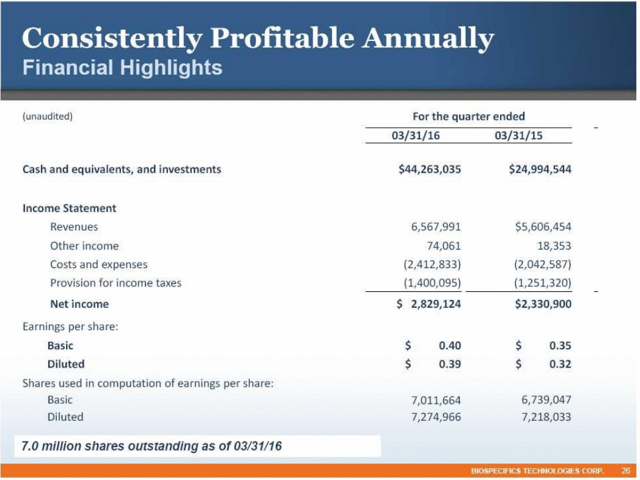 Click to enlarge
BSTC July 1st SEC Filing
Conclusions
BioSpecifics Technologies Corp. is a biotech company that markets injectable Collagenase (Xiaflex) with a biologic exclusivity patent expiring in 2022. The company is researching new applications for the drug that could boost profits substantially, but if other companies are able to produce biosimilars before Xiaflex achieves FDA approval, then they will profit from BSTC's investment.
Insider trading patterns suggest that the share price peaked a year ago, and the company has been accruing millions of dollars in revenue while spending a tiny fraction of a percent on growth. Despite this, there are no plans for the company to pay a dividend. Investors should take a close look at BSTC's balance sheet before investing in this company. Yes, it is profitable, but why does a biotech company spend so little money on research, and why does BSTC refuse to put any of its profits back into its investors' pockets?
Disclosure: I/we have no positions in any stocks mentioned, and no plans to initiate any positions within the next 72 hours.
I wrote this article myself, and it expresses my own opinions. I am not receiving compensation for it (other than from Seeking Alpha). I have no business relationship with any company whose stock is mentioned in this article.