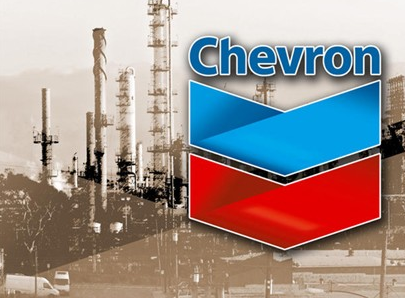 I've been bearish on the entire oil space since the sector withstood the enormous shock of oil prices getting killed a couple of years ago. Chevron (NYSE:CVX) has been especially vulnerable in my view due to its well documented cash flow issues. Management teams with cash flow issues stubbornly cling to dividend payments even when it is painfully obvious they cannot afford it. Chevron certainly cannot afford its dividend but that is just part of the reason why I think it is seriously overvalued here. And Q2 earnings haven't done anything to remedy that fear as CVX put up its third straight quarterly loss, further indicating CVX has some downside risk here.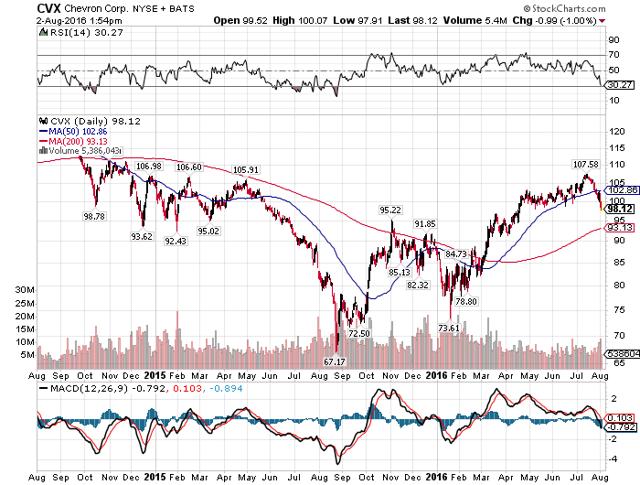 Click to enlarge
Chevron's Q2 report was predictably ugly and included what has become normal for the company; terrible results just about everywhere you look. The Upstream business continues to lose massive amounts of money as it saw a loss of $2.4B against a loss of $2.2B in last year's Q2. Chevron has been absolutely crushed by lower commodity prices and Q2 was yet more evidence that it is completely unprepared to deal with it. Not only that, but several quarters into the down cycle, it is still not seeing its losses improve at all.
The Downstream business is the only reason Chevron's loss in Q2 wasn't worse as it turned in a $1.3B profit in Q2. That is down from $3B last year and the YTD numbers bear out the same result. In total, CVX went from a 1H2015 profit of $3.1B to a 1H2016 loss of $2.2B. That is a ~$5.3B move in the wrong direction and it is killing Chevron's ability to break even and its balance sheet at the same time.
Chevron is working continuously on cost savings and asset sales in order to bring its cost structure somewhat in line with what has become the new normal. We know Chevron's revenue isn't going to materially improve until the commodities it relies upon recover in price but it can soften the damage by reducing costs. And reduce it has; Chevron's expenditures in the first half of the year were$6B lower than last year. That's a tremendous amount of savings and while some of it was capex that likely needed to happen, that's real money going back into the business. Chevron will need to keep this up for the foreseeable future because without it, there is no hope of meaningful profit growth anytime soon.
Earnings are important of course but for Chevron, the more immediate need is cash. I've written about Chevron's FCF woes and others have as well and the problem just continues to get worse. Cash flow from operations excluding working capital changes was just $5.8 billion in Q2 against $11.6B last year. That is an enormous loss of cash that Chevron simply cannot afford. It is stubbornly defending its dividend it has no ability to pay due to declining FCF and that has created a situation where it is borrowing money to payout to shareholders.
Have a look at this chart that shows Chevron's debt levels for the past few years: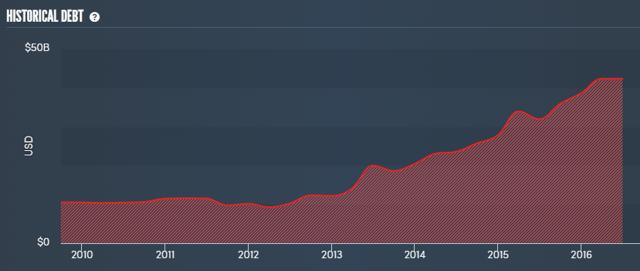 Click to enlarge
Source: Simply Wall St.
The simple fact is that Chevron's dividend is way too high for what it can afford and the way it is covering that fact up is to borrow heavily to pay for it. There is only so much capex that can be cut and keep the lights on and ditto with cost saving measures. At some point, Chevron needs an actual improvement in its business or things could get really ugly.
The thing is that the prevailing forecast from market watchers is that low oil prices are here to stay. Indeed, a decade or more may pass before oil prices rebound to what the majors need them to be to be sustainably profitable again. Chevron has already cut its capex again and again to save cash and is unwilling to cut the dividend; can you imagine what its balance sheet would look like after ten more years of this? That is a very real possibility and it is pretty clear it is going to be years before Chevron can earn enough to afford its dividend. Things will continue to get worse until that happens.
Analysts have CVX earning ~$6.50 per share in 2018 on a strong recovery I'm not so sure about. Why would Chevron's earnings fly higher suddenly? Write downs should be done by then so that will certainly help but it isn't as though we can expect oil prices will move materially higher by then. The bottom line is that CVX needs high oil prices or it will have a very hard time producing any sort of profit. And with the outlook for oil prices neutral at best, I'm not sure what makes analysts so bullish.
At any rate, let's assume Chevron earns $6.50 in 2018; it is already trading for 15.3 times that number. And remember that assuming CVX will hit $6.50 in 2018 requires a huge leap of faith so placing any sort of valuation on that number is perilous. Still, investors have bid up CVX to what I'd consider an untenable position and my only thought is that the dividend is driving buyers towards the stock. There are zero fundamental reasons why one would want to own an oil major at this point and Chevron is nowhere near as good as Exxon; so if you wanted to own a major, why would you choose Chevron? It is in a terrible sector and it isn't the best one in that terrible sector.
The 4%+ dividend is nice and difficult to replace but remember that Chevron is out raising debt so it can pay the dividend. That works fine until it doesn't and I don't think investors are fully appreciating just how bad off Chevron is at this point. It has funding shortfalls of billions and billions of dollars annually between its declining FCF, capex needs and the dividend. It simply cannot afford it and that is, by definition, unsustainable. CVX is a long way from its borrowing limit but what will it look like on the other side? If you want a dividend paying oil stock, do yourself a favor and go with Exxon. Chevron is a disaster waiting to happen with persistently low oil prices.
Disclosure: I/we have no positions in any stocks mentioned, but may initiate a short position in CVX over the next 72 hours.
I wrote this article myself, and it expresses my own opinions. I am not receiving compensation for it (other than from Seeking Alpha). I have no business relationship with any company whose stock is mentioned in this article.