The high yield corporate bond market has shown tremendous resilience over the last several months. After plunging sharply along with oil prices through the early part of this year, the high yield bond market rallied just as swiftly once oil prices bounced from their lows. But despite the fact that it is just days removed from all-time highs according to selected measures, notable cracks are growing in the high yield bond market facade that may suggest another challenging stretch over the remainder of 2016.
Looking Good On The Surface
The high yield corporate bond market certainly looks good on the surface. According to the iShares iBoxx High Yield Corporate Bond (NYSEARCA:HYG), which is the largest ETF in its category with more than $16 billion in assets, the category on a dividend adjusted basis touched a new all-time intraday on July 12. This was followed eight trading days later by a new all-time closing high on July 22. Thus, through Wednesday, we are only eight trading days removed from this category trading at all-time highs. What could possibly be wrong? A lot, as it turns out.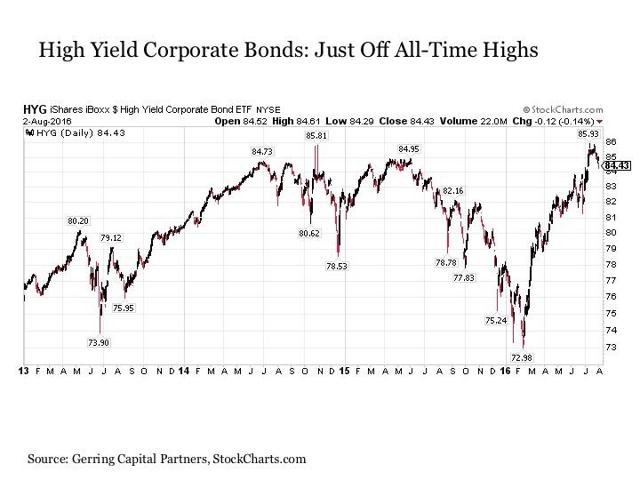 Click to enlarge
Fundamental Problem
Let's begin with the fundamentals. High yield corporate bond spreads have been narrowing since their February 2016 peaks, which is indeed both reassuring and not surprising given the magnitude of the price gains over this same time period.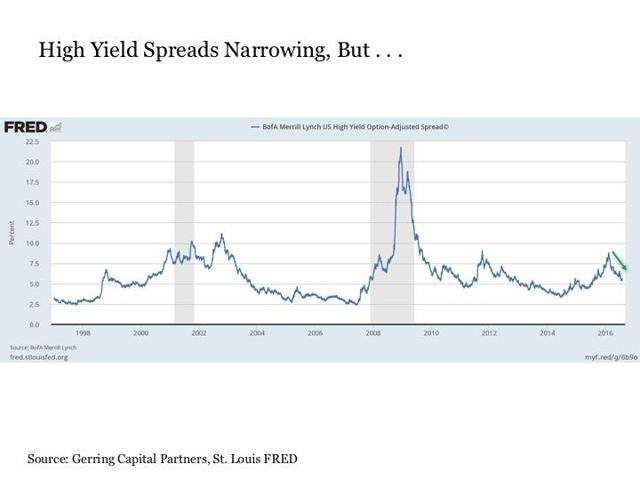 Click to enlarge
But this improvement in spreads defies the recent trend in high yield corporate default rates. Roughly one year ago, the default rate in the high yield bond market was around 2%, which is well below the 35-year historical average of 3.8%. But over the past year, it has surged sharply higher to over 5% this summer. Moreover, the default rate is projected to continue rising through the remainder of the year and into next, potentially eclipsing the 6% mark along the way with some projecting rates as high as 7% or more.
Beyond the fact that a growing number of creditors in the high yield bond market are expected to not meet their scheduled interest payments in the coming year, it is also problematic for the outlook for the entire asset class for the following reason. On only four occasions since the high yield corporate bond market emerged as a notable asset class in the late 1970s and early 1980s have default rates surged above 4%. And in each of these past four instances - the Savings and Loan Crisis in the late 1980s, the associated crash in the late 1980s and early 1990s that included the bankruptcy of Drexel Burnham, the bursting of the technology bubble in the early 2000s and the financial crisis at the end of the 2000s. In each of these past instances, the high yield corporate bond market suffered major losses in value. Put more simply, they were not trading at all-time highs under such conditions as they still are today.
So exactly where is this rising credit risk coming from today? It remains primarily concentrated in the energy (NYSEARCA:XLE) and materials (NYSEARCA:XLB) sectors, which make up roughly one-fifth of the entire high yield bond market. It was the explosive price recovery among these beaten down names that propelled the high yield bond market back to the surface over the last several months. Thus, the recent sharp reversal of oil prices (NYSEARCA:USO) since early June is placing an increasing weight on the high yield bond market. In short, if the improvement in oil prices (NYSEARCA:OIL) supposedly gave many commodities related high yield issuers a lifeline of hope for survival, the subsequent reversal and accelerating decline of oil prices (NYSEARCA:DBO) over the past two months is increasingly undermining this once optimistic and hopeful narrative.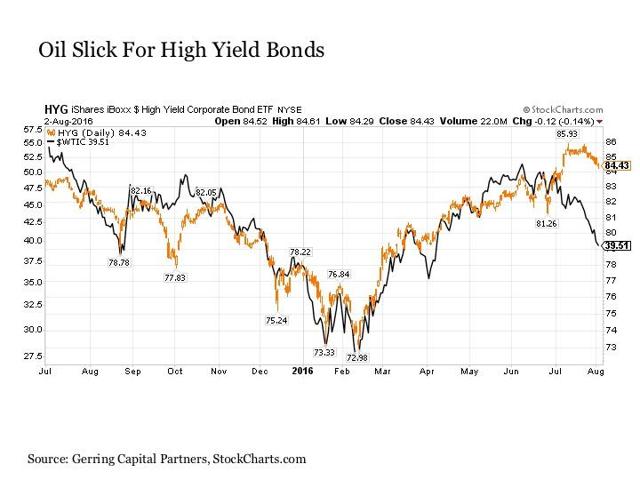 Click to enlarge
Getting Technical
A closer look at the technical behavior of the high yield corporate bond market raises some additional eyebrows.
First, while the HYG recently touched new highs on a dividend adjusted basis, its junior counterpart in the SPDR Barclays Capital High Yield Bond (NYSEARCA:JNK) with its $12 billion in assets cannot make the same claim. Instead, its last highs came nearly two years ago in mid-2014.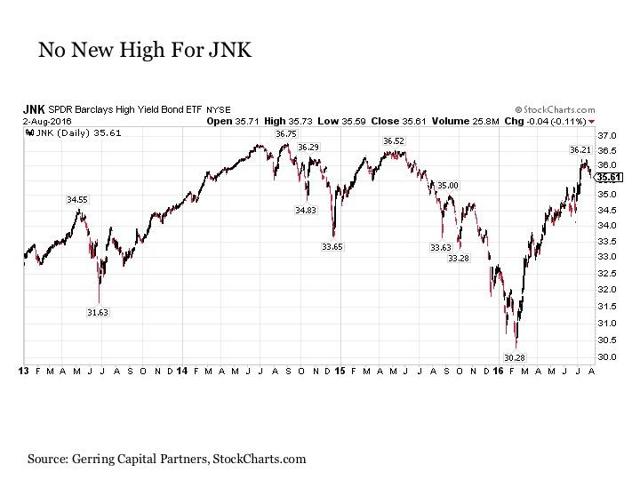 Click to enlarge
Also, while the dividend adjusted HYG may be trading just off of new all-time highs, the price unadjusted HYG has encountered a heavy technical resistance level at its 400-day moving average. After working to break through this resistance for nearly a month, it appears to have failed and has already fallen back to support at its 50-day moving average. And when looking at HYG on a price-only basis, it has all of the markings of a category that is entering a sustained bear phase.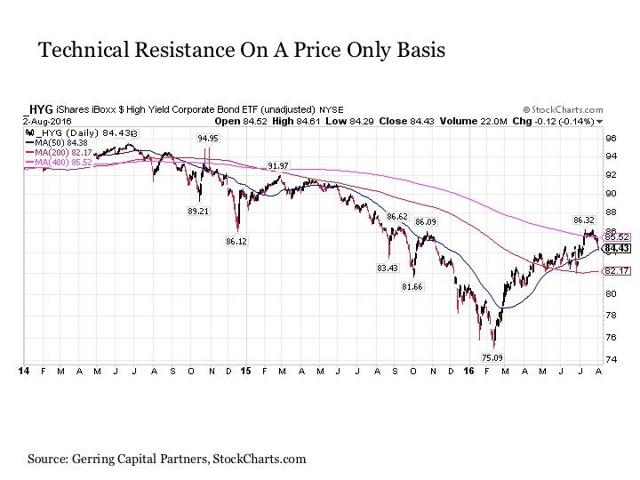 Click to enlarge
Back To The Battlefront
In addition to examining the asset class in aggregate, it is also worthwhile to consider the individual names in the high yield bond market to identify specific areas of stress and those names that are currently most at risk.
It was more than two months ago since we last visited the high yield corporate bond battlefield. And many of the familiar soldiers are still fighting the same tough fight.
Intensive Care
The high yield ICU had been cleared out in the late spring, as business either entered into bankruptcy and passed away or found their footing and rallied higher. But despite the fact that the overall high yield bond market continued to rise, two companies have found their way back into the intensive care unit in trading between a 75% to 90% discount to par. These are listed below.
Intelsat (NYSE:I)
Pacific Drilling (NYSE:PACD)
The Front Line
In May, the list had narrowed to just 7 publicly traded names on the front lines as defined by trading at a highly stressed 50% to 75% discount to their par value. Two names as listed above entered the ICU. On the flip side, one name in Cliff Natural Resources (NYSE:CLF) improved so much that it made its way off of the battlefield entirely. As a result, only four names remain on the front line including two from the oil patch, another in drybulk commodities shipping and the last in geophysical services.
California Resources (NYSEMKT:CRC)
CGG (NYSE:CGG)
Memorial Production Partners (NASDAQ:MEMP)
Navios Maritime (NYSE:NM)
What is notable is the stock price performance of these names despite the fact that their credit status has remained largely unchanged over the last couple of months. For example, while Navios Maritime is doing marginally better from a stock price perspective since our last trip to the battlefield in late May, California Resources, CGG, Memorial Production Partners and Intelsat in the ICU above have all seen their stock prices fall anywhere between -19% and -42%. Such stock prices declines do not help the credit fortunes of companies like these that are already under strain.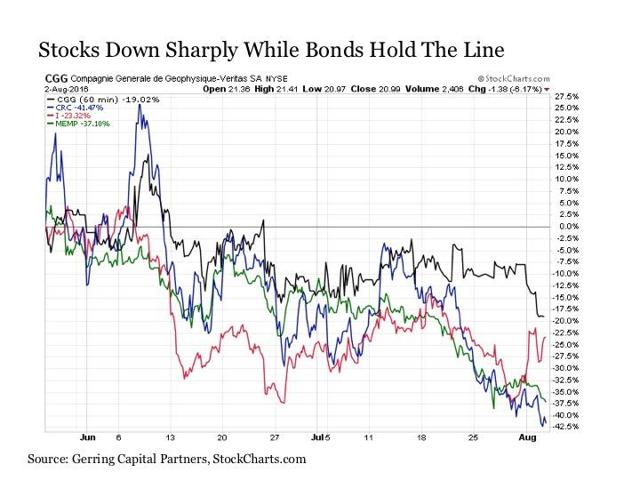 Click to enlarge
The Second Wave
In May, 17 companies still populated this list with debt that was trading at a 25% to 50% discount to par. Since that time, the total number of names on the list has shrunk to 10. A number of names have seen their credit fortunes improve and climbed their way out of the list. But the list also includes two new notable arrivals that were both fallen angels earlier this year from the investment grade category that are shown in bold below.
Calumet Specialty Products (NASDAQ:CLMT)
Chesapeake Energy (NYSE:CHK)
Denbury Resources (NYSE:DNR)
Ensco (NYSE:ESV)
Genworth Financial (NYSE:GNW)
iHeartMedia (OTCPK:IHRT)
Navistar International (NYSE:NAV)
Noble Corp. (NYSE:NE)
Sanchez Energy (NYSE:SN)
Transocean (NYSE:RIG)
While some names on the above list have seen stock price improvement since late May, others have not including Genworth, Denbury Resources, Ensco, Sanchez Energy and Noble Holdings, each of which are lower by anywhere between -13% to -32%.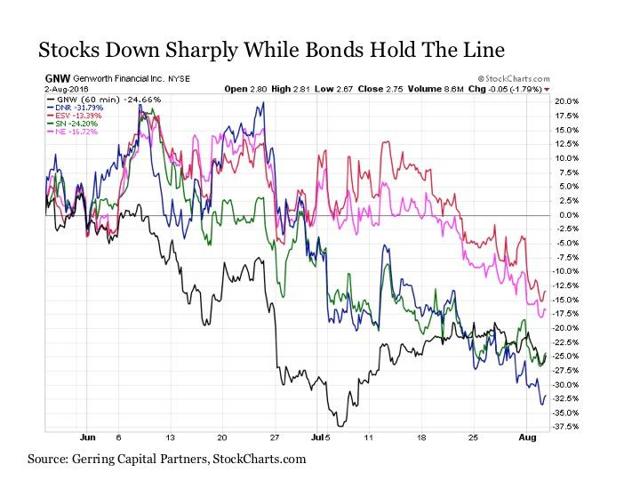 Click to enlarge
Thus, while the list of at-risk names has dwindled somewhat since the most recent battlefront visit in May, those that remain are finding themselves under increasingly heavy fire.
Bottom Line
Cracks are increasingly building in the high yield corporate bond facade. Perhaps the chase for yield from income starved investors will help keep the asset class afloat for the foreseeable future. But one could reasonably imagine that rational investors may eventually seek out an alternative if more and more companies are unable to make the interest payments that feed those that are yield deprived. And the longer that oil prices keep plunging, the more pressure is likely to build on those companies that struggled to survive through the last wave of oil price declines just a few months ago.
Credit risk is rising for the high yield corporate bond market. Those that are long would be well served to more closely examine current exposures for risk control reasons. And for those that are more aggressively inclined, opportunities to the short side (NYSEARCA:SJB) may have increasing appeal given the ongoing convergence of events in the high yield bond market.
Disclosure: This article is for information purposes only. There are risks involved with investing including loss of principal. Gerring Capital Partners makes no explicit or implicit guarantee with respect to performance or the outcome of any investment or projections made. There is no guarantee that the goals of the strategies discussed by Gerring Capital Partners will be met.
Disclosure: I am/we are long SJB.
I wrote this article myself, and it expresses my own opinions. I am not receiving compensation for it (other than from Seeking Alpha). I have no business relationship with any company whose stock is mentioned in this article.
Editor's Note: This article covers one or more stocks trading at less than $1 per share and/or with less than a $100 million market cap. Please be aware of the risks associated with these stocks.