With the unveiling of a stimulus plan in Japan, the yen still remains one of the strongest currencies around, dipping significantly below the 102 level to 100.80 at the time of writing: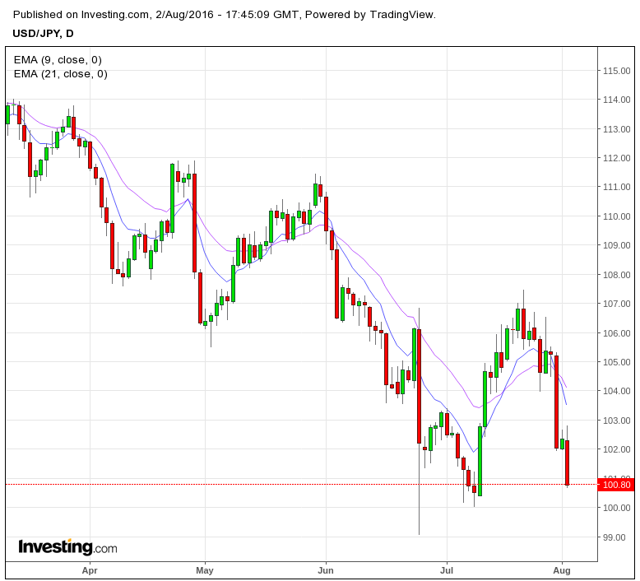 Click to enlarge
The strength of the yen lies in stark contrast to that of last year. It was pretty much a given that the yen would not be rising given the levels of quantitative easing in Japan in an attempt to keep export levels vibrant. However, the economic environment has changed significantly, and the yen is now acting as a traditional safe haven, rising against major currencies as oil prices continue to fall and growth concerns remain as a result of Brexit. Moreover, with the Swiss franc undergoing further devaluation due to the Swiss National Bank buying foreign currencies to keep the franc artificially low, demand for the yen could be argued to be higher than usual in this climate.
My argument this time last year was that Japan's economy itself is skating on thin ice. The lower yen had been a saving grace to Japan in terms of keeping exports vibrant. However, domestic demand and growth itself remained quite low and a fall in exports could well lead to a sharp economic decline in the country.
However, with growth being threatened across Europe as a result of the fallout from Brexit, it could be argued that Japan's case is not as severe as it could be since a weak yen is of little use in promoting exports if other world currencies are also depreciating.
Instead, markets appear to be taking Japan's intervention as a sign of strong economic growth on the way, and this appears to be what is driving the yen. For instance, the approval of the 4.6 trillion yen stimulus package makes way for infrastructure projects, relief measures of recent earthquakes in Japan as well as to address demographic challenges and mitigate risks of Brexit. Given that this is a government rather than a monetary stimulus, markets appear to be reacting differently since the spending is with the direct intent to bolster economic growth rather than promote currency devaluation.
Overall, markets appear to have confidence in the yen at this time. Given growth concerns across Europe and the fallout of the Swiss franc as a safe haven, investors are reacting favorably to measures to bolster growth in the world's third-largest economy. In this sense, I see the yen getting stronger and a breach of the 99 level by the end of August cannot be ruled out.
Disclosure: I/we have no positions in any stocks mentioned, and no plans to initiate any positions within the next 72 hours.
I wrote this article myself, and it expresses my own opinions. I am not receiving compensation for it (other than from Seeking Alpha). I have no business relationship with any company whose stock is mentioned in this article.
Additional disclosure: Please note that foreign exchange is a fast-moving market, and the above analysis reflects the author's opinion at the time of writing only. The author's stated views/positions should not be taken as any form of investment advice, and the author may subsequently modify his views/positions on the basis of new information.