Introduction
Ensco (NYSE: ESV) is an offshore drilling contractor headquartered in London, United Kingdom. The company was originally founded as Blocker Energy Corporation but has since changed its name to Ensco. ESV is one of the largest offshore drilling companies in the world with a fleet having dozens of ships. However, despite the company's large market position, it has had a difficult time recently.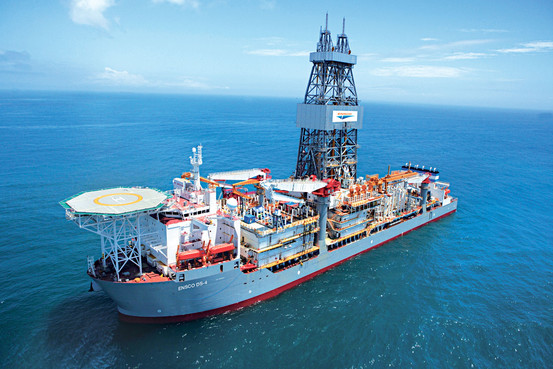 Ensco Rig - Wall Street Journal
Ensco has had a difficult time recently. After peaking at over $55 per share mid-2014 before the start of the oil crash, the company has watched its stock price take an enormous hit. At present prices of just over $8 per share, Ensco has a market cap of a mere $2.3 billion, down from over $10 billion before the crash. In fact, the crash was so significant that Ensco was removed from the S&P 500 index (NYSEARCA: SPY) this year after being a part of the index for four years.
Despite its poor performance, Ensco has a huge potential ahead of it. To start, the overall offshore drilling industry can be expected to become favorable again in the coming years as oil prices recover. More importantly, until the recovery, Ensco has been taking a number of steps to improve its financial and market position. These improvements should help the company weather the present oil crisis and emerge stronger than ever. With Ensco's equity price reaching prices not seen since January 2016 when oil went below $30 per barrel, now represents a prudent time to open a position in the stock.
Current Market Conditions
Let us begin by discussing the current market conditions Ensco is facing, along with how the offshore drilling industry can be expected to become favorable again in the coming years.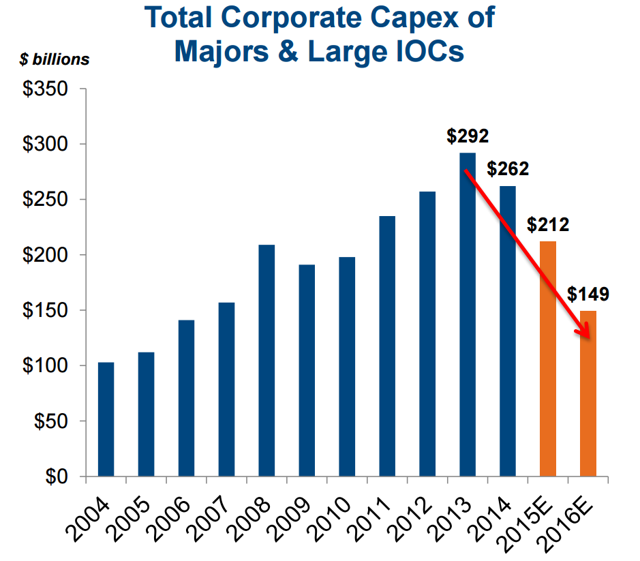 Click to enlarge
Ensco Total Corporate Capex - Ensco Investor Presentation
The above image shows the total capex of the oil majors along with the large integrated oil companies. The capex hit its peak in 2013 at $292 billion, but since then has fallen by roughly 50% in just 3 years. Currently, oil capex is at levels not seen in the last decade. The reason for this rapid decline in capex is the nature of the present oil crash. The present oil crisis started in mid-2014 but things didn't really get going until the Thanksgiving 2014 OPEC meeting when Saudi Arabia decided not to do what it always does and cut oil production. The nation instead hopes that low oil prices will drive out higher cost American shale producers.
However, in the long run, this capex decline should actually help Ensco out, assuming it can handle the oil crash. The reason is because of the steps offshore drillers have taken. A number of offshore drillers with older fleets, such as Transocean (NYSE: RIG), have been either cold stacking or scrapping their older rigs. These actions have helped to decrease the competition in the offshore drilling markets. That means when capex picks back up (and as you can tell from the chart, capex changes quickly with oil prices) Ensco should be well positioned in an offshore drilling environment with lower competition.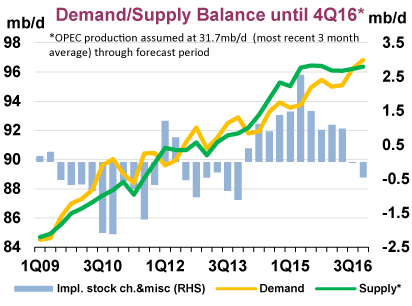 Oil Supply and Demand Balance - IEA
To give us a picture of how much longer Ensco will have to wait until the offshore drilling environment recovers, let us take a close look at the above graph from the International Energy Agency of the demand/supply balance in the oil markets until 4Q 2016. The oil supply and demand balance first messed up in 3Q 2013 and from that point it took three quarters for oil prices to start falling. At that point it took a total of six quarters for oil prices to hit what was widely considered their final bottom in January 2016.
Now, as you can see, according to the above graph the oil supply and demand balance is expected to recover by 3Q 2016, or right about now. Using the same timeline, we should see prices starting to recover by mid-2017 but take until the start of 2019 before they fully recover. Using this timeline, that means that Ensco needs to have enough financial strength to last roughly three years. However, there is another upside to be seen. Since prices can be expected to start recovering in 2017, that means 2016 can widely be seen as the bottom in capex spending. We should be able to expect capex to start recovering in the coming years helping Ensco.
Capital Management
Now that we have an understanding of the overall global oil environment including capex spending, supply and demand balance, along with how long Ensco needs to survive until the offshore drilling industry recovers, it is now time to discuss Ensco's capital management.
Click to enlarge
Ensco Capital Management Actions - Ensco Investor Presentation
The above image provides an overview of the capital management steps Ensco has taken recently. Ensco managed to access the debt markets right at the start of the oil crash, showing foresight for what oil prices were going to do. The company accessed the debt markets for a total of $2.35 billion between 3Q 2014 and 1Q 2015 when the first bottom in oil prices was set. This access to the debt markets allows Ensco to refinance 2016 maturities and as a result, sets up the company to not have to worry about raising debt at low rates during the oil crash.
The company has also increased its revolver to $2.25 billion and extended it to 2019. Personally, I do not think that this revolver will be particularly helpful. While the $2.25 billion value allows the company to acquire a company having a difficult time such as Noble Corporation (NYSE:NE), the extended expiration date of 2019 means that if the company draws a significant amount against the revolver it will have trouble paying it off. On the other hand, the company could make a bet on an oil recovery by using the revolver's cash to buy some of its shares at present prices. Right now, however, what I would like to see is the company getting the revolver extended to the early to mid-2020s making it much more useful in terms of making an acquisition.
The company has also undertaken a number of other aggressive cost cutting measures. It has reduced its dividend twice to improve liquidity and capital management flexibility. Basically what this means is that the company is cutting its costs now to give itself more cash that it can choose what it does with. The company also deferred the delivery of two rigs postponing $0.5 billion in capex. This postponed capex allows Ensco to pay off these new rigs as it earns money from its existing backlog. Also, if these rigs cannot get a contract, it saves Ensco the cost of having to pay for these rigs' stacking costs until that point.
Ensco also made an equity offering of roughly several hundred million dollars. While I am unhappy with the company diluting its equity at such low prices punishing investors, the cash raised alone is enough to cover the company's upcoming capex charges from the two rigs. And the company has taken its cash position and is making an offering to purchase some of its debt at a discount in the open market. With Ensco's debt trading at discounted prices, this allows the company to decrease its debt and interest payments for lower than it could do by waiting until maturity.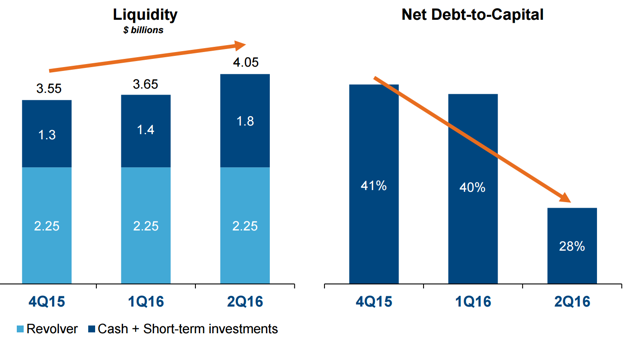 Click to enlarge
Ensco Liquidity and Debt-to-Capital Management - Ensco Investor Presentation
The above image shows the impressive effect of the actions Ensco has been taking in recent quarters to improve its financial position. Ensco's liquidity has improved from $3.55 billion to $4.05 billion in just two quarters due to increasing cash and short-term investments, while the revolver has remained constant. This rapid increase means that the company's cash and short-term investments have reached a point where they are now enough to almost buy back the entire company.
As a result of these changes, the company's net debt-to-capital ratio has dropped from 41% to 28% in just two quarters, a drop of roughly 30%. This drop means that Ensco now has significant financial potential and could choose to undertake an acquisition or buy distressed assets increasing its debt. More importantly, a low debt significantly decreases Ensco's annual interest costs. Those interest costs mean that Ensco will be able to easily handle a drawn out oil crash, should things extend longer than expected.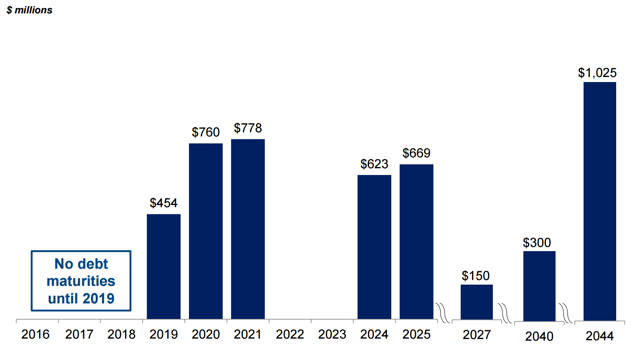 Click to enlarge
Ensco Debt Markets - Ensco Investor Presentation
And if that entire financial position didn't look good enough, the above image shows Ensco's debt maturities. As we discussed above, Ensco needs to survive until 2019 when oil prices and therefore oil capex are expected to recover. The above chart shows us the company's debt maturities until this time. Ensco only has $0.45 billion in debt maturities until oil prices are expected to recover. This 2019 maturity will eat up only 25% of Ensco's cash and short-term equivalents and that's assuming the company cannot repurchase debt at a discount.
Potential
Now that we have discussed the overall market environment along with the company's impressive capital management, it is now time to discuss the company's potential.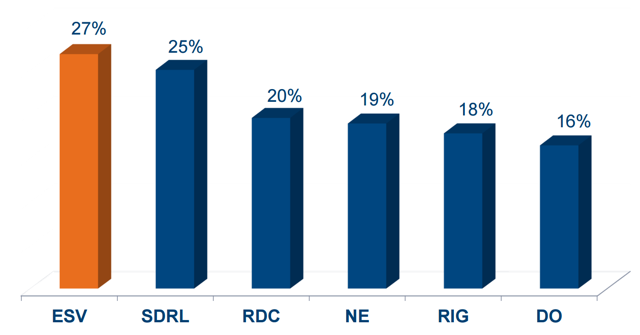 Click to enlarge
Ensco Net Income Margin - Ensco Investor Presentation
Let us start by discussing the net income margin of the offshore driller. The first most impressive thing to see is that Ensco has the largest net income margin of the offshore drillers, an astounding 27%. That compares favorably to all of its peers including Seadrill (NYSE: SDRL), a company known for its young high-tech fleet which should command a premium in contracts. This impressive net income margin is a byproduct of the cost cutting Ensco has undertaken and should significantly help it out in the long run.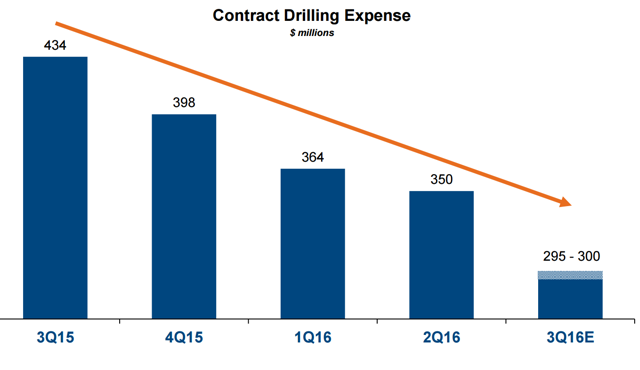 Click to enlarge
Ensco Contract Drilling Expense - Ensco Investor Presentation
The above image which provides an overview of Ensco's contract drilling expenses shows how the company is expecting to cut expenses down to just $300 million for the upcoming quarter, a drop of more than 33% from where expenses were a year ago. More importantly, these cuts are in the face of oil prices that have continued to remain steady or increase from 1Q 2016. As a result, we can attribute these expense cuts not to overall market price drops as oil prices go down, but instead to Ensco's own efficiency.
At the end of March 2016, Ensco had roughly $5.2 billion in backlog, and after 2Q 2016, this backlog is down to roughly $4.6 billion. At a 27% earnings rate, that means the company can be expected to earn another $1.24 from its present backlog assuming no new contracts. Combining this with the company's cash and short-term investments and the company has $3 billion, enough to pay off its debt until 2025 assuming no discount. This impressive financial position will allow Ensco to last until six years after we expect the financial crash to end. That's a significant amount of buffer room.
More importantly, this assumes not future contracts. As oil prices recover Ensco can be expected to garner new contracts and with its high net income margin and the lessons it earned from the present crash, Ensco should emerge from the oil crisis stronger than ever.
Conclusion
Ensco has had a difficult time recently and its stock price has taken an enormous hit falling by 85% in the past two years. The company has been forced to cut its dividend and postponed its capex to improve its financial position. The company has also issued equity. However, on the bright side, the company is now paying back its debt which should help place it in a better financial position.
Ensco has a number of things going for it. The company has a higher net income margin than any other offshore driller and has taken a number of prudent financial decisions. More importantly, the company has a strong backlog that should provide it with a significant amount of profits. As oil prices recover, the company's backlog should improve, but even if it doesn't the company has the financial strength to handle an oil crash that lasts until the mid-2020s.
As a result, I recommend all interested investors invest in Ensco at its present prices, taking advantage of a strong company near 52-week lows.
Disclosure: I am/we are long ESV, NE, SPY.
I wrote this article myself, and it expresses my own opinions. I am not receiving compensation for it (other than from Seeking Alpha). I have no business relationship with any company whose stock is mentioned in this article.