We always hear the phrase "if at first you don't succeed, try, try again". But what if you continue to fail at something, time after time? That's where we are with BlackBerry (NASDAQ:BBRY), which recently announced its newest phone, the DTEK50, a lower cost phone thrust into an ever competitive Android market. BlackBerry's latest half-baked effort looks to be the latest in a series of hardware failures for the company.
To start the phone at just $299, compared to BlackBerry's previous more expensive phones, specifications had to be drummed down tremendously. While there is a slot for an external memory card, the phone has just 16GB of internal memory, and 3GB of RAM seems a little light. The phone's camera isn't tremendous, with video efforts being so-so. Fellow Seeking Alpha contributor Mark Hibben also detailed issues with battery life, a key phone feature, as well as a Qualcomm (NASDAQ:QCOM) Snapdragon 617 SOC that's two generations behind current state of the art devices.
The company itself probably realizes that battery life is an issue for the phone, because those ordering currently get a mobile power charger included, a MSRP of $59.99, seen below. I'm sure consumers will love carrying around this extra device with them, and the inclusion of it takes the phone's net price down to about $239. It's going to be very hard for BlackBerry to make money on this device at that price, especially in very limited quantities.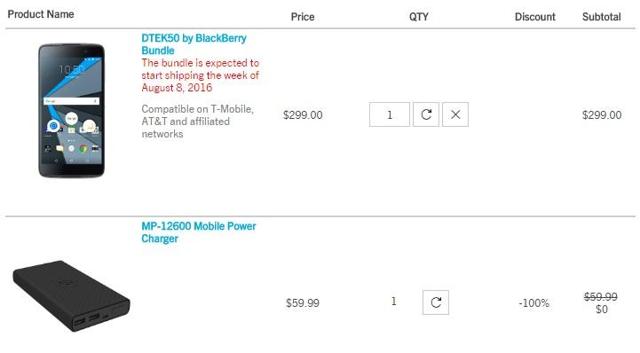 Click to enlarge
(Source: Shop BlackBerry order page)
You may also notice something on that above image that investors might find troubling. The unlocked phone in the US is not available on either Verizon's (NYSE:VZ), Sprint's (NYSE:S), or US Cellular's networks, as I was told by a chat specialist on BlackBerry's site. It is compatible on AT&T's (NYSE:T) and T-Mobile's (NASDAQ:TMUS). One of the main problems with the company's previous launch of the Priv was a drawn out rollout to carriers, which made the phone antiquated by the time some networks got the device.
With not all networks available, one must wonder how many of these devices BlackBerry actually plans on selling. In the company's most recent earnings release, management detailed that purchase orders with contract manufacturers were $150 million, down $12 million sequentially and down from $238 million a year earlier. If you are planning on launching a new phone, you might expect purchase orders to be rising unless you aren't planning on selling many phones. Analyst estimates haven't really moved since the launch, showing that the street has little confidence in this phone being able to move the needle for BlackBerry.
Investors have recently sent BlackBerry shares higher as perhaps there is some optimism with the new phone launch, but I see this as just another half baked effort by the company. The DTEK50 doesn't have tremendous specs in a crowded Android field, and limited availability will likely sap demand. With questions over battery life and the company giving away a charger that represents about 20% of the phone's price, I find it hard to believe that BlackBerry can get this phone to be very profitable. With the hardware business flatlining in recent years, hopefully John Chen will stick to his promise and exit the segment soon if profitability doesn't happen.
Disclosure: I/we have no positions in any stocks mentioned, and no plans to initiate any positions within the next 72 hours.
I wrote this article myself, and it expresses my own opinions. I am not receiving compensation for it (other than from Seeking Alpha). I have no business relationship with any company whose stock is mentioned in this article.
Additional disclosure: Investors are always reminded that before making any investment, you should do your own proper due diligence on any name directly or indirectly mentioned in this article. Investors should also consider seeking advice from a broker or financial adviser before making any investment decisions. Any material in this article should be considered general information, and not relied on as a formal investment recommendation.