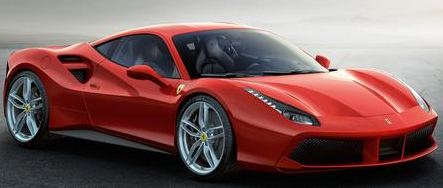 I've been hot and cold on Ferrari (NYSE:RACE) at different times during its short life as a public company. Each time it has been based solely on valuation as we all know that Ferrari's business is robust. The company's ability to sell out of every product it produces as well as generate enormous royalties from merchandise is unlike anything else in the automotive world and that is why Ferrari sells at such a premium to its peers. And after another great earnings report for the second quarter, Ferrari is flying again and inching its way closer to the $50 mark. But is Ferrari being bid up too much again or is this time different?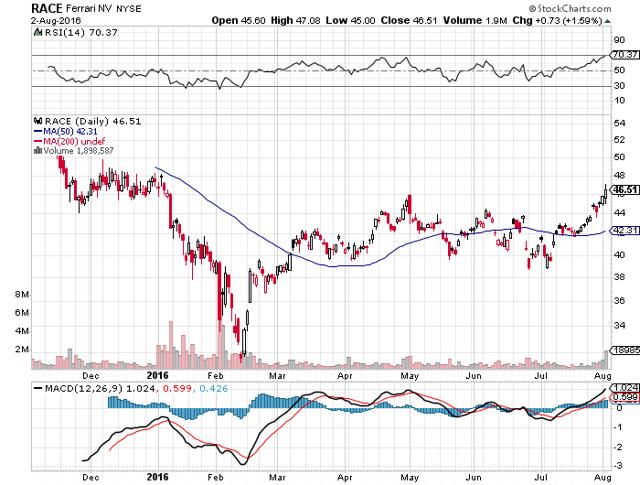 Click to enlarge
There is no question that Q2 was a terrific quarter; Ferrari has the metrics to prove it is performing better than most or all other car companies. Revenue was up about 6% which amounts to a torrid pace in the automotive space. Shipments were up 8% during the quarter driven by the successful launch of the 488 GTB (pictured above) and the Spider version of that car. In total, V8 sales were up 16% while V12 sales fell 22% as F12berlinetta is getting on in its lifecycle, the FF is phased out and the LaFerrari supercar finished its run. The mix of V8 to V12 sales has been shifting for some time now towards the lower end and while that isn't necessarily a problem, it means Ferrari has to sell more cars to achieve the same level of revenue. At any rate, the decline in ASP isn't drastic enough to derail the company's growth plans; it is simply something it has to work around.
In addition to selling cars, Ferrari has other ways of getting revenue. Ferrari's other segments combined for an 18.7% revenue gain in Q2 due in no small part to higher revenues from Ferrari's famous Formula 1 team. Ferrari's F1 team not only produces revenues on its own through supplying engines to other teams as well as through its own team's success, but it helps immensely in building the brand of Ferrari around the world that helps the company sell merchandise. That machine is well oiled and working beautifully and it is high-margin revenue that will help Ferrari grow for years to come. This is the differentiator between Ferrari and other car companies; this is one of the strongest brands in the entire world in any sector and Ferrari is really quite terrific at exploiting it.
In addition, EBIT margin moved higher during the quarter by a whopping 310bps to 19.3%. That is a level of EBIT that is unheard of for a car company and while we know Ferrari isn't a pure car company, it is close enough and we know that it is far and away the best at creating margin from selling cars. Lower mix of V12 cars negatively impacted margins but was more than offset by the gains of the V8 cars and the personalization that comes along with those higher volumes. Ferrari buyers love to personalize their cars and those options are very expensive for customers and high margin for Ferrari, aiding EBIT generation. Again, the mix shift to V8 is not a problem because Ferrari has other ways to get that revenue and in some cases - like personalization - the revenue it gets can be higher margin as well.
Ferrari guided for ~800M Euros in EBITDA for this year and with Ferrari historically turning about 43% of EBITDA into net profit, that implies something like 344M Euros or $385 million in earnings this year. That would be towards the lower end of what Ferrari forecast because it gave us guidance of at least that amount and the increase in earnings and margins in Q2 would suggest something north of that number. For this exercise, we'll assume Ferrari can hit $400M in total profits but again, the real number may end up being slightly higher or lower.
At that level of earnings, Ferrari is trading for a whopping 22 times earnings for this year. That's an astronomical amount for a car company but remember that Ferrari is not just a car company. And even if it were, it is the best car company in the world and deserves a premium valuation. And to be honest, given the rate of improvement in the company's margins from all areas and its tremendous shipment growth and customization of its new V8 models, Ferrari's earnings are growing more quickly than I thought they would. That changes the valuation picture for me because I previously would have thought 20 or 21 times forward earnings was too much but Ferrari has surprised me to the upside. Barring some disaster that is unforeseen, Ferrari looks like it will chug higher from here. It certainly isn't cheap but it never will be; that's the price you pay for owning one of the world's best brands.
Disclosure: I/we have no positions in any stocks mentioned, but may initiate a long position in RACE over the next 72 hours.
I wrote this article myself, and it expresses my own opinions. I am not receiving compensation for it (other than from Seeking Alpha). I have no business relationship with any company whose stock is mentioned in this article.