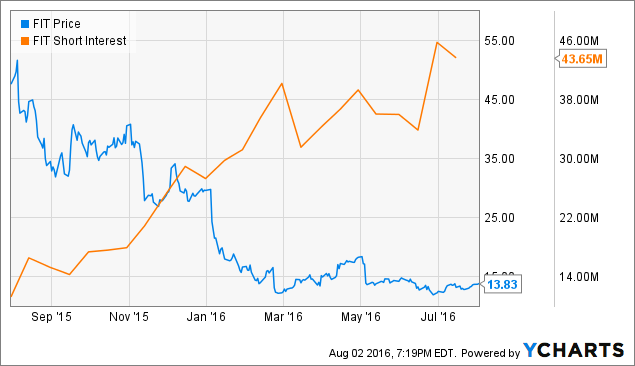 Fitbit (NYSE: FIT) delivered an excellent Q216 earnings report accompanied by an outstanding conference call yesterday on Tuesday, August 2nd. This young public company of just over a year in the market has zero debt and $416 million cash, growing sales at 46% YOY, and now experiencing an acceleration of international growth that could continue for many quarters or even years. As the more than 3 billion person population in the APAC market is now coming online and beginning to ramp up sales revenues for Fitbit, the prospects for continued future growth look very good.
This is a company also now beginning to experience significant ROI from its ongoing R&D growth that is resulting in new products, innovations, and upgrades. This is a high-growth stock leading a high-growth category of wearables. Rarely do we see a company displaying these type of high-growth characteristics with a forward P/E of only 11. But this happens to be the case for Fitbit today. Reasonable market participants might rationally conclude this stock to be oversold.
This oversold condition is currently combined with a sharply increased short interest (please see chart above). Both the chart's price action and today's Q216 earnings report are communicating that the previously successful short sale in Fitbit shares has been over for several months. The strong fundamentals at Fitbit, the dramatically oversold condition on the chart, and the over-extended short interest all indicate that Fitbit is a compelling buy at current levels for investors with the appropriate risk tolerance.
Fitbit maintained full year 2016 guidance of $2.5-2.6 billion in revenues with non-GAAP diluted net income per share in the range of $1.12 to $1.24. Considering the following factors, we believe this guidance is conservative:
Fitbit has delivered five consecutive quarterly beats on both the top and bottom lines since coming public over a year ago.
The company is now entering the historically strong second half and holiday sales season.
With existing product upgrades and/or new product launches imminent that will combine with the recent strong success of the Blaze and Alta new product launches, Fitbit appears to be stacking the holiday sales lineup heavily in its favor.
The aforementioned acceleration of international growth cannot be overstated as a primary factor for driving the success of future quarterly earnings reports.
This is a smart and successful management team at Fitbit that has been making many of the right moves, with a few notable exceptions, for 9 years to have arrived at this point of global leadership in a wrist wearables-mHealth category and Fitbit is pioneering the future of digital health.
Fans of pattern recognition may envision the stock chart above about to form the upward leg of a "W" pattern on the chart that could very well correct shares of Fitbit out of its current oversold territory. Or perhaps it is the right side of a cup and handle pattern that is forming. Either way, a forward P/E of only 11 for a fundamentally sound, high-growth leader of a rapidly expanding wearables category is unusually low.
Maybe Jonathan Winters also sees the possibilities for Fitbit's price action to form a W pattern on the chart going forward:
Compare the forward P/Es of other growth stocks leading their categories, such as Netflix (NASDAQ: NFLX) at a forward P/E of 105, according to Yahoo Finance, or Amazon (NASDAQ: AMZN) at a forward P/E of 73. The argument that it is early days for Fitbit and its wearables category and that this stock is not as established as either Netflix or Amazon at this point in its development is completely valid.
With that understood, then possibly a more modest forward P/E in the 30s could be assigned to Fitbit. If reasonable, people can conclude that a forward P/E in the 30s is a more fair valuation for shares of Fitbit, then the price of the stock would triple in value from today's closing price of about $14 and be valued at about $42 per share.
In fact, if you look at the stock chart and envision the current sales growth and strong fundamentals at Fitbit causing a series of imminent upgrades from brokerage firms, increased money flows into the stock from institutional investors, and the very high short interest in Fitbit beginning to subside, then you might conclude that this stock has already been way oversold for far too long. Your research might lead you to believe that the false narrative of increasing competition has been disproved quarter after quarter. You might wonder why so many major companies have failed in wrist wearables where only Fitbit has had global success and then realize that Fitbit's competitive moat does indeed exist.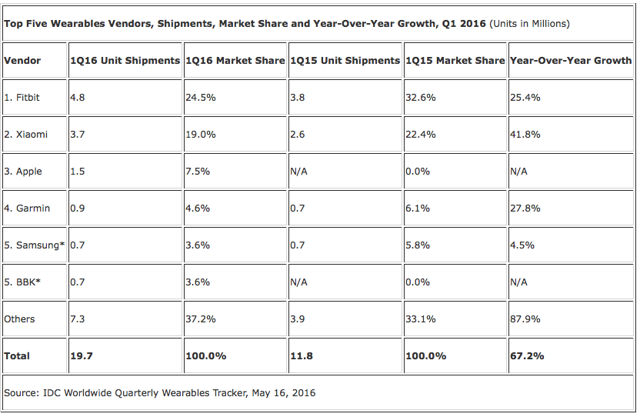 Click to enlarge
Fitbit's first-mover advantages, increasing R&D now delivering ROI with new products and innovation, acceleration of international growth, rapidly growing dominance in the corporate health market, advocacy of both the healthcare and insurance industries, and the standardization of Fitbit products for use in over 200 research studies at some of the nation's leading healthcare facilities are a few of the factors combining to communicate clearly that Fitbit is a primary player in both the wrist wearables and the mHealth digital revolutions.
Fitbit is helping to pioneer the future of these two simultaneous macro-trends that are transpiring concurrently. The future is now in these early days of the wearables computing and digital mHealth revolutions. Fitbit is one of the pioneering companies at the heart of these dual revolutions. Fitbit clearly deserves to be assigned a serious growth multiple based upon both its current successful fundamentals and also its brilliant prospects for future growth.
All of these factors are combining to communicate that a forward P/E of only 11 on Fitbit is dramatically oversold. And the case can still be made that even after shares of Fitbit triple in value, if this were to happen, and trade at a forward P/E in the 30s that this company will still be undervalued at a price of $42 per share of Fitbit stock. Wait, hold on, I know what you are thinking, and before you burn me at the stake, please consider the following: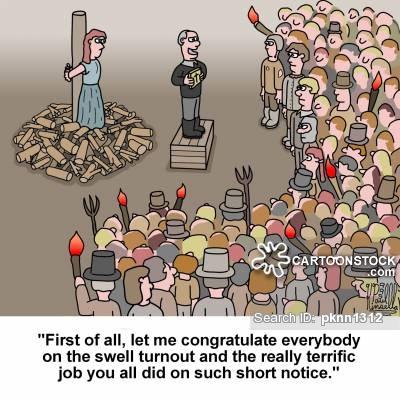 I earned my series 7 license and began working as a stockbroker in 1986, then later founded my own hedge fund and managed a modest amount of assets. For those of us who have been on the Street for long enough, we understand that today's perception of a stock's price is often completely disconnected from the reality of fair market value for that stock. We all know that stocks trade both much higher and much lower than what we might reasonably expect fair value to be in the market. But these aberrations in price do not last and most stocks tend to return to fair value at some point.
The current negative sentiment on Fitbit is dissipating as evidenced by the period of accumulation/distribution on the chart as the bottoming process has been running its course after the sharp downtrend ended months ago in February. Shorts hoping for further price declines have been disappointed and some shorts are now beginning to experience losses as the stock rises higher from the all-time low of $11.91.
Shorts that are still holding their position at a profit are at least realizing that this short has been over for some time and their allocation of capital to the short side of Fitbit is at best dead money. But that is what shorts already know by looking in the rear view mirror on their Fitbit short sale.
After today's excellent Q216 earnings report and conference call, the next move in price action for the oversold shares of Fitbit would reasonably be upwards as the company's strong, long-term fundamentals will win out over the weakening, short term, negative sentiment.
At this point for short sellers of Fitbit stock, their position is akin to trying to pick up pennies in front of an oncoming steamroller. The risk/reward ratio for Fitbit short sellers at these levels is terrible.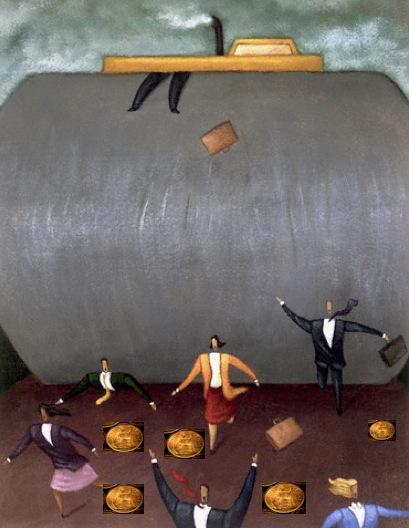 It is reasonable for a high-growth company, such as Fitbit, that is a leader in a high-growth category of wearables to trade at a forward multiple in the 30s or higher. Maybe Fitbit's forward P/E could even trade much higher if you consider the forward multiples of stocks like Netflix and Amazon. Not too long ago, a Harvard educated and well-respected healthcare analyst at Leerink published a price target for Fitbit at $81 per share. At that time, he had a vision for what Fitbit could contribute to the revolution in the mHealth industry. Of course, since the collapse of the stock's price many of these formerly bullish analysts have lost their courage for predicting Fitbit's future share price.
But I don't get paid by any major Wall Street firm and if I am wrong, then the only people that get embarrassed are... well that would be me, and I am aware that I am going far out on the limb with these price targets. But I believe these targets are entirely possible and it is my job to expand the discussion on what is possible. So here are my projections for Fitbit price targets, and since I am going to need all of the help that I can get on selling this extremely bullish outlook, please remember that we discussed the reasons why the current estimates for Fitbit's full-year 2016 guidance are conservative:
I believe that if the overall market continues to hold up, then Fitbit can trade to $35 by the end of this year 2016 into what is likely to be another blockbuster holiday sales season. For shares of Fitbit to trade to $35, we only need a forward P/E to be assigned somewhere in the high 20s. This could be achieved just by having the short interest decline significantly in the stock. This is very possible as new inflows of money from institutions buying Fitbit stock are highly likely in the second half of 2016.
I also believe that the acceleration of international growth in the EMEA and huge APAC markets during coming quarters is a game changer for Fitbit as the market has not discounted in Fitbit's substantial growth prospects in these new markets.
Also, innovation at Fitbit will continue to make clear the company's future direction into mHealth as a digital wellness company that will become essential to employers, insurers, healthcare providers, researchers, and individuals.
Recently, one of the readers of a previous article messaged me to say that he is a medical doctor and each doctor in his entire department on his floor of the hospital now has two new flat screen monitors installed on their desks and that they are in training to implement their new mHealth program. He is bullish on Fitbit stock and says discussion of Fitbit products occurs frequently as the medical profession has a strong need to gather, quantify, and record biometric data on patients.
The message here is that it doesn't matter if any of us on Wall Street disbelieve that the mHealth revolution is here, it is going to continue happening anyway. It doesn't matter if some us are cynical about the direction and speed of Fitbit's future products and innovation, this R&D work will continue and new products will be developed anyway.
With or without us, the mHealth and wearables revolutions are happening and Fitbit is one of the key companies helping to pioneer these revolutions. It is bizarre that Wall Street is currently so out of touch with what is happening in the world beyond the boundaries of 9:30 am to 4:00 pm trading.
How does an exciting company like Fitbit that is at the heart of so many revolutionary events with a brilliant future receive zero premium in its valuation from Wall Street? In fact, Fitbit currently trades at a huge discount to a fair market valuation. Bizarre. Actually, it is even embarrassing for Wall Street investors to be this far out of touch on such an important confluence of events that are occurring in the world while Fitbit stock languishes at the same time that it is helping to pioneer these significant events in wearables and mHealth.
Okay, get out your charcoal briquettes, lighter fluid, and matches for sure on this next one because if you haven't BBQ'd me yet, then this next price target is certain to have you set your grill on flambé before you roast me like a rack of ribs.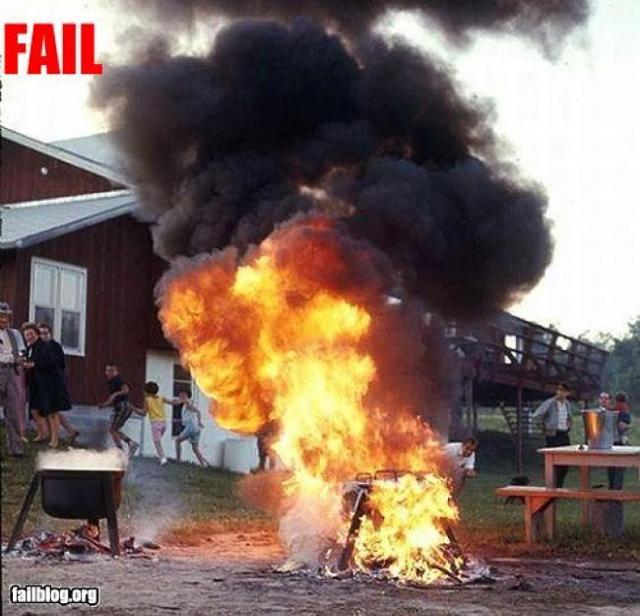 Click to enlarge
Remember, we just established that the stock is dramatically oversold at current levels and that fair value could have a forward P/E somewhere in the high 20s to even 30s. This would put Fitbit's price per share in the $35 to $42 range, and I am calling for $35 by end of year 2016.
So if you are willing to take that first step and consider that Fitbit is currently in an oversold condition, and that this oversold condition is an aberration that will correct itself so that Fitbit's share price will return to fair value somewhere closer to $40, then maybe you will be willing to take the next step also. Candidly, I don't think many of us are going to be willing to take this next step on valuation because it is a long way to go from our current position and perspective on Fitbit. But it is too late for me to turn back now so here goes:
The price action for highly volatile stocks can swing like a pendulum back and forth from overbought to oversold and then back to an overbought condition. In August of 2015 the price of Fitbit was overbought at $51.90. I don't think anyone will argue that point. Valuation metrics on Fitbit currently indicate the stock is oversold. I hear some grumbling from the back of the room by bears on this one. That's fair and it is okay.
But the next move for Fitbit could very likely be higher and once a stock gets momentum, then we know that it does not stop at fair value. We know that stocks in motion tend to get both overbought and oversold by trading both higher and lower than we expected or thought possible. This happens fairly often so let's now apply this same principal of volatility to the next move in the share price of Fitbit.
If we believe that fair value for Fitbit might be somewhere in the forward multiple range of about 30 then this equates to a Fitbit share price of about $40. But what if Fitbit regained momentum higher on new buyers and short covering? Then we could see this stock become overbought again, and this could result in the stock making new, all-time highs above $51.90.
I believe that shares of Fitbit will regain upward momentum into the end of this year 2016 and that this momentum will continue higher in 2017. I believe that shares of Fitbit will make new all-time highs in 2017 above $51.90 and I am calling for shares of Fitbit to trade to the former Leerink price target of $81 in 2017.
I am aware of how hyper-aggressive this uber-bullish call sounds. Before you call the asylum to bring their net out to pick me up, please consider this rationale for the very bullish price target: If you can concede that the stock is currently way oversold based upon a forward PE of only 11, and if you feel that Fitbit could reasonably carry a forward multiple in the 30s as we discussed above, then the share price would be about $42.
Beyond the stock trading at a fair value forward multiple in the 30s during the next 3-9 months, which encompasses another strong holiday season ahead for Fitbit products, then I am asking you to envision higher sales and earnings in 2017 from new products, continued innovation, accelerating international growth, and the currently dissipating negative sentiment resulting in short covering, that becomes a much more positive sentiment thereby taking the stock back into and beyond the overbought territory that it experienced last August.
Now I completely understand that for most of you, this degree of speculation is a bridge too far. But my job is not to find stocks that might move 5% in either direction over the next 18 months. I consider my job to try to find and write about stocks that have the potential to make major percentage moves over the next 6-18 months. And for this kind of work I am required to employ quite a bit of imagination.
Many of you will feel that my imagination is running away with me, I get it. And even if my price targets are a bridge too far for most of you, then I hope that at least you can see the possibility that my directional call for Fitbit to trade higher is possible. I think the Temptations might have had the imagination to see Fitbit trade to the old Leerink price target of $81 in 2017 though. They understand how our imaginations can run away with us sometimes.
Key takeaways from the Q216 conference call yesterday after hours:
International growth is now accelerating up 150% in EMEA. Revenues from APAC will be ramping up in the second half of 2016 and beyond with a marketplace population of over 3 billion people.
At least one, possibly two, new product updates and/or launches are imminent for Q316. Fitbit will have a strong range of products offered for the 2016 holiday season, including Blaze and Alta.
Park: "Fitbit products are moving deeper into the healthcare ecosystem" and, "becoming a more essential part of people's lives." Park has maintained that Fitbit is a, "Digital Health company."
Fitbit products are being implemented in 200 clinical research studies at internationally recognized medical research facilities worldwide. Fitbit products have become the standard for researchers.
These are early days for the mHealth revolution. The growing R&D army at Fitbit will continue to deliver innovation that will help take the world into the next generation of wearables computing to monitor, quantify, and report on key biometrics to improve health, quality of life, and reduce healthcare/insurance costs.
Park announced that neither he, nor co-founder Friedman, nor CFO Zerella will sell stock for remainder of 2016. This statement combined with the recent timing of options compensation near current stock price levels makes a bullish statement that Fitbit insiders believe their stock is cheap.
Total revenues grew by 48% over Q215. This is significant due to the strength of last year's comparable quarter. The 5.7 million units sold in 2Q16 is second only to the blockbuster Q415 holiday season results.
The new product launches of Blaze and Alta are now accounting for 54% of revenues. Over 7,000 reviews in the marketplace all with an average rating of 4 out of 5 stars.
The Alibaba (NYSE:BABA)-TMall relationship is off to an excellent start for Fitbit. The Chinese consumer leans towards online purchases above traveling to a retail outlet. This bodes well for Fitbit.
Blaze unit sales alone almost equaled the same number of Apple (NASDAQ:AAPL) units sold in the quarter as Fitbit continues to increase the number of units sold gap over Apple and also closes the gap with Apple on revenues for sales of wrist wearables.
2/3 of sales are new customers demonstrating strong growth. 1/3 of sales are existing customer upgrades or reactivations demonstrating brand loyalty.
Localization of apps in China, Japan, Korea are key to boosting sales.
Bill Zerella stated, "New product revenues are baked into the Q316 estimates" meaning that at least one new Fitbit product upgrade and/or launch is imminent. Over 9 years, Fitbit has a stellar track record of success on new product success in the marketplace.
Park discussed that there is a misconception regarding the number of competitors in the marketplace. Please reference Bull & Bear Trading's article on this same topic from March 2016. The concept that media and shorts often miss is as follows: > It is one thing to manufacture a product. Many products are manufactured without achieving a successful launch; > it is another thing to launch a product successfully and then maintain sales success; > and it is an entirely different thing to manufacture, launch, and then grow quarterly sales of an increasing number of products on a global basis. All while innovating on both the retail and the corporate wellness levels by building an R&D army.
The market must now recognize: Fitbit owns this wrist wearables category for the foreseeable future, huge numbers of rising competitors is literally a myth. And Fitbit is wisely re-investing in R&D that will deliver new technologies and innovations to help pioneer these early days of the wearables and mHealth revolutions. It has now become counter-productive to deny the obvious regarding Fitbit's brilliant future and ownership of a hyper-growth category in wrist wearables.
Park touched upon the misconception that the market has regarding competitors with the following points: Wearables is not a simple market as evidenced by the numerous failures by major companies in this category where Fitbit has succeeded. Fitbit is clearly the brand of choice on Amazon.
Fitbit's Fitstar apps and the Fitbit download app are top-ranked in app stores.
The social experience of networking via the Fitbit online dashboard with friends, co-workers, and family is powerful for increasing and maintaining engagement. This feature has also been key in driving word of mouth sales for Fitbit.
Compelling merchandising support, advertising, and marketing continues to drive global growth of sales. Park also today summed up these points by saying that the company has established a "competitive moat." Please reference Bull & Bear Trading's April article regarding Fitbit's defensible moat.
Park used the comparison of smartphone market penetration as a template for Fitbit's future growth in wrist wearables citing a percentage of these same smartphone customers will also purchase wrist wearables, including the products of the category's leader, Fitbit. Compare 2 billion smartphones have been sold while only 36 million Fitbits have been sold. In APAC alone, 1.1 billion smartphones have been sold while only 4 million Fitbits have been sold. The future growth of sales of Fitbit products is bright indeed.
Please be sure to follow Bull & Bear Trading as we continue our coverage of the wearables revolution by clicking the "Follow" button at the top of this article next to our name and icon. Also, please look for the initial product launch of Wearables Go! in the Seeking Alpha Marketplace in the next week or so. We hope that you will take advantage of the two-week free trial of our service. The wearables category is in the early days of an epic bull market. Ready? Go!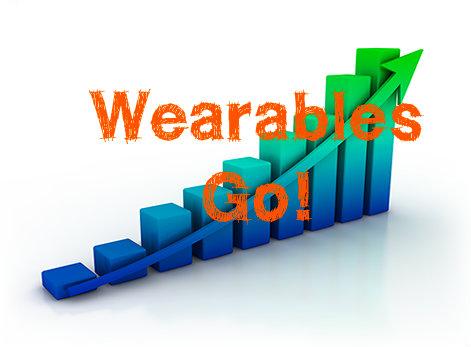 Thank you and please feel welcome to comment below. We value your input greatly! Something tells me those price targets are going to receive some feedback in the comments section.
Disclosure: I am/we are long FIT.
I wrote this article myself, and it expresses my own opinions. I am not receiving compensation for it (other than from Seeking Alpha). I have no business relationship with any company whose stock is mentioned in this article.