Biogen's (NASDAQ:BIIB) shares jumped more than nine percent on Tuesday, after rumors broke about a possible takeover offer from either Merck (NYSE:MRK) or Allergan (NYSE:AGN). This comes after great quarterly results, a couple of days ago, and has lead to a reversal in the company's share price: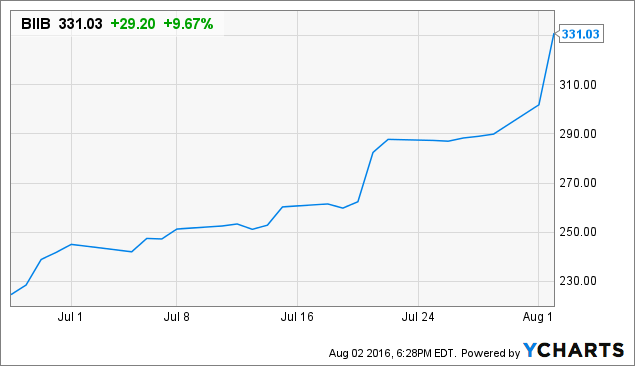 Over the last five weeks Biogen's shares have rallied 47% from the 52 week low to the current price of slightly above $330, with huge daily increases this Tuesday and when Biogen released its earnings for the second quarter. Let's start with those:
Biogen grew revenues by 12% yoy to $2.9 billion, beating estimates by $100 million. This was based on growth from Biogen's biggest drug Tecfidera ($987 million, for an annual run rate of almost $4 billion) and strong growth from other drugs as well: Interferon sales grew 18% to $730 million, Eloctate and Alprolix grossed revenues of $125 million and $80 million (which equals yoy growth rates of 68% and 47%, respectively). All drugs grossed higher revenues than in this year's first quarter as well, which shows that these revenue sources are not done growing yet. Even for mature drugs such as Tecfidera price increases and a growing patient pool allow for continuous sales growth. As the ramp-up of these two drugs continues, Biogen's dependence on its older drugs declines and the company becomes more diversified (at least as long as these two are not spun off).
Biogen's profits very high as well, the company was able to grow its net income (non-GAAP) by 15% to $1.1 billion, earnings per share grew by 23% to $5.21. The net income growth was based on higher revenues (as explained above) and a slightly higher margins (due to R&D expenses falling slightly and SG&A expenses remaining flat despite revenues increasing), the even higher EPS growth rate can be explained by the lower share count due to Biogen's generous buybacks: The average share count has dropped from 235 million to 219 million over the last year, enough for an additional 7% EPS growth.
Since Biogen's share repurchase program still has more than $6 billion available for further repurchases, and due to the fact that Biogen's balance sheet remains very strong (low long term debt, almost $4.0 billion in cash), I believe investors can expect further significant share count reductions going forward.
Let's now look at Tuesday's takeover chatter: Merck as well as Allergan have been rumored to be interested in buying Biogen. With a current market capitalization of $72 billion, $6 billion in debt and $4 billion in cash the company's enterprise value is $74 billion, whereas Merck sports an enterprise value of $174 billion and Allergan has an enterprise value of $139 billion.
Allergan has a lot of cash since the company has sold its generics business to Teva (NASDAQ:TEVA) in a deal valued at slightly more than $40 billion: Allergan has received $34 billion in cash, the rest of the cost for an acquisition could easily be funded by debt in today's low interest rate environment. The planned spin-off of Biogen's hemophilia business could also be changed: Selling the unit to another company would bring in a couple of billion dollars that could be used to immediately repay some of the debt Allergan would have to take on to finance the Biogen acquisition.
Merck's cash position is not as strong as Allergan's, but Merck has $13 billion in cash on its balance sheet as well. Due to its huge size (relative to Biogen) Merck would likely not have a lot of problems to finance the acquisition with debt, and repaying that debt would not be very hard for Merck either: The company's trailing free cash flow number stands at $11 billion, adding Biogen's annual free cash flows of more than $3.0 billion the combined company could easily repay all of the debt necessary for the acquisition in a couple of years. One reason for a possible Merck bid for Biogen could be the two companies' interest in a possibly very huge future market, Alzheimer's disease. Biogen's aducanumab has shown positive results so far, and Merck is researching Alzheimer drugs as well, its lead candidate being verubecestat. By acquiring Biogen Merck could increase its chance for having the best upcoming Alzheimer's disease blockbuster drug under its roof, and with 26 million Alzheimer patients this would be a very profitable development. Scientist expect the Alzheimer's disease market to reach a size of up to $20 billion in annual revenues (which is about the same size as the global HCV market, but unlike HCV, Alzheimer would not get eradicated, thus this market would exist for a very long time). In addition to a possible Alzheimer drug Merck would also receive control over Biogen's other drugs and the corresponding high earnings and cash flows, thus it could make sense for Merck to go for this acquisition.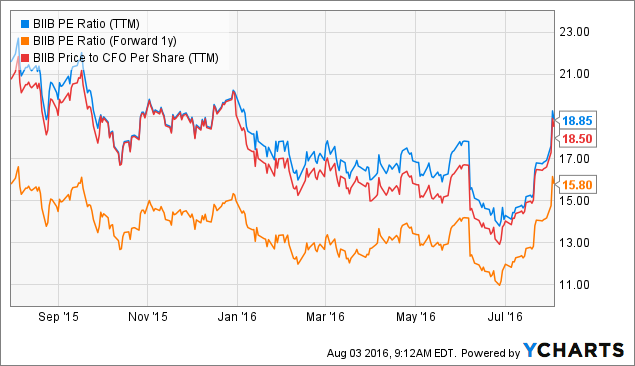 Biogen's valuation has jumped up a lot over the last few weeks, but the company is still not expensive: Both relative to its historic valuation as well as relative to the broad market (which trades at a GAAP PE ratio of 25) Biogen is still rather cheap, with its trailing cash flow multiple and trailing PE ratio below 19 and its forward PE ratio below 16. A strong balance sheet and high shareholder returns, as well as the possibility of a takeover offer from either Allergan or Merck make Biogen rather attractive (although less so than six weeks ago, when Biogen's shares traded at less than 13 times trailing earnings).
Takeaway
Biogen's second quarter was very successful, its drug sales are developing well, margins are expanding, shareholder returns are high and the balance sheet remains very healthy.
Allergan as well as Merck are rumored to be interested in acquiring Biogen, and both would be able to do so in today's low interest environment (Allergan has a huge cash position and Merck has high free cash flows).
The recent share price increase made Biogen less attractive than it was a couple of weeks ago, but Biogen's shares are still looking good right here, I believe.
Author's note: If you enjoyed this article and would like to read more from me, you can hit the follow button at the top of the page, right next to my name and icon, to get informed about new articles.
Disclosure: I am/we are long BIIB.
I wrote this article myself, and it expresses my own opinions. I am not receiving compensation for it (other than from Seeking Alpha). I have no business relationship with any company whose stock is mentioned in this article.