On Monday, August 1st, Verizon (NYSE:VZ) announced the acquisition of fleet telematics SaaS company Fleetmatics (NYSE:FLTX). The acquisition gained relatively little press. But the deal, priced at about $2.4 billion and representing a 40% premium to share prices last Friday, is half the size of the widely-covered and heavily-debated Yahoo acquisition, which will cost Verizon $4.8 billion in cash.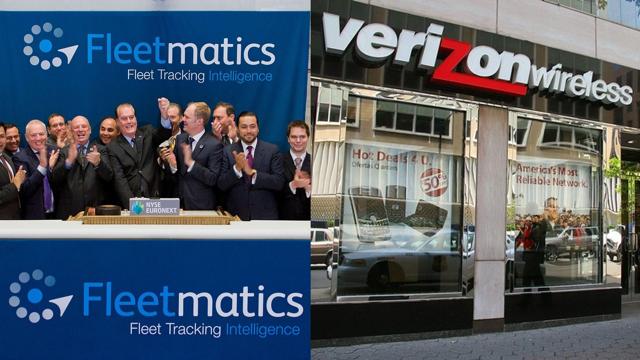 Click to enlarge
Credit: Safebillpay.net and Digitaltrends.com
Fleetmatics is a company that I have been following for a while. I believe it to be the most robust, market-dominant player in the fleet management business in the United States.
The company packs a powerful punch of steady and consistent subscriber base growth (25% compounded annual growth since 1Q14); robust EBITDA margins (27% to 38% range over the past nine quarters); and steadily increasing EPS (43% in 2015 vs. 2014, despite declining expected EPS growth of 14% in 1H16).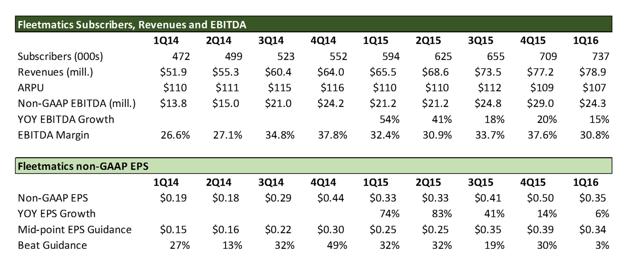 Click to enlarge

Click to enlarge
Source: D.M. Martins Research, using data from company's press release and SEC filings
Better yet, Fleetmatics' revenues are recurring, as the company's sales are subscription-based - i.e. no one-off hardware sales. This means that revenue upside is unlikely to be front loaded, but steady and less risky over a longer period of time.
Fleetmatics has only recently started to expand more meaningfully outside the U.S. (it currently operates in Canada, the United Kingdom, Ireland, Australia, the Netherlands, France and Italy). The decisive push abroad started only in January 2014, when revenues outside North America and the U.K. accounted for only 0.2% of the total as of FY13 vs. 3.2% in FY15. With the "increase in vehicles under subscription [being] due in large part to [Fleetmatics'] investment in […] international expansion", according to the company's most recent 10-K, I would expect top line growth to remain healthy over the next several quarters at least.
Is the acquisition of Fleetmatics a good move for Verizon?
In April of this year, when rumors of the $5-billion acquisition of Yahoo grew larger, I argued that Verizon, an increasingly indebted company (see below), "could deploy its resources in a way that I believe would create more value to the company's shareholders". I specifically mentioned wireless densification in the U.S., international expansion within the carrier business, and debt repayment.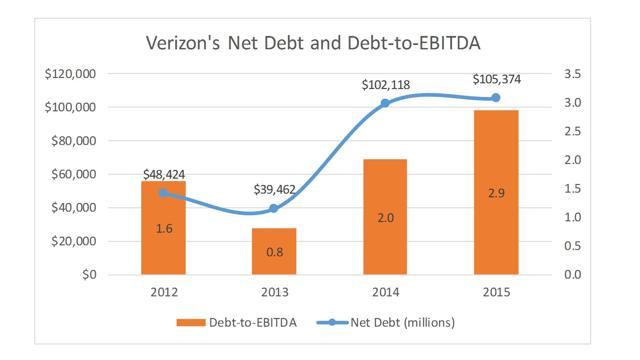 Click to enlarge
Source: D.M. Martins Research, using data from company's press release and SEC filings
The acquisition of Fleetmatics, however, seems like a much more sensible and strategic move for Verizon, in my view. It adds to the company's IoT (Internet of Things) portfolio, which already includes the $600 million acquisition of Hughes Telematics in 2012, and will grow with the announced acquisition of connected vehicle company Telogis.
To be fair, Fleetmatics' operations dwarf in comparison to those of Verizon, as the tables below suggest. So any upside from the Fleetmatics acquisition is unlikely to be noticeable on Verizon's books in the near future. But at least the telematics company is already well established in its industry; a bottom-line grower; highly profitable; and a strong generator of cash - Fleetmatics' 2015 FCF (free cash flow) represented nearly 4% of the $2.4 billion acquisition price.

Click to enlarge
Source: D.M. Martins Research, using data from company's press release and SEC filings
At a 2017 forward P/E of about 28x, Fleetmatics is no bargain - peer CalAmp (NASDAQ:CAMP) trades at 10.2x, while Trimble (NASDAQ:TRMB) trades at 19x. But FLTX's price fell sharply from a 52-week high of $61.75 early in December 2015 to a low of $35.23 in April 2016, and seems to be priced more fairly at $60, given the fundamentals.
Lateral trade: consider Mix Telematics (NYSE:MIXT)
The acquisition of Fleetmatics bodes well for another telematics company that I continue to find deeply undervalued: South Africa-based Mix Telematics.
In September 2015, I made the case that Mix had "strong potential for top line growth, expected gross margin expansion and robust balance sheet". The Street expected Mix to be acquired later in 2015, but it seems like the company's Board of Directors did not find any good offers. The recent Fleetmatics acquisition could re-ignite talks of a Mix Telematics sale once again.
In February, MIXT share prices pulled back further, making the stock an "absolute bargain", in my opinion. Since those early-year lows, MIXT bounced back about 56% (14% since the Fleetmatics acquisition announcement), vs. the S&P 500's (NYSEARCA:SPY) 12%. Despite the run, I believe MIXT is still worth consideration.
Disclosure: I am/we are long SPY, MIXT.
I wrote this article myself, and it expresses my own opinions. I am not receiving compensation for it (other than from Seeking Alpha). I have no business relationship with any company whose stock is mentioned in this article.