Procter & Gamble (NYSE:PG) beat estimates on the top and bottom line in the fourth quarter. Revenues decreased 2.7% but came in $270 million ahead of estimates, while EPS of $0.79 beat by $0.05. However investors should not get too excited. After the latest quarter, we are more worried about the near-term outlook for PG than we were going in.
Currency was responsible for the year-over-year decline in reported revenues, and in our opinion, the top-line beat as well. FX pressures eased y/y, and we think most analysts were expecting the dollar to continue to strengthen against major currencies. But even after adjusting for FX, PG's top-line results were not impressive. Organic sales grew just 2%, and were driven by volumes (Figure 1), as increased competitive pressures and weak macro conditions made it difficult to raise prices. PG lost market share in three out of its five business segments: Beauty (down 0.8 points), Health Care (0.4 points), and Baby, Feminine, and Family Care (0.7 points). We think the market share losses are a product of price-sensitive consumers switching to cheaper competitors, which is consistent with our view that global macro conditions are still very weak. Once again PG generated the majority of its volume growth in developing markets, but volumes slowed in many of these regions. Until conditions pick up we don't expect volumes to meaningfully improve anytime soon.
Figure 1: Organic Sales Growth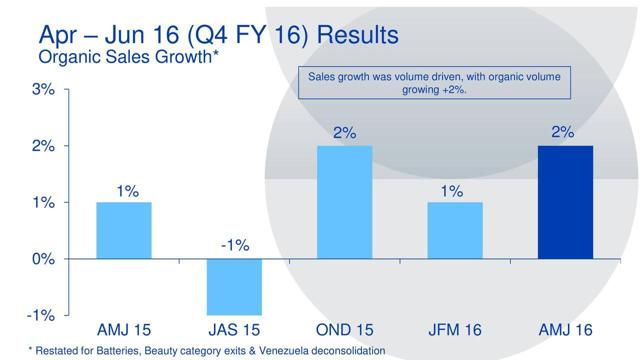 Click to enlarge
Source: Earnings Slides
On the surface, 2% organic revenue growth doesn't seem that bad. But when you consider that PG had to spend more on advertising in order to generate that growth, it takes some of the gloss off the figure. Core operating margin fell 150 basis points year-over-year, and a "significant increase in advertising costs" (Figure 2) was a big reason why. The need to spend an increased portion of sales on advertising reflects weak demand, and in a sense, the organic growth number is not truly organic.
Figure 2: Margin Declines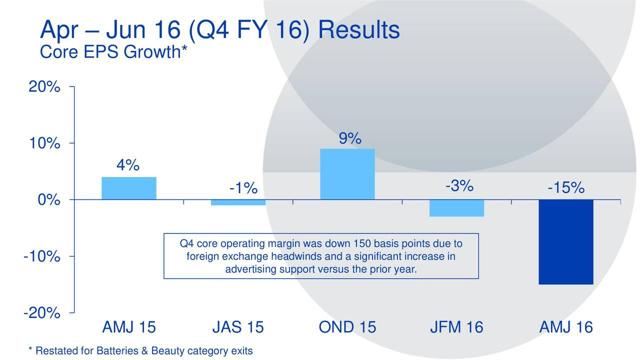 Click to enlarge
Source: Earnings Slides
For fiscal year 2017, management expects organic sales growth of 2%, offset by a negative 1% impact from currency (Figure 3). This implies an all-in growth rate of 1%, and is equivalent to the growth rate from this year (Figure 4). The deceleration in growth over recent years reflects diminished pricing power. In mature industries such as consumer staples, companies tend to rely on pricing to boost growth (especially in developed regions). Historically PG has had strong pricing power, but stagnating incomes and new product launches from Clorox (NYSE:CLX), Unilever (NYSE:UL), and Kimberly-Clark (NYSE:KMB) among others have made it difficult to raise prices. Much as it did this year, we believe PG will rely on volumes for growth in 2017. We think that PG will have to at least maintain its ad spend levels (on a percentage of sales basis) from this year in order to meet its target, and that investors shouldn't expect a sharp rebound in operating margin as a result.
Figure 3: FY17 Guidance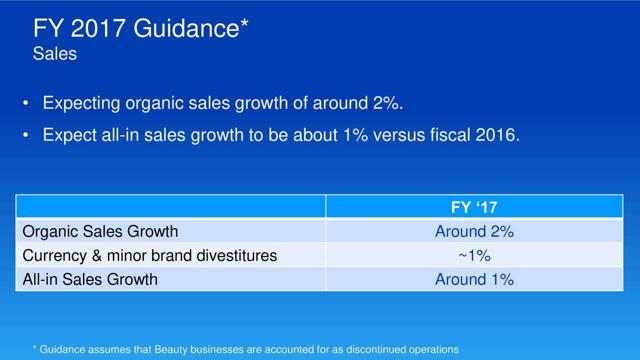 Click to enlarge
Source: Earning Slides
Figure 4: Sales Growth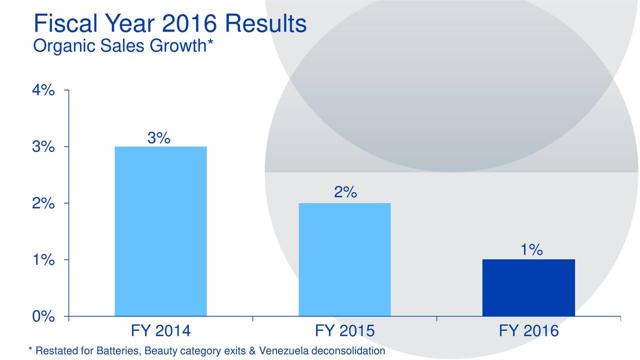 Click to enlarge
Source: Earnings Slides
Conclusion:
PG beat top and bottom-line estimates in Q2 thanks to the help of easing currency pressures. PG will struggle to generate growth next year amid a backdrop of weak demand and geopolitical uncertainty. The only semi-realistic catalyst we can envision for PG in the short-term is a sharp depreciation of the dollar caused by a lack of rate hikes, but even this seems unlikely with yields around the globe continuing to fall.
Disclosure: I/we have no positions in any stocks mentioned, and no plans to initiate any positions within the next 72 hours.
I wrote this article myself, and it expresses my own opinions. I am not receiving compensation for it (other than from Seeking Alpha). I have no business relationship with any company whose stock is mentioned in this article.